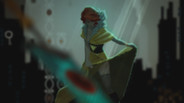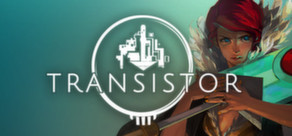 Upptäck världen enligt Transistor, ett action-RPG med science fiction-tema från skaparna av Bastion.
Utgivningsdatum: 20 Maj 2014
Titta på alla 2 trailers
Köp Transistor + Soundtrack
Nedladdningsbart innehåll för detta spelet
Recensioner
"Transistor is a wildly smart action-RPG that places all of its trust into your intelligence."
9.0 / 10 – IGN

"The game's vision is intoxicating, and its execution is inspired."
8.5 / 10 – Polygon

"Its art style is divine, its soundtrack is remarkable, its combat is intricate, and the story of its odd-couple protagonists is both smartly written and deftly told."
9 / 10 – Edge

Om spelet
Teamet som gjorde Bastion har skapat Transistor, ett science fiction-action-RPG där du får använda ett extraordinärt vapen med okänd bakgrund och kämpa dig igenom en bländande vacker futuristisk stad. Transistor integrerar djup strategisk planering i ett actionrollspel med högt tempo och smälter samman en smidig spelmekanik med en rik, stämningsfull berättelse. Under äventyrets gång får du nysta upp Transistors mysterier samtidigt som du spårar de tidigare ägarna.
Huvudsakliga egenskaper
En helt ny värld från teamet som skapade Bastion

Konfigurera den kraftfulla Transistor med tusentals funktionskombinationer

Actionspäckade realtidsstrider i kombination med ett robust strategiläge

Färgstark handmålad grafik i full 1080p-upplösning

Specialskrivet soundtrack som förändras dynamiskt i enlighet med hur det går i äventyret

Timvis med inspelad berättarröst ger en djup och stämningsfull berättelse

Alternativet "Recursion" innehåller slumpgenererade strider och nya funktionskombinationer efter att du spelat klart berättelseläget

Helt anpassningsbara kontroller specialgjorda för PC
Systemkrav
Minimum:


OS: Windows 7 32-bit

Processor: Dual Core CPU - 2.6ghz

Memory: 4 GB RAM

Graphics: 1GB VRAM: Intel HD 3000 GPU / AMD HD 5450 / Nvidia 9400 GT

Hard Drive: 3 GB available space
© Supergiant Games 2014. All rights reserved.
Hjälpsamma kundrecensioner