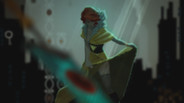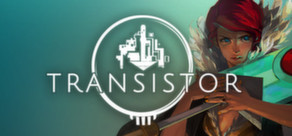 Tutustu Bastionin tekijöiden uuteen toiminnalliseen scifiroolipeliin, Transistoriin.
Julkaisupäivä: 20. touko, 2014
Katso kaikki 2 traileria
Osta Transistor + Soundtrack
Tämän pelin lisäsisältö
Arvostelut
"Transistor is a wildly smart action-RPG that places all of its trust into your intelligence."
9.0 / 10 – IGN

"The game's vision is intoxicating, and its execution is inspired."
8.5 / 10 – Polygon

"Its art style is divine, its soundtrack is remarkable, its combat is intricate, and the story of its odd-couple protagonists is both smartly written and deftly told."
9 / 10 – Edge

Tietoja pelistä
Transistor on Bastionin tekijöiden uusi, scifimaailmaan sijoittuva toiminnallinen roolipeli, jossa saat käsiisi mystisen aseen ja löydät pian itsesi kiivaista taisteluista keskeltä upeaa futuristista kaupunkia. Transistorissa strateginen suunnittelu yhdistyy kiivastahtiseen toimintaan, ja tunnelmaa täydentää sulava pelin kulku ja mukaansa tempaava tarina. Seikkailun edetessä Transistorin salat avautuvat vähitellen, kun etsit käsiisi miekan entisiä omistajia.
Tärkeimmät ominaisuudet
Bastionin tekijöiden luoma täysin uusi maailma

Pelin edetessä kehittyvä Transistor-miekka ja tuhansia liikeyhdistelmiä

Toiminnantäyteinen reaaliaikainen taistelu yhdistettynä strategiseen suunnittelutilaan

Eloisa käsin piirretty grafiikka täydessä 1080p-tarkkuudessa

Toimintaa ja pelin etenemistä mukaileva soundtrack

Usean tunnin edestä ääninäyteltyä sisältöä, joka syventää kiehtovaa ja tunnelmallista tarinaa

Uusia taisteluita ja liikeyhdistelmiä tarinan päättymisen jälkeen

Täysin mukautettava, PC-pelaamista varten suunniteltu ohjaus
Järjestelmävaatimukset
Minimum:


OS: Windows 7 32-bit

Processor: Dual Core CPU - 2.6ghz

Memory: 4 GB RAM

Graphics: 1GB VRAM: Intel HD 3000 GPU / AMD HD 5450 / Nvidia 9400 GT

Hard Drive: 3 GB available space
© Supergiant Games 2014. All rights reserved.
Hyödylliset arvostelut