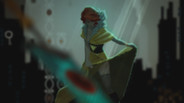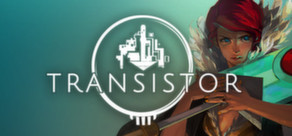 Descobre o universo de Transistor, um jogo de ação e ficção científica de interpretação de papéis dos criadores de Bastion.
Data de lançamento: 20 Mai 2014
Ver todos os 2 trailers
Comprar Transistor + Soundtrack
Conteúdo transferível para este produto
Análises
"Transistor is a wildly smart action-RPG that places all of its trust into your intelligence."
9.0 / 10 – IGN

"The game's vision is intoxicating, and its execution is inspired."
8.5 / 10 – Polygon

"Its art style is divine, its soundtrack is remarkable, its combat is intricate, and the story of its odd-couple protagonists is both smartly written and deftly told."
9 / 10 – Edge

Acerca do Jogo
Dos criadores de Bastion, Transistor é um jogo de ação e ficção científica de interpretação de papéis que te desafia a envergar uma arma extraordinária de origem desconhecida à medida que combates numa extraordinária cidade futurista. O Transistor integra de forma perfeita uma organização estratégica cuidadosa numa experiência de ação de jogo rápido, combinando uma jogabilidade sensível com uma narração atmosférica rica. No decorrer da aventura, irás desvendar os mistérios de Transistor enquanto segues os passos dos seus anteriores donos.
Principais caraterísticas
Um universo totalmente novo da equipa que nos trouxe Bastion

Configura o poderoso Transistor com milhares de combinações de funções possíveis

Combate repleto de ação em tempo real que se funde com um modo de organização estratégica forte

Ilustrações vibrantes pintadas à mão com uma resolução total de 1080p

A banda sonora original muda de forma dinâmica à medida que a ação se desenrola

Horas de uma narração atenta contribuem para uma história profunda e atmosférica

A opção de "recursividade" introduz batalhas procedimentais e novas combinações de funções após a conclusão da história

Controlos totalmente personalizáveis e à medida do teu PC
Requisitos do Sistema
Minimum:


OS: Windows 7 32-bit

Processor: Dual Core CPU - 2.6ghz

Memory: 4 GB RAM

Graphics: 1GB VRAM: Intel HD 3000 GPU / AMD HD 5450 / Nvidia 9400 GT

Hard Drive: 3 GB available space
© Supergiant Games 2014. All rights reserved.
Análises úteis de clientes