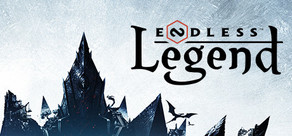 Endless Legend is a 4X turn-based fantasy strategy game by the creators of Endless Space and Dungeon of the Endless. Create your own Legend!
Data di rilascio: 24 apr 2014
Guarda video HD
Gioco con accesso anticipato
Ottieni l'accesso anticipato ed inizia a giocare ora; prendi parte a questo gioco mentre viene sviluppato.
Nota: questo gioco potrebbe cambiare significativamente durante lo sviluppo. Se non vuoi giocare al titolo nel suo stato attuale, puoi aspettare che venga sviluppato ulteriormente. Ulteriori informazioni
Cosa dicono gli sviluppatori:
Perché l'accesso è anticipato?
"Amplitude Studios thanks to the GAMES2GETHER platform wants to propose a brand new way for players around the world to participate in the creation of a video game! Early Access is just one mean, but a significant one, on how we want to interact with the community to make our games the best they can get. Let's create GAMES2GETHER!
Endless Legend is a rich and deep turn-based 4X strategy game: the game is changing at each update thanks to the community feedback that is more than helpful to us to tune the AI, work on the faction balancing, and generally improve the game experience."
Per quanto tempo questo gioco rimarrà in accesso anticipato?
"If everything go as planned, Endless Legend will be released by the end of this Summer 2014."
Quali saranno le differenze fra la versione completa e quella ad accesso anticipato?
"What can you expect from this Beta? A real experience! The game includes a lot of single player and multiplayer gameplay features and it looks, plays and feels almost like a final game.
In addition to a final polishing and balancing round, we are still working on a couple of additional elements until the release of the game such as:
2 additional major factions including the community created "Cultists"

4 new minor factions including the Ice Wargs from the Founder Pack

a special Vaulters unit skin pack from the Founder Pack

a game introduction explaining the gameplay basics

4 new victory conditions

custom factions

a lot of enhancements (retreat, in-game stats, faction introduction videos, etc...)

Steam achievements and trading cards

...and other surprises!
"
Qual è lo stato attuale della versione in accesso anticipato?
"We're recently reached the Beta stage of the game development with the implementation of the Multiplayer mode, 2 new Major Factions, the addition of Ships and Harbours, Roads and Trade Routes, an improved Diplomacy, Privateers, and much more!"
Il prezzo del gioco varierà durante e dopo l'accesso anticipato?
"During the Beta stage, the game can be acquired with a 10% discount to thank people for jumping into this adventure early on."
Come pensate di coinvolgere la Comunità durante il processo di sviluppo?
"Acquiring Endless Legend in "Early Access" will help us make the game the best it can get. Come and discuss with the dev team the upcoming art and game design elements via our GAMES2GETHER platform! If you want to support even more the development of the game, go for the Founder Pack! The more supporters we have during the Early Access, the better we'll be able to make the game for release! Create your own Legend!"
Ulteriori informazioni
Acquista Endless Legend - Classic Pack
Acquista Endless Legend - Founder Pack
Acquista Endless Legend - Classic to Founder Pack Upgrade
21 agosto
ABOUT THE DRAKKEN
An ancient and venerable race, the drakes and dragons of the Drakken prize lore, history, and wisdom above all things.
Few in number but exceedingly powerful, they do not seek war but rather relationships, information, and knowledge. Faction histories, artifacts, and ruins are highly prized by the Drakken while wealth, military power, and advanced technology are viewed as insignificant.
Military they have limited numbers, and bring to battle very few but very powerful units.
The gradual onset of longer winters has not escaped the notice of this race who are attuned to Auriga's rhythms than all the rest.
Already they have struck out across the vast planet, forging ties with all who share Auriga's lands. They understand well that even if the cataclysm comes again, their first duty is to preserve what the Endless left behind, so that one day, maybe in a hundred years, maybe in a hundred thousand, their great teacher's creations will still endure.
https://www.youtube.com/watch?v=j__D_3CqRCw
[0.6.1] RELEASE NOTES
The release notes are too long so I cannot unfortunately post them in this announcement. However, they're available
here
!
Check out the official
dev blog post
for more information.
~Amplitude Studios
18 commenti
Ulteriori informazioni
7 agosto
[0.5.19] Patch Notes
CHANGES AND ADDITIONS
Added picture and description for some new technologies.

Added a new option to set the speed at which the battle animations will be played.
IMPORTANT FIXES
Fixed a desync that occurred when the dumping method is set to binary.
OTHER FIXES
Fixed an issue with the animations of the Broken Lords Militia and Settler.
~Amplitude Studios
7 commenti
Ulteriori informazioni
BE A GAME CHANGER!
Acquiring Endless Legend in "Early Access" will help us make the game the best it can get. Come and discuss with the dev team the upcoming art and game design elements via our GAMES2GETHER platform! If you want to support even more the development of the game, go for the Founder Pack! The more supporters we have during the Early Access, the better we'll be able to make the game for release! ...be prepared to create your own legend!


Informazioni sul gioco
Create your own Legend
Another sunrise, another day of toil. Food must be grown, industries built, science and magic advanced, and wealth collected. Urgency drives these simple efforts, however, for your planet holds a history of unexplained apocalypse, and the winter you just survived was the worst on record. A fact that has also been true for the previous five.
As you discover the lost secrets of your world and the mysteries of the legends and ruins that exist as much in reality as in rumor, you will come to see that you are not alone. Other peoples also struggle to survive, to grow, and perhaps even to conquer.
You have a city, a loyal populace, and a few troops; your power and magic should be sufficient to keep them alive. But beyond that, nothing is certain… Where will you go, what will you find, and how will you react? Will your trail be one of roses, or of blood?
Explore fantastic lands.
Lead one of eight civilizations each with a unique gameplay style and storyline.

Survive through cold dark seasons that drive Auriga to its end. Will it also be yours?

Experience an endless replayability with randomly generated worlds and quests.

Set the size, shape, topography and more... to create your own world to discover.
Expand beyond the unknown.
Conquer, build and develop villages into feared fortresses or wonderful cities.

Assimilate powerful minor factions and use their special traits and units wisely.

Hire, equip and train your heroes to become army leaders or city governors.

Raise your civilization by finding mysterious artefacts and forgotten technologies.
Exploit every opportunity.
Evolve your civilization through the discovery of new advanced technologies.

Collect Dust, luxuries and strategic resources tradable on the marketplace.

Keep one step ahead of other civilizations through trade and subtle diplomacy.

Choose from different victory conditions and adapt your strategy on the fly.
Exterminate fools who defy you.
Experience an innovative dynamic simultaneous turn-based battle system.

Use unit equipement, abilities and the terrain to overcome your opponents.

Zoom out of a battle and rule the other aspects of your empire seamlessly.

Define your custom civilizations and confront those created by your friends.
Requisiti di sistema
Minimum:


OS: Windows Vista / 7 / 8 / 8.1

Processor: Intel Core 2 Quad Q6600 @ 2.50Ghz or equivalent

Memory: 4 GB RAM

Graphics: nVidia Geforce 460 1GB or ATI Radeon HD 6850 1GB

DirectX: Version 9.0c

Hard Drive: 4 GB available space

Sound Card: DirectX 9 Compatible Audio
© 2014 Amplitude Studios. All rights reserved.
Endless Legend, GAMES2GETHER, Amplitude Studios and Amplitude Studios logo are trademarks of Amplitude Studios in the U.S. and other countries.
*Amplitude Studios reserves the rights to monitor, suspend or terminate access to the Amplitude Studios forums for any user who does not abide by the guidelines found here.
Recensioni utili dai clienti
Titolo:
Endless Legend
Genere:
Indie
,
Strategia
,
Accesso anticipato
Sviluppatore:
AMPLITUDE Studios
Editore:
AMPLITUDE Studios
Data di rilascio:
24 apr 2014
Lingue:
| | Interfaccia | Audio completo | Sottotitoli |
| --- | --- | --- | --- |
| Inglese | | | |