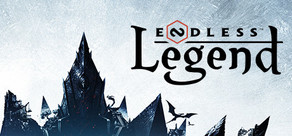 Endless Legend is a 4X turn-based fantasy strategy game by the creators of Endless Space and Dungeon of the Endless. Create your own Legend!
Datum vydání: 24 dub. 2014
Sledovat HD video
Hra s předběžným přístupem
Získejte okamžitý přístup a začněte hrát. Zapojte se do této hry již během jejího vývoje.
Poznámka: Během vývoje se tato hra může výrazně změnit. Pokud Vás hra nyní nezaujala, zkuste počkat, až bude v další fázi vývoje. Více informací zde.
Zpráva od vývojářů:
Proč předběžný přístup?
"Amplitude Studios thanks to the GAMES2GETHER platform wants to propose a brand new way for players around the world to participate in the creation of a video game! Early Access is just one mean, but a significant one, on how we want to interact with the community to make our games the best they can get. Let's create GAMES2GETHER!
Endless Legend is a rich and deep turn-based 4X strategy game: the game is changing at each update thanks to the community feedback that is more than helpful to us to tune the AI, work on the faction balancing, and generally improve the game experience."
Jak dlouho bude tato hra v předběžném přístupu?
"If everything go as planned, Endless Legend will be released by the end of this Summer 2014."
Jak se bude plná verze lišit od předběžného přístupu?
"What can you expect from this Beta? A real experience! The game includes a lot of single player and multiplayer gameplay features and it looks, plays and feels almost like a final game.
In addition to a final polishing and balancing round, we are still working on a couple of additional elements until the release of the game such as:
2 additional major factions including the community created "Cultists"

4 new minor factions including the Ice Wargs from the Founder Pack

a special Vaulters unit skin pack from the Founder Pack

a game introduction explaining the gameplay basics

4 new victory conditions

custom factions

a lot of enhancements (retreat, in-game stats, faction introduction videos, etc...)

Steam achievements and trading cards

...and other surprises!
"
V jaké fázi vývoje se hra nachází?
"We're recently reached the Beta stage of the game development with the implementation of the Multiplayer mode, 2 new Major Factions, the addition of Ships and Harbours, Roads and Trade Routes, an improved Diplomacy, Privateers, and much more!"
Změní se cena hry po skončení předběžného přístupu?
"During the Beta stage, the game can be acquired with a 10% discount to thank people for jumping into this adventure early on."
Jak plánujete zapojit komunitu do vývoje této hry?
"Acquiring Endless Legend in "Early Access" will help us make the game the best it can get. Come and discuss with the dev team the upcoming art and game design elements via our GAMES2GETHER platform! If you want to support even more the development of the game, go for the Founder Pack! The more supporters we have during the Early Access, the better we'll be able to make the game for release! Create your own Legend!"
Zjistit více
Koupit Endless Legend - Classic Pack
Koupit Endless Legend - Founder Pack
Koupit Endless Legend - Classic to Founder Pack Upgrade
8 července 2014


Hello everyone,

We wanted to thank you for the past few months of Alpha feedback and suggestion… As you can see on the main list where we track your feedback, there is a lot of things to follow, and quite a lot already addressed: [G2G] Endless Legend's List of Community Feedback.

Now that we have reached beta, we wanted to share with you how we see the final sprint to the finish line.


Remaining content
Here is the content we will deliver during the Beta that is missing for the final game:

Two last Eras

Two last major Factions

Two last minor factions

The tutorial

Custom factions
Content that may be available post release
The faction competition, although it ended in something quite unique and amazing, arrived a bit late in development, and we are not sure we'll be able to release
the Cultists
(pictured above) the day of the actual release. If we can't we release it a bit later.
We'll keep you posted.
Next Update
We will do our best to release our
next major update
before the end of the month. If need be we'll do a hotfix before.
Balancing the Game
While we are finishing these elements, we will focus mostly on
balancing and stability issues
, and as you know the game is huge so it will be quite a challenge! We need you guys, to report your balancing thoughts, and our game designer has started a thread there on this matter so check it out:
Community Feedback on Balancing
.
The more you will help us to tune the existing, rather than adding new stuff, the more we can reveal that jewel in the rough.
Shaping up the AI
As you know, another challenge with 4X games is the AI. We are quite a lot working on it, but the more we learn on how you play the game, the better we can teach the AI: how do you react against other players? Why? How do you win a military campaign? How do you explore? How do you choose expansion over development? What are your unit designs? Once again, it's only thanks to your feedback and even more tests on our side that we'll get closer to the result that we want.
Releasing the Game
You often ask us when do we plan to release the game. It's always tricky to reveal an exact date, but we discussed it lengthily with the team, and we came to the conclusion that we should do everything we can to release
before the end of the summer
. And we'll do our best to release the
Mac version
then as well..!
Why?
First we believe the game is shaping up nicely and with 2 months of work we can do wonders. Secondly, if we don't, there will be a flow of huge games coming out that will totally bury us under a pile of AAA marketing assault, leaving no time for journalists and player to hear about us...
As you know, for us the release of the game is only the beginning of a new life, where we can expand in making of Endless Legend the most epic fantasy 4X game we have ever played!
We can't wait to read your feedback for that last straight rush to the finish line, but thank you all in advance for your precious help.
~Amplitude Studios
14 komentářů
Zjistit více
4 července 2014
IMPORTANT FIX

Fixed an issue where the clients received an assert message; it would desync the session when inspecting the heroes market tab.
2 komentářů
Zjistit více
BE A GAME CHANGER!
Acquiring Endless Legend in "Early Access" will help us make the game the best it can get. Come and discuss with the dev team the upcoming art and game design elements via our GAMES2GETHER platform! If you want to support even more the development of the game, go for the Founder Pack! The more supporters we have during the Early Access, the better we'll be able to make the game for release! ...be prepared to create your own legend!


O hře
Create your own Legend
Another sunrise, another day of toil. Food must be grown, industries built, science and magic advanced, and wealth collected. Urgency drives these simple efforts, however, for your planet holds a history of unexplained apocalypse, and the winter you just survived was the worst on record. A fact that has also been true for the previous five.
As you discover the lost secrets of your world and the mysteries of the legends and ruins that exist as much in reality as in rumor, you will come to see that you are not alone. Other peoples also struggle to survive, to grow, and perhaps even to conquer.
You have a city, a loyal populace, and a few troops; your power and magic should be sufficient to keep them alive. But beyond that, nothing is certain… Where will you go, what will you find, and how will you react? Will your trail be one of roses, or of blood?
Explore fantastic lands.
Lead one of eight civilizations each with a unique gameplay style and storyline.

Survive through cold dark seasons that drive Auriga to its end. Will it also be yours?

Experience an endless replayability with randomly generated worlds and quests.

Set the size, shape, topography and more... to create your own world to discover.
Expand beyond the unknown.
Conquer, build and develop villages into feared fortresses or wonderful cities.

Assimilate powerful minor factions and use their special traits and units wisely.

Hire, equip and train your heroes to become army leaders or city governors.

Raise your civilization by finding mysterious artefacts and forgotten technologies.
Exploit every opportunity.
Evolve your civilization through the discovery of new advanced technologies.

Collect Dust, luxuries and strategic resources tradable on the marketplace.

Keep one step ahead of other civilizations through trade and subtle diplomacy.

Choose from different victory conditions and adapt your strategy on the fly.
Exterminate fools who defy you.
Experience an innovative dynamic simultaneous turn-based battle system.

Use unit equipement, abilities and the terrain to overcome your opponents.

Zoom out of a battle and rule the other aspects of your empire seamlessly.

Define your custom civilizations and confront those created by your friends.
Systémové požadavky
Minimum:


OS: Windows Vista / 7 / 8 / 8.1

Processor: Intel Core 2 Quad Q6600 @ 2.50Ghz or equivalent

Memory: 4 GB RAM

Graphics: nVidia Geforce 460 1GB or ATI Radeon HD 6850 1GB

DirectX: Version 9.0c

Hard Drive: 4 GB available space

Sound Card: DirectX 9 Compatible Audio
© 2014 Amplitude Studios. All rights reserved.
Endless Legend, GAMES2GETHER, Amplitude Studios and Amplitude Studios logo are trademarks of Amplitude Studios in the U.S. and other countries.
*Amplitude Studios reserves the rights to monitor, suspend or terminate access to the Amplitude Studios forums for any user who does not abide by the guidelines found here.
Užitečné recenze od zákazníků
Název:
Endless Legend
Žánr:
Nezávislé
,
Strategické
,
Předběžný přístup
Vývojář:
AMPLITUDE Studios
Vydavatel:
AMPLITUDE Studios
Datum vydání:
24 dub. 2014
Jazyky:
| | Rozhraní | Zvuk | Titulky |
| --- | --- | --- | --- |
| Angličtina | | | |