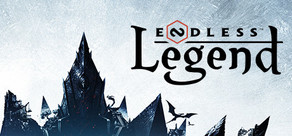 Endless Legend is a 4X turn-based fantasy strategy game by the creators of Endless Space and Dungeon of the Endless. Create your own Legend!
Data de lançamento: 24 Abr 2014
Ver vídeo HD
Jogo com Acesso Antecipado
Obtém já acesso e começa a jogar; participa no desenvolvimento deste jogo.
Nota: Este jogo com Acesso Antecipado poderá ou não ficar diferente ao longo do seu desenvolvimento. Se não estás confiante no jogo no seu estado atual, então poderás querer esperar até que o jogo fique num estado melhor mais tarde. Fica a saber mais.
O que os desenvolvedores têm a dizer:
Porquê Acesso Antecipado?
"Amplitude Studios thanks to the GAMES2GETHER platform wants to propose a brand new way for players around the world to participate in the creation of a video game! Early Access is just one mean, but a significant one, on how we want to interact with the community to make our games the best they can get. Let's create GAMES2GETHER!
Endless Legend is a rich and deep turn-based 4X strategy game: the game is changing at each update thanks to the community feedback that is more than helpful to us to tune the AI, work on the faction balancing, and generally improve the game experience."
Durante quanto tempo vai este jogo estar em Acesso Antecipado?
"If everything go as planned, Endless Legend will be released by the end of this Summer 2014."
Qual vai ser a diferença entre a versão final e a versão de Acesso Antecipado?
"What can you expect from this Beta? A real experience! The game includes a lot of single player and multiplayer gameplay features and it looks, plays and feels almost like a final game.
In addition to a final polishing and balancing round, we are still working on a couple of additional elements until the release of the game such as:
2 additional major factions including the community created "Cultists"

4 new minor factions including the Ice Wargs from the Founder Pack

a special Vaulters unit skin pack from the Founder Pack

a game introduction explaining the gameplay basics

4 new victory conditions

custom factions

a lot of enhancements (retreat, in-game stats, faction introduction videos, etc...)

Steam achievements and trading cards

...and other surprises!
"
Qual é o estado atual da versão de Acesso Antecipado?
"We're recently reached the Beta stage of the game development with the implementation of the Multiplayer mode, 2 new Major Factions, the addition of Ships and Harbours, Roads and Trade Routes, an improved Diplomacy, Privateers, and much more!"
O jogo vai ter preços diferentes durante e depois do Acesso Antecipado?
"During the Beta stage, the game can be acquired with a 10% discount to thank people for jumping into this adventure early on."
Como estão a planear incluir a comunidade durante o desenvolvimento?
"Acquiring Endless Legend in "Early Access" will help us make the game the best it can get. Come and discuss with the dev team the upcoming art and game design elements via our GAMES2GETHER platform! If you want to support even more the development of the game, go for the Founder Pack! The more supporters we have during the Early Access, the better we'll be able to make the game for release! Create your own Legend!"
Ler mais
Comprar Endless Legend - Classic Pack
Comprar Endless Legend - Founder Pack
Comprar Endless Legend - Classic to Founder Pack Upgrade
31 julho 2014



Hi everyone,

Here is a new status update on our progress written by Mathieu, our CEO. All in all, the game is progressing well into a release state, as we complete the last features and content, and fix bugs.

Taken from our Dev Blog: http://forums.amplitude-studios.com/content.php?454-Endless-Legend-Progress-Report



Some Recent Additions
On the gameplay side, we have completed the
faction customization panel
. Currently the edition only contains the traits of the current major factions, but the game designers are now adding more traits to enrich the database. We are also continuing to beef up the
diplomacy
, in terms of content and interactivity. That is especially true on the AI which is now able to handle commercial and research agreements. One of our incoming tasks consists into giving more information to the user concerning the AI diplomatic decisions, so that you understand its actions.
Victory conditions
have been expanded to seven types, and a new
Status Screen
has been created to show empire graphs (similar to the one at the game end) and status towards victory, for empires which have diplomatic relations with the player. The battle also continues to be improved with a new
retreat mode
, and special battle abilities such as parasiting (I have also been told about a certain bird and egg thing). We are in the process of adding an
acceleration option to the battle animations
, which has highly been requested by the community.
The AI
Regarding AI, the team is made of 5 programmers, with their fellow designers: they are steadily advancing. The AI is almost feature complete ; we are missing a few advanced diplomatic elements and marketplace interactions. There is something healthy in the way the last bricks are added, because they involve refactoring and normalizing the game data and architecture so that everything is consistent. For instance, the ability to buy strategic resources in the marketplace has lead us to rewrite a common resource acquirement pattern, mixing mining / diplomacy / marketplace. There is still a lot of room for tuning and optimizing the AI, and this will be our next focus.
A Tutorial & Playtesters
The
tutorial
is well under way, and the first results are more than encouraging. We should welcome our first guinea pigs (not pugs) at the Amplitude offices to try it out this week. Endless Legend is a complex game, so there is still a lot of information to explain in the first instructions; the good thing is that the more you progress, the easier it is to explain game notions as core mechanics have already been assimilated. We have tried to find the right mix of a playable tutorial and controlling the player actions so that s/he does not get lost.
New Factions
We now have 2 more factions to release. The
< unknown_faction >
is nearly complete, and the VIP have been already testing it since last Friday. I know you are very eager to test the < unknown_faction >, especially with their < unknwown_ability >, and we will likely release it mid-august, so that you can give us feedback before the release. Concerning the
Cultists of the Eternal End
, they are well advanced in terms of 3D characters production, ship, city blocks, and the animation production has started. Their specific gameplay, however original and exotic, already gives nightmares to the programmers. Gamebreaking is cool, but it is not engineers-friendly! Still, we are trying our best to get the cultists ready for release.
Multiplayer
We had the chance to play some multiplayer games with the community. There were a few issues and GUI frustration, which are being fixed or have already fixed, but all in all, the experience seems smooth. I think we are already well above the multiplayer experience of Endless Space when it was released, and we are still adding some polishing steps.
Bug Fixing
In terms of bug fixing, we see no major trouble. The bugs are registered in our database with severities from S1 (blocker) to S5 (trivial). Currently, there are no S1 bugs, around 80 S2 bugs, and then a bunch S3 and S4 bugs. With the team we have, we should be able to take care of most of them. The only concerning issues are random bugs which are difficult to reproduce: some very rare cases of desync, a few army behaviour errors. The other concern is the out of memory on 32 bits systems. We have already optimized the graphical memory to gain several hundreds of megabytes, and we are still looking for other areas to optimize.
As I stated in the beginning of this message, it feels to us that the pieces are setting together nicely. Except for the last remaining features / content, it feels like we are in polish mode, which is reassuring for a release objective. We hope to give you a new build by the end of this week, so that you can try out the latest cool stuff.
Thanks for your attention!
~Amplitude Studios
1 comentários
Ler mais
8 julho 2014


Hello everyone,

We wanted to thank you for the past few months of Alpha feedback and suggestion… As you can see on the main list where we track your feedback, there is a lot of things to follow, and quite a lot already addressed: [G2G] Endless Legend's List of Community Feedback.

Now that we have reached beta, we wanted to share with you how we see the final sprint to the finish line.


Remaining content
Here is the content we will deliver during the Beta that is missing for the final game:

Two last Eras

Two last major Factions

Two last minor factions

The tutorial

Custom factions
Content that may be available post release
The faction competition, although it ended in something quite unique and amazing, arrived a bit late in development, and we are not sure we'll be able to release
the Cultists
(pictured above) the day of the actual release. If we can't we release it a bit later.
We'll keep you posted.
Next Update
We will do our best to release our
next major update
before the end of the month. If need be we'll do a hotfix before.
Balancing the Game
While we are finishing these elements, we will focus mostly on
balancing and stability issues
, and as you know the game is huge so it will be quite a challenge! We need you guys, to report your balancing thoughts, and our game designer has started a thread there on this matter so check it out:
Community Feedback on Balancing
.
The more you will help us to tune the existing, rather than adding new stuff, the more we can reveal that jewel in the rough.
Shaping up the AI
As you know, another challenge with 4X games is the AI. We are quite a lot working on it, but the more we learn on how you play the game, the better we can teach the AI: how do you react against other players? Why? How do you win a military campaign? How do you explore? How do you choose expansion over development? What are your unit designs? Once again, it's only thanks to your feedback and even more tests on our side that we'll get closer to the result that we want.
Releasing the Game
You often ask us when do we plan to release the game. It's always tricky to reveal an exact date, but we discussed it lengthily with the team, and we came to the conclusion that we should do everything we can to release
before the end of the summer
. And we'll do our best to release the
Mac version
then as well..!
Why?
First we believe the game is shaping up nicely and with 2 months of work we can do wonders. Secondly, if we don't, there will be a flow of huge games coming out that will totally bury us under a pile of AAA marketing assault, leaving no time for journalists and player to hear about us...
As you know, for us the release of the game is only the beginning of a new life, where we can expand in making of Endless Legend the most epic fantasy 4X game we have ever played!
We can't wait to read your feedback for that last straight rush to the finish line, but thank you all in advance for your precious help.
~Amplitude Studios
14 comentários
Ler mais
BE A GAME CHANGER!
Acquiring Endless Legend in "Early Access" will help us make the game the best it can get. Come and discuss with the dev team the upcoming art and game design elements via our GAMES2GETHER platform! If you want to support even more the development of the game, go for the Founder Pack! The more supporters we have during the Early Access, the better we'll be able to make the game for release! ...be prepared to create your own legend!


Acerca do Jogo
Create your own Legend
Another sunrise, another day of toil. Food must be grown, industries built, science and magic advanced, and wealth collected. Urgency drives these simple efforts, however, for your planet holds a history of unexplained apocalypse, and the winter you just survived was the worst on record. A fact that has also been true for the previous five.
As you discover the lost secrets of your world and the mysteries of the legends and ruins that exist as much in reality as in rumor, you will come to see that you are not alone. Other peoples also struggle to survive, to grow, and perhaps even to conquer.
You have a city, a loyal populace, and a few troops; your power and magic should be sufficient to keep them alive. But beyond that, nothing is certain… Where will you go, what will you find, and how will you react? Will your trail be one of roses, or of blood?
Explore fantastic lands.
Lead one of eight civilizations each with a unique gameplay style and storyline.

Survive through cold dark seasons that drive Auriga to its end. Will it also be yours?

Experience an endless replayability with randomly generated worlds and quests.

Set the size, shape, topography and more... to create your own world to discover.
Expand beyond the unknown.
Conquer, build and develop villages into feared fortresses or wonderful cities.

Assimilate powerful minor factions and use their special traits and units wisely.

Hire, equip and train your heroes to become army leaders or city governors.

Raise your civilization by finding mysterious artefacts and forgotten technologies.
Exploit every opportunity.
Evolve your civilization through the discovery of new advanced technologies.

Collect Dust, luxuries and strategic resources tradable on the marketplace.

Keep one step ahead of other civilizations through trade and subtle diplomacy.

Choose from different victory conditions and adapt your strategy on the fly.
Exterminate fools who defy you.
Experience an innovative dynamic simultaneous turn-based battle system.

Use unit equipement, abilities and the terrain to overcome your opponents.

Zoom out of a battle and rule the other aspects of your empire seamlessly.

Define your custom civilizations and confront those created by your friends.
Requisitos do Sistema
Minimum:


OS: Windows Vista / 7 / 8 / 8.1

Processor: Intel Core 2 Quad Q6600 @ 2.50Ghz or equivalent

Memory: 4 GB RAM

Graphics: nVidia Geforce 460 1GB or ATI Radeon HD 6850 1GB

DirectX: Version 9.0c

Hard Drive: 4 GB available space

Sound Card: DirectX 9 Compatible Audio
© 2014 Amplitude Studios. All rights reserved.
Endless Legend, GAMES2GETHER, Amplitude Studios and Amplitude Studios logo are trademarks of Amplitude Studios in the U.S. and other countries.
*Amplitude Studios reserves the rights to monitor, suspend or terminate access to the Amplitude Studios forums for any user who does not abide by the guidelines found here.
Análises úteis de clientes
Título:
Endless Legend
Género:
Indie
,
Estratégia
,
Acesso Antecipado
Programador:
AMPLITUDE Studios
Editora:
AMPLITUDE Studios
Data de lançamento:
24 Abr 2014
Idiomas:
| | Interface | Vozes | Legendas |
| --- | --- | --- | --- |
| Inglês | | | |