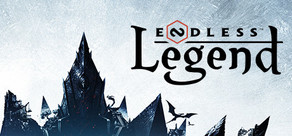 Endless Legend is a 4X turn-based fantasy strategy game by the creators of Endless Space and Dungeon of the Endless. Create your own Legend!
Megjelenés dátuma: 24 Ápr 2014
Nézd meg a HD videót
Korai hozzáférésű játék
Szerezz azonnali hozzáférést és kezdj játszani; légy részese a játék fejlődésének.
Megjegyzés: Ez a korai hozzáférésű játék a fejlesztés során vagy változik jelentősebben, vagy nem. Ha nem izgat a vele való játék a jelenlegi állapotában, érdemes lehet várni, míg a játék fejlesztése előrehaladottabbá válik. Tudj meg többet.
Mit mondanak a fejlesztők:
Miért a Korai Hozzáférés?
"Amplitude Studios thanks to the GAMES2GETHER platform wants to propose a brand new way for players around the world to participate in the creation of a video game! Early Access is just one mean, but a significant one, on how we want to interact with the community to make our games the best they can get. Let's create GAMES2GETHER!
Endless Legend is a rich and deep turn-based 4X strategy game: the game is changing at each update thanks to the community feedback that is more than helpful to us to tune the AI, work on the faction balancing, and generally improve the game experience."
Mennyi ideig lesz ez a játék a Korai Hozzáférésben?
"If everything go as planned, Endless Legend will be released by the end of this Summer 2014."
A tervek szerint miben fog különbözni a teljes verzió a korai hozzáférésű verziótól?
"What can you expect from this Beta? A real experience! The game includes a lot of single player and multiplayer gameplay features and it looks, plays and feels almost like a final game.
In addition to a final polishing and balancing round, we are still working on a couple of additional elements until the release of the game such as:
2 additional major factions including the community created "Cultists"

4 new minor factions including the Ice Wargs from the Founder Pack

a special Vaulters unit skin pack from the Founder Pack

a game introduction explaining the gameplay basics

4 new victory conditions

custom factions

a lot of enhancements (retreat, in-game stats, faction introduction videos, etc...)

Steam achievements and trading cards

...and other surprises!
"
Milyen állapotban van jelenleg a korai hozzáférésű verzió?
"We're recently reached the Beta stage of the game development with the implementation of the Multiplayer mode, 2 new Major Factions, the addition of Ships and Harbours, Roads and Trade Routes, an improved Diplomacy, Privateers, and much more!"
Eltérően lesz árazva a játék a korai hozzáférés alatt és azt követően?
"During the Beta stage, the game can be acquired with a 10% discount to thank people for jumping into this adventure early on."
Hogyan tervezitek bevonni a közösséget a fejlesztés folyamatába?
"Acquiring Endless Legend in "Early Access" will help us make the game the best it can get. Come and discuss with the dev team the upcoming art and game design elements via our GAMES2GETHER platform! If you want to support even more the development of the game, go for the Founder Pack! The more supporters we have during the Early Access, the better we'll be able to make the game for release! Create your own Legend!"
Tovább
Endless Legend - Classic Pack vásárlása
Endless Legend - Founder Pack vásárlása
Endless Legend - Classic to Founder Pack Upgrade vásárlása
1 augusztus 2014
[0.5.18] Version Notes
CHANGES AND ADDITIONS
Enabled Tiny and Huge maps.

Enabled 7th and 8th Player slots.

Added Gauran and Hurnas minor factions.

Added new diplomatic terms: commercial and research agreement.

Heavy modifications of the tech tree: some technologies can unlock several constructibles or bonus empire. Text and icons are still WIP.

Increased the requirements of the next Era (10 unlocked technologies instead of 8), but to unlock a new area, you now have to research 10 technologies of any previous era (and not the last era anymore).

Added the Roving Clans scene in the outgame view.

District and City Centre levels are capped to 2. Their level is now displayed in their tooltip.

In Game Chat:


Ensure we'll show all messages received, even without opening the chat window first. Also clearing the backlog when starting a new game (or loading a save).

When the chat panel is not visible, incoming messages are discreet (the panel doesn't pop-up anymore).

Fixed the fading out of the chat, when in "discreet" mode (+no scrollbar, no mouse grab).

Added a new Unit capacity: "Revive" (for Ardent Mages' Eneqa Wing)


If the phoenix is killed, it is transform into an egg with 50% of its max health.

An egg can't attack but can still be targeted.

All the eggs still alive at the end of a battle are killed if they don't have friendly units with them.

Added a new Unit capacity: "Parasite" (for Necrophages' Proliferator)


The proliferator uses Parasite by attacking. A unit with a parasite that dies in a battle gives a Forager unit to its enemy.

Disease immunity protects from parasite.

Added new world generation options.

Added a new option to scale the speed of battles (animation, FX, movement...).

Added an in-game stats panel in the Empire screen.

Added Steam Cloud support.

Added a Retreat button for attacked armies: retreating deals 50% of the max health to all units retreating and requires 1 Army Action Point.

Added the display of the Diplomatic abilities to the Diplomacy/Negotiation screens.

Added the display of the trade routes in the strategic world view.

Improved the feedback (effects and icons) of the Unit and Hero capacities.

Updated the native capacities of all of the units.

Updated the capacities on weapons.

Removed the army action cost for the Search, Bribe and Parley army actions.

Now flying have their own default attack which can be countered if the terrain allows it.

Reworked the critical formula: now deals damages equal to attack instead of critical.

Added the display of the upkeep cost in the Unit tooltip.

Added the display of the remaining action points in the army panel.

Units' level are limited to 9 instead of 20.

Increased the experience needed to level up. Updated the experience reward per era to fit with the new levelling threshold.

Decreased price of heroes, increased their sensibility to inflation.

Increased winter maluses (-2Food/Dust on Food/Dust tiles, -1 Industry on Exploitation Area). Several buildings don't work in winter.

Necrophages' Sacrifice resets the growth timer.

Added more information concerning the players' status on the MP loading screen.

Improved the desync detection tool.
IMPORTANT FIXES
Fixed an issue where clients remain stuck in multiplayer sessions without migrating the previous host after s/he leaves.

Fixed an issue where a skippable assert resulted in a block when choosing auto or manual combat.

Fixed an issue where the creating/loading of a session is paused whenever users switch to another windows task by alt-tabbing.

Fixed an issue where clients is stuck inside the lobby screen whenever the host switches to another task by alt-tabbing.

Performed some memory optimisations, improved the performance on 32-bit systems.
OTHER FIXES
Fixed an issue where destroying and rebuilding minor faction villages can be used as an exploit to increase city population.
MP
Fixed an issue where a desync is generated when a user obtains a regular technology as a quest reward during the same turn in which s/he completes the research of another technology.

Fixed an issue where a session desyncs when the host buys a hero from the marketplace.

Fixed an issue where a session desyncs whenever a third player switches slots and joins a multiplayer session while it's being created.

Fixed an issue where the server migration fails whenever the host either quits or is defeated during a session.
AI
Fixed an issue where the AI does not attempt to complete side or main quests.
GRAPHICS
Fixed an issue where the game stops loading graphic assets in the later stages of a game when zooming out.

Fixed an issue where a graphical corruption is displayed inside the city list screen when colonising over 40% of a large map.

Fixed an issue where switching to 1920x1080 windowed mode does not centre the game window on the main screen.
QUESTS
Fixed an issue where the chapter 5 Roving Clans alternative quest cannot be completed.

Fixed an issue where loading the session causes the army spawned during the 1.2 "Digging in" quest to remain stationary instead of assaulting the city.
GUI
Fixed an issue where the Dust line exceeds the graphic in the score screen.

Fixed an issue where the score screen does not display numeric values on the X and Y axis for the empire score and turns passed.

Fixed an issue where geoconstructible extensions is shown when the empire is lacking the strategic resources to construct them.

Fixed an inconsistency between the City Banner timer and the Construction Queue timer.

Fixed an issue where Expansion victory does not activate an alert notification at 50% progress.

Fixed an issue where activating or deactivating the big screen user interface changes the position of the notification icons on the UI.

Fixed an issue where quest screen text become unintelligible due to the winter background.

Fixed an issue where there is no visual element in the multiplayer lobby to mark the Host.

Fixed an issue where in the city list screen, there is no buyout button for the displayed queued item.

Fixed an issue where the Diplomatic offer proposed window does not give any information about the proposed treaties.

Fixed an issue where a skippable assert is generated when a user selects a faction in the drop down list during the "End turn" phase and that faction was eliminated during that same turn.
KNOWN ISSUES
The Auto-explore army action is enabled for the first army only.
~Amplitude Studios
3 megjegyzés
Tovább
31 július 2014



Hi everyone,

Here is a new status update on our progress written by Mathieu, our CEO. All in all, the game is progressing well into a release state, as we complete the last features and content, and fix bugs.

Taken from our Dev Blog: http://forums.amplitude-studios.com/content.php?454-Endless-Legend-Progress-Report



Some Recent Additions
On the gameplay side, we have completed the
faction customization panel
. Currently the edition only contains the traits of the current major factions, but the game designers are now adding more traits to enrich the database. We are also continuing to beef up the
diplomacy
, in terms of content and interactivity. That is especially true on the AI which is now able to handle commercial and research agreements. One of our incoming tasks consists into giving more information to the user concerning the AI diplomatic decisions, so that you understand its actions.
Victory conditions
have been expanded to seven types, and a new
Status Screen
has been created to show empire graphs (similar to the one at the game end) and status towards victory, for empires which have diplomatic relations with the player. The battle also continues to be improved with a new
retreat mode
, and special battle abilities such as parasiting (I have also been told about a certain bird and egg thing). We are in the process of adding an
acceleration option to the battle animations
, which has highly been requested by the community.
The AI
Regarding AI, the team is made of 5 programmers, with their fellow designers: they are steadily advancing. The AI is almost feature complete ; we are missing a few advanced diplomatic elements and marketplace interactions. There is something healthy in the way the last bricks are added, because they involve refactoring and normalizing the game data and architecture so that everything is consistent. For instance, the ability to buy strategic resources in the marketplace has lead us to rewrite a common resource acquirement pattern, mixing mining / diplomacy / marketplace. There is still a lot of room for tuning and optimizing the AI, and this will be our next focus.
A Tutorial & Playtesters
The
tutorial
is well under way, and the first results are more than encouraging. We should welcome our first guinea pigs (not pugs) at the Amplitude offices to try it out this week. Endless Legend is a complex game, so there is still a lot of information to explain in the first instructions; the good thing is that the more you progress, the easier it is to explain game notions as core mechanics have already been assimilated. We have tried to find the right mix of a playable tutorial and controlling the player actions so that s/he does not get lost.
New Factions
We now have 2 more factions to release. The
< unknown_faction >
is nearly complete, and the VIP have been already testing it since last Friday. I know you are very eager to test the < unknown_faction >, especially with their < unknwown_ability >, and we will likely release it mid-august, so that you can give us feedback before the release. Concerning the
Cultists of the Eternal End
, they are well advanced in terms of 3D characters production, ship, city blocks, and the animation production has started. Their specific gameplay, however original and exotic, already gives nightmares to the programmers. Gamebreaking is cool, but it is not engineers-friendly! Still, we are trying our best to get the cultists ready for release.
Multiplayer
We had the chance to play some multiplayer games with the community. There were a few issues and GUI frustration, which are being fixed or have already fixed, but all in all, the experience seems smooth. I think we are already well above the multiplayer experience of Endless Space when it was released, and we are still adding some polishing steps.
Bug Fixing
In terms of bug fixing, we see no major trouble. The bugs are registered in our database with severities from S1 (blocker) to S5 (trivial). Currently, there are no S1 bugs, around 80 S2 bugs, and then a bunch S3 and S4 bugs. With the team we have, we should be able to take care of most of them. The only concerning issues are random bugs which are difficult to reproduce: some very rare cases of desync, a few army behaviour errors. The other concern is the out of memory on 32 bits systems. We have already optimized the graphical memory to gain several hundreds of megabytes, and we are still looking for other areas to optimize.
As I stated in the beginning of this message, it feels to us that the pieces are setting together nicely. Except for the last remaining features / content, it feels like we are in polish mode, which is reassuring for a release objective. We hope to give you a new build by the end of this week, so that you can try out the latest cool stuff.
Thanks for your attention!
~Amplitude Studios
4 megjegyzés
Tovább
BE A GAME CHANGER!
Acquiring Endless Legend in "Early Access" will help us make the game the best it can get. Come and discuss with the dev team the upcoming art and game design elements via our GAMES2GETHER platform! If you want to support even more the development of the game, go for the Founder Pack! The more supporters we have during the Early Access, the better we'll be able to make the game for release! ...be prepared to create your own legend!


A játékról:
Create your own Legend
Another sunrise, another day of toil. Food must be grown, industries built, science and magic advanced, and wealth collected. Urgency drives these simple efforts, however, for your planet holds a history of unexplained apocalypse, and the winter you just survived was the worst on record. A fact that has also been true for the previous five.
As you discover the lost secrets of your world and the mysteries of the legends and ruins that exist as much in reality as in rumor, you will come to see that you are not alone. Other peoples also struggle to survive, to grow, and perhaps even to conquer.
You have a city, a loyal populace, and a few troops; your power and magic should be sufficient to keep them alive. But beyond that, nothing is certain… Where will you go, what will you find, and how will you react? Will your trail be one of roses, or of blood?
Explore fantastic lands.
Lead one of eight civilizations each with a unique gameplay style and storyline.

Survive through cold dark seasons that drive Auriga to its end. Will it also be yours?

Experience an endless replayability with randomly generated worlds and quests.

Set the size, shape, topography and more... to create your own world to discover.
Expand beyond the unknown.
Conquer, build and develop villages into feared fortresses or wonderful cities.

Assimilate powerful minor factions and use their special traits and units wisely.

Hire, equip and train your heroes to become army leaders or city governors.

Raise your civilization by finding mysterious artefacts and forgotten technologies.
Exploit every opportunity.
Evolve your civilization through the discovery of new advanced technologies.

Collect Dust, luxuries and strategic resources tradable on the marketplace.

Keep one step ahead of other civilizations through trade and subtle diplomacy.

Choose from different victory conditions and adapt your strategy on the fly.
Exterminate fools who defy you.
Experience an innovative dynamic simultaneous turn-based battle system.

Use unit equipement, abilities and the terrain to overcome your opponents.

Zoom out of a battle and rule the other aspects of your empire seamlessly.

Define your custom civilizations and confront those created by your friends.
Rendszerkövetelmények
Minimum:


OS: Windows Vista / 7 / 8 / 8.1

Processor: Intel Core 2 Quad Q6600 @ 2.50Ghz or equivalent

Memory: 4 GB RAM

Graphics: nVidia Geforce 460 1GB or ATI Radeon HD 6850 1GB

DirectX: Version 9.0c

Hard Drive: 4 GB available space

Sound Card: DirectX 9 Compatible Audio
© 2014 Amplitude Studios. All rights reserved.
Endless Legend, GAMES2GETHER, Amplitude Studios and Amplitude Studios logo are trademarks of Amplitude Studios in the U.S. and other countries.
*Amplitude Studios reserves the rights to monitor, suspend or terminate access to the Amplitude Studios forums for any user who does not abide by the guidelines found here.
Hasznos vásárlói értékelések
Cím:
Endless Legend
Műfaj:
Indie
,
Stratégia
,
Korai hozzáférés
Fejlesztő:
AMPLITUDE Studios
Kiadó:
AMPLITUDE Studios
Megjelenés dátuma:
24 Ápr 2014
Nyelvek:
| | Felület | Hang | Feliratozás |
| --- | --- | --- | --- |
| Angol | | | |