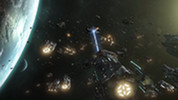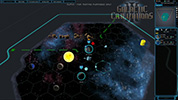 The latest installment of one of the highest-rated strategy series of all time, Galactic Civilizations III challenges players to build an empire that dominates the galaxy through conquest, diplomacy, cultural hegemony, or scientific research.
Data wydania: 27 Mar 2014
Obejrzyj wszystkie zapowiedzi (2)
Gra z wczesnym dostępem
Uzyskaj natychmiastowy dostęp i zacznij grać; zaangażuj się w powstawanie gry.
Uwaga: Ta dostępna w formie Wczesnego dostępu gra może się znacznie zmienić do momentu wydania. Jeśli nie ekscytuje cię myśl o zagraniu w nią w jej obecnym stanie, sugerujemy zaczekać, aż prace nad nią zostaną ukończone. Dowiedz się więcej
Od twórców:
Czemu Wczesny Dostęp?
"Stardock has always believed in extensive pre-release testing periods for our games. Involving our fans earlier in the process allows us to gather crucial gameplay, design, and balance feedback. Getting the game out on thousands of machines is a key part of hardware compatibility testing for us as well."
Ile czasu trwa faza Wczesnego dostępu?
"Galactic Civilizations III will be in Early Access until May 2015, according to our current schedule (which is of course subject to change). However, the existing Alpha will become Beta in late summer 2014, which will coincide with two things: the game being something approaching fun, and a price drop to the regular $49.99."
Czym różni się zaplanowana pełna wersja od tej z Wczesnego Dostępu?
"Well, for one thing, unlike the Alpha it'll be fun. As of this writing (June 2014, Alpha 2), the core game functionality is working – you can play multiplayer, research technology, colonize planets, fight wars, and design your own custom ships – but we're still building far more sophisticated AI, the combat viewer, diplomacy, resources, pirates, alternate victory conditions, and much more. These features will be added in during the Early Access period as they are developed."
Jaki jest obecny stan wersji z Wczesnego Dostępu?
"As of Alpha 2, the game still isn't fun. Multiplayer, colonization, planet development, research, and ship design all work, but the AI is extremely limited and we're still missing key features like diplomacy and the combat viewer."
Czy cena gry ulegnie zmianie podczas i po Wczesnym Dostępie?
"You may have noticed that only the $99.99 version is available for sale right now. That's not the final price, though it is a good deal for hardcore GalCiv fans since it comes with all future DLC and expansions forever. We priced it that way because we knew the alpha wasn't going to be fun, and we frankly didn't want anyone but our hardcore fans playing it because we knew it would disappoint.
Once we hit beta (late this summer) we'll drop the price to its regular $49.99. One of our criteria for declaring the game "beta" is that it be at least somewhat fun, so we'll be excited to welcome more players in at that time."
Jak zamierzacie włączyć społeczność w wasz proces tworzenia?
"We've already gotten a ton of valuable feedback from our community, both on design/gameplay issues as well as help in tracking down bugs. We actively monitor the forums both on Steam and at
http://www.galciv3.com
, and we do weekly livestreams at
http://www.twitch.tv/stardock
where lead designer Paul Boyer shows off internal builds (when they're stable enough) and answers community questions as well as soliciting feedback on specific design points that we're actively working on."
Więcej
Uwaga: 64-bit Windows Required

You must be running 64-bit Windows 7 or later to play Galactic Civilizations III. This requirement allows us to create the largest, most advanced, strategy game possible.
Kup Galactic Civilizations® III - Founder's Elite Edition
10 Lipiec 2014
We've got a patch for you today, bringing you more multiplayer map sizes, new music, and a boatload of bug fixes.

Just fire up your Steam client to download the patch automatically. If you're not seeing the update, try restarting your Steam client.

This is just an update patch, of course; we've got a bunch of awesome cooking for the next major update that we think *all* of our Founders will enjoy.

Happy conquering, and we'll see you on the stream tomorrow!

For a full change log, please visit: http://steamcommunity.com/app/226860/discussions/0/46476691016065416/
Komentarzy: 2
Więcej
26 Czerwiec 2014
We're streaming and taking questions every Friday at noon Pacific time (3pm Eastern, 9pm CET) and we'd love for you to join us on the official Stardock Twitch.tv channel.

Join us every Friday for the latest on Galactic Civilizations III, from discussions of upcoming features to conversations about why it's designed the way it is and sneak peeks of upcoming builds.

If you can't make the stream, you can always post questions to the Stardock forums or Tweet them at us, and we'll try to answer them on the air.

You can catch up on previous streams on the official Stardock YouTube channel; we've been at this for a while and they're all archived there. Barring any technical hiccups, the weekly stream tends to be uploaded and ready for viewing around 3pm Pacific on our YouTube channel the day it airs.

Hope to see you on Twitch, and thank you for your support!
Komentarzy: 1
Więcej
Founder's Elite Edition - LIMITED TIME OFFER!
Become an Elite Founder and get special perks!

A lifetime subscription to all GalCiv III DLC and expansion packs

Create your legacy* – Suggest a star name and get special thanks credit

Founders' Vault* – Access exclusive art, music and more from the development team

Forum badge* – Display with your account on the official Stardock forums
Informacje o grze
Galactic Civilizations III is the premier space strategy game. The latest installment of one of the highest-rated strategy series of all time, created by the original developers at Stardock, Galactic Civilizations III challenges players to build an empire that dominates the galaxy through conquest, diplomacy, cultural hegemony, or scientific research.
The stars are yours, if you can balance the demands of expansion, exploration, diplomacy, and all-but-inevitable galactic warfare. Careful strategy, not twitch reflexes, lead to victory in this turn-based strategy epic.
Online multi-player comes to Galactic Civilizations for the first time in Galactic Civilizations III. Conquer the galaxy alongside your friends or battle for supremacy in titanic clashes.
Feature List for Alpha (v0.30)
Play as the Terran Alliance, Drengin Empire, Altarian Resistance, or Iridium Corporation

Single-player sandbox or 2-4 player Internet multiplayer

Play on randomly generated maps (Tiny to Large; Conquest Victory only)

Colonize and improve habitable planets, research new technologies, and build fleets of ships

Focus your priorities with the new production wheel system

New ideology system – Gain unique bonuses by following pragmatic, benevolent, or merciless paths

Explore the galaxy to uncover hidden riches in space anomalies

Construct Starbases to expand your influence

Defeat your enemies by invading their planets

Design your own ships with the Shipyard
Future Features
Additional races - Play as the Yor Singularity, Thalan Contingency, Iconian Refuge, or Krynn Syndicate

Interactive map – Explore black holes, mysterious nebulae, and ancient artifacts as you vie for control of valuable planets and resources

Choose your path – Dominate the galaxy through military force, diplomatic intrigue, cultural hegemony, or scientific research

Design your starfleet – Powerful ship designer lets players design ships from scratch or take advantage of pre-made blueprints

Reimagined combat – Set your strategy and watch titanic clashes between grand fleets unfold in real-time

Diplomacy - Interact, trade with, and threaten other races to accomplish your goals

Best-in-class AI – 64-bit game engine allows incredibly complex artificial intelligence routines, which grow smarter over time as the AI learns from every game it plays

Single-player Campaign - Available at final release, the campaign will continue the epic storyline of the Galactic Civilizations series

And lots more!
* Requires that you register your game during the period when the Founder's Elite Edition is being offered. To do so, simply install the Alpha, run the game and login/create a Stardock account.
Wymagania systemowe
Minimum:


OS: 64-bit Windows 8.1 / 8 / 7

Processor: Dual-Core Processor

Memory: 4 GB RAM

Graphics: 512 MB DirectX 10.1 Video Card (AMD Radeon HD5x00 Series / Nvidia GeForce 500 Series / Intel HD 4000 or later)

DirectX: Version 10

Network: Broadband Internet connection

Hard Drive: 3 GB available space

Sound Card: DirectX Compatible Sound Card

Additional Notes: A Stardock account is required to register and play this game. Minimum supported resolution is 1280x800.
Recommended:


Processor: Intel Core i5 Processor or Equivalent

Memory: 6 GB RAM

Graphics: 1 GB DirectX 10.1 Video Card

Hard Drive: 5 GB available space
© Stardock Entertainment. Galactic Civilizations is a registered trademark of Stardock Entertainment. All rights reserved.
Pomocne recenzje klientów
Tytuł:
Galactic Civilizations® III
Gatunek:
Strategie
,
Wczesny dostęp
Producent:
Stardock Entertainment
Wydawca:
Stardock Entertainment
Data wydania:
27 Mar 2014
Języki:
| | Interfejs | Pełny dżwięk | Napisy |
| --- | --- | --- | --- |
| Angielski | | | |
System DRM innego producenta:
Stardock Account