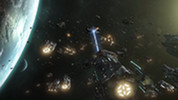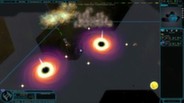 The latest installment of one of the highest-rated strategy series of all time, Galactic Civilizations III challenges players to build an empire that dominates the galaxy through conquest, diplomacy, cultural hegemony, or scientific research.
Data di rilascio: 14 Ago 2014
Guarda tutti e 2 i trailer
Gioco con accesso anticipato
Ottieni l'accesso anticipato ed inizia a giocare ora; prendi parte a questo gioco mentre viene sviluppato.
Nota: questo gioco potrebbe cambiare significativamente durante lo sviluppo. Se non vuoi giocare al titolo nel suo stato attuale, puoi aspettare che venga sviluppato ulteriormente. Ulteriori informazioni
Cosa dicono gli sviluppatori:
Perché l'accesso è anticipato?
"Stardock has always believed in extensive pre-release testing periods for our games. Involving our fans earlier in the process allows us to gather crucial gameplay, design, and balance feedback. Getting the game out on thousands of machines is a key part of hardware compatibility testing for us as well."
Per quanto tempo questo gioco rimarrà in accesso anticipato?
"Galactic Civilizations III will be in Early Access until April 2015, according to our current schedule (which is of course subject to change). During the beta, Galactic Civilizations is available for $44.99, five dollars off its regular $49.99 price."
Quali saranno le differenze fra la versione completa e quella ad accesso anticipato?
"Currently, the beta is fun but incomplete. We're still adding in major gameplay systems – diplomacy, trade, and the United Planets should be added in October with the combat viewer scheduled to follow later this year. Four more races will join the beta as time goes on as well. Plus things like polish and balance, of course, as we go along."
Qual è lo stato attuale della versione in accesso anticipato?
"Multiplayer is fully functional. Core gameplay systems work. AI is pretty dumb by 2014 standards. Half the races aren't in the game yet, nor are diplomacy, trade, the United Planets, or the combat viewer."
Il prezzo del gioco varierà durante e dopo l'accesso anticipato?
"Galactic Civilizations III is $5 off during Early Access."
Come pensate di coinvolgere la Comunità durante il processo di sviluppo?
"We've already gotten a ton of valuable feedback from our community, both on design/gameplay issues as well as help in tracking down bugs. We actively monitor the forums both on Steam and at
http://www.galciv3.com
, and we do weekly livestreams at
http://www.twitch.tv/stardock
where lead designer Paul Boyer shows off internal builds and answers community questions as well as soliciting feedback on specific design points that we're actively working on."
Ulteriori informazioni
Nota: 64-bit Windows Required

You must be running 64-bit Windows 7 or later to play Galactic Civilizations III. This requirement allows us to create the largest, most advanced, strategy game possible.
Acquista Galactic Civilizations III
14 Agosto 2014
We've officially launched the beta! Bells are ringing, birds are singing, and it's a beautiful day to dig up the archives of a forgotten race's reality TV shows and use them to placate a restive populace that for some reason doesn't see the value in mandatory six-month stints working the factories of the nearest forgeworld.

See beta gameplay in action here: http://youtu.be/KARny_9_nfQ

To all of our Founders, thank you so much for your early support. Elite Founders, your feedback and bug reporting has been invaluable in getting Galactic Civilizations III ready for a wider audience. Fire up your Steam client, and it should patch your install to the beta automatically.

To anyone waiting for Galactic Civilizations III to be regular price before diving in, you'll have to wait a little longer. Sadly, the game is $44.99 during the beta rather than its regular $49.99 price. We beg your forgiveness.

The Galactic Civilizations III beta includes:

Race-specific tech trees – Each race discovers the secrets of creation in its own way. Look out for Drengin invasions a whole age before anyone else can pull one off.

Ideology rework – Get an entire invasion fleet for free, take control of all planets inside your sphere of influence, and more!

Huge hulls – For when you absolutely, positively, have to kill every last filthy alien in the quadrant.

New colonization events – Thirty more events will challenge your ideology whenever you bring the light of civilization to a new world.

Terraforming – Maximize your adjacency bonuses by filling in gaps on your colonies with SCIENCE!

Map features – Durantium, Elerium, and Antimatter are now on the map, waiting to be harvested by your starbases. Watch out for black holes!

So much more – reworked planet traits, shipyard queues, automatic improvement upgrading, tons of new art, vastly improved rendering (ships are so shiny now!), the list goes on.
Read the full patch notes here
.
Not a Founder? No problem! The Founders program has concluded, but you can purchase Galactic Civilizations III for $5 off the regular price during the beta directly from
Steam
.
Follow the development of Galactic Civilizations III throughout the beta, ask the team your questions live, and get sneak peeks of upcoming builds every Friday on the
official Stardock Twitch channel
.
Happy conquering!
41 commenti
Ulteriori informazioni
10 Luglio 2014
We've got a patch for you today, bringing you more multiplayer map sizes, new music, and a boatload of bug fixes.

Just fire up your Steam client to download the patch automatically. If you're not seeing the update, try restarting your Steam client.

This is just an update patch, of course; we've got a bunch of awesome cooking for the next major update that we think *all* of our Founders will enjoy.

Happy conquering, and we'll see you on the stream tomorrow!

For a full change log, please visit: http://steamcommunity.com/app/226860/discussions/0/46476691016065416/
8 commenti
Ulteriori informazioni
Informazioni sul gioco
Galactic Civilizations III is the premier space strategy game. The latest installment of one of the highest-rated strategy series of all time, created by the original developers at Stardock, Galactic Civilizations III challenges players to build an empire that dominates the galaxy through conquest, diplomacy, cultural hegemony, or scientific research.
The stars are yours, if you can balance the demands of expansion, exploration, diplomacy, and all-but-inevitable galactic warfare. Careful strategy, not twitch reflexes, lead to victory in this turn-based strategy epic.
Online multiplayer comes to Galactic Civilizations for the first time in Galactic Civilizations III. Conquer the galaxy alongside your friends or battle for supremacy in titanic clashes.
Feature List for Beta 1 (v0.40)
Conquer the stars – play as the Terran Alliance, Drengin Empire, Altarian Resistance, or Iridium Corporation

Compete with friends – Up to 4-player online multiplayer for the first time in franchise history

Explore random maps – Tiny/small/medium/large maps available, huge and immense still in development

Colonize new worlds – Develop and terraform habitable planets into teeming tourist paradises, hellish forgeworlds, and anything in between

Race-specific technology – Each race moves through the Ages of Expansion, War, and Ascension its own way

Design your starfleet – Powerful ship designer lets players design ships from scratch or take advantage of pre-made blueprints

Choose your ideology – Gain unique bonuses by following pragmatic, benevolent, or merciless paths

Mine galactic resources – Miraculous materials like the antimatter around black-hole event horizons go into the construction of the most powerful warships

Invade the enemy – Spread your empire across the galaxy through force (diplomatic, cultural, and scientific victory conditions still in development)
Future Features
Additional races – Play as the Yor Singularity, Thalan Contingency, Iconian Refuge, or Krynn Syndicate

Choose your path – Dominate the galaxy through military force, diplomatic intrigue, cultural hegemony, or scientific research

Reimagined combat – Set your strategy and watch titanic clashes between grand fleets unfold in real-time

Diplomacy – Interact, trade with, and threaten other races to accomplish your goals

Minor factions – Conquer or befriend races that don't share your galactic ambitions

Best-in-class AI – 64-bit game engine allows incredibly complex artificial intelligence routines, which grow smarter over time as the AI learns from every game it plays

Single-player campaign – Continue the epic storyline of the Galactic Civilizations series

And lots more!
Requisiti di sistema
Minimum:


OS: 64-bit Windows 8.1 / 8 / 7

Processor: 1.8 GHz Intel Core 2 Duo / AMD K10 Dual-Core

Memory: 4 GB RAM

Graphics: 512 MB DirectX 10.1 Video Card (AMD Radeon HD5x00 Series / Nvidia GeForce 500 Series / Intel HD 4000 or later)

DirectX: Version 10

Network: Broadband Internet connection

Hard Drive: 3 GB available space

Sound Card: DirectX Compatible Sound Card
Recommended:


Processor: 2.3 GHz Intel Core i5 Processor or Equivalent

Memory: 6 GB RAM

Graphics: 1 GB DirectX 10.1 Video Card

Hard Drive: 5 GB available space
© Stardock Entertainment. Galactic Civilizations is a registered trademark of Stardock Entertainment. All rights reserved.
Recensioni utili dai clienti
Titolo:
Galactic Civilizations® III
Genere:
Strategia
,
Accesso anticipato
Sviluppatore:
Stardock Entertainment
Editore:
Stardock Entertainment
Data di rilascio:
14 Ago 2014
Lingue:
| | Interfaccia | Audio completo | Sottotitoli |
| --- | --- | --- | --- |
| Inglese | | | |