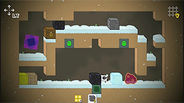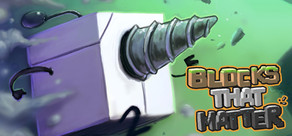 When indie game developers Alexey and Markus are in trouble, their only hope comes from their creation.
Release Date: Aug 19, 2011
Watch all 2 trailers
April 6
Hi submariners,

To thank you for supporting us and playing our first game Blocks That Matter, we created a permanent discount for all of you.
You can now purchase Tetrobot and Co. with an automatic 25% discount.

With your support, we hope we''ll be able to fund our next game, Seasons after Fall.

Thank you for your attention :)


28 comments
Read more
Reviews
"If you like innovative 2D games that challenge you to actually use your noodle ever once in awhile like Braid and Limbo, then you have no excuse."
5/5 – Armless Octopus
"(...) sometimes you find some gems that are truly worthwhile. Blocks That Matter is one of those."
18/20 – http://www.jeuxvideo.com/articles/0001/00014999-blocks-that-matter-test.htm
"The game's secret reason for being, though, is its deference to what came before. This is a block game in love with block games."
– Killscreen
Steam Workshop

Spread the love of Blocks!

Create and share your own levels, language files and custom BTM's so that Tetrobot keeps it's brain in working order.
About the Game
When indie game developers Alexey and Markus are in trouble, their only hope comes from their creation.
You are the Tetrobot: a tiny robot that can drill blocks of matter one by one, collect them, and recycle them into new pieces of 4 blocks. You also have the possibility to destroy lines of 8+ blocks in a very «retro russian» game style. Sand, wood, stone, obsidian, iron, diamond: each matter has its specific behaviour you'll have to use wisely and take advantage of them. So get ready to use your brain and combine your platforming and puzzle-solving skills in this incredible mashup!
Key features:
A unique gameplay experience mixing puzzle and platform that will challenge your brain

40 levels to play in Adventure Mode, 20 bonus levels to unlock and more free content to come

Collect every 40 "Blocks That Matter" and rediscover videogames made of blocks that made or will make History

Create and share your own puzzles using an easy-to-use level editor

Steam achievements: 30+ achievements to unlock by playing the game and being creative.

Steam Cloud: No matter if you play on PC or Mac, at home or outside, your progression will be saved.
PC System Requirements
Minimum:


OS:WindowsXP

Processor:Pentium4

Memory:1 GB RAM

Graphics:OpenGL compatible 128Mo VRAM

DirectX®:dx90c

Hard Drive:250 MB HD space

Sound:Integrated chipset OpenAL compatible

Recommended:


OS:Windows7

Processor:Core2

Memory:2 GB RAM

Graphics:OpenGL compatible 256Mo VRAM

DirectX®:dx90c

Hard Drive:400 MB HD space

Sound:Integrated chipset OpenAL compatible

Other Requirements:Broadband Internet connection

Mac System Requirements
Minimum:


OS:Leopard

Processor:Core2

Memory:1 GB RAM

Graphics:Intel HD Graphics

Hard Drive:250 MB HD space

Sound:Integrated chipset OpenAL compatible
Recommended:


OS:SnowLeopard

Processor:Core2

Memory:2 GB RAM

Graphics:AMD Radeon HD

Hard Drive:400 MB HD space

Sound:Integrated chipset OpenAL compatible

Other Requirements:Broadband Internet connection
Linux System Requirements
Minimum:


OS:Ubuntu 12.10

Processor:Core2

Memory:1 GB RAM

Graphics:Any Graphics Card with a working driver!

Hard Drive:250 MB HD space

Sound:Integrated chipset OpenAL compatible
Recommended:


OS:Ubuntu 12.10

Processor:Core2

Memory:2 GB RAM

Graphics:Any Graphics Card with a working driver!

Hard Drive:400 MB HD space

Sound:Integrated chipset OpenAL compatible

Other Requirements:Broadband Internet connection
Helpful customer reviews