When indie game developers Alexey and Markus are in trouble, their only hope comes from their creation.
Utgivningsdatum: 19 Aug 2011
Titta på alla 2 trailers
24 Februari 2014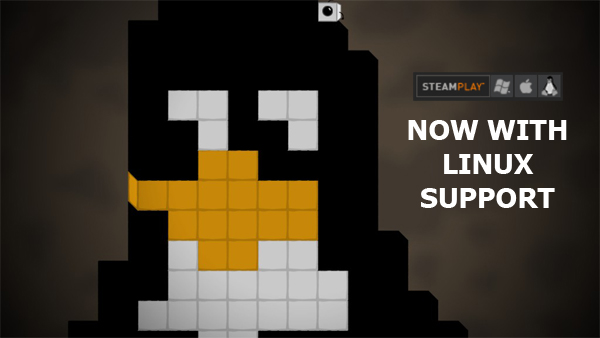 Hello everyone!

Today, we are updating Blocks That Matter to add Steam Linux support!

If you have any issue with the game, please reach us at http://mailto:support@swingswingsubmarine.com

One more thing...

To celebrate this new platform release, we are taking part of the Weeklong Deals this week (February 24), with a 60% OFF discount!



Have fun! And please spread the word!

~~
The Swing Swing Submarine team

PS:
Note that our lastest game "Tetrobot and Co." is also 60% OFF during that week!

16 kommentarer
Läs mer
18 December 2013
Hi there!

We've just launched the Steam Workshop Beta for Tetrobot and Co.!





Here is a little FAQ, to answer the questions you may (or may not) have:




1/ What should I do to enter this Beta?
You just need to launch your Steam client, wait for Tetrobot and Co. to update and launch it! That's it!
You can check that the version on the main menu is something like "1.1.x" and you're good to go!
2/ What can I do in this Beta?
Well, you can create your own levels, complete with all the blocks and features used in the main game! And of course, you can share your levels through the Steam Workshop. You can recreate all the levels that you encountered in the game and much more!
IMPORTANT NOTE: if you're running the game under Mac or Linux systems, we are currently facing an issue that will prevent you to download/upload items to the workshop. But you can still able to get your hand in the level editor, locally. Once the issue will be solved, you'll be able to upload your creation to the workshop!
3/ Will you allow us to create custom language files (i want my game in 1337!)?
We can't confirm it for sure, but it's definitely in our mind, yes!
4/ Is the editor more user friendly than the one in Blocks that Matter?
Well… YES!
We put a lot of efforts improving the editor. In Blocks that Matter, the editor was released with the exact same level of "polish" that it was during the production of the game (i.e. none!).
With Tetrobot and Co., we decided to delay the release of the editor to make it clean and shiny!
5/ Is there any tutorial to understand how the editor works?
Even though the editor is as intuitive as OSX, we've published some
official Steam guides
for you, and in the future we will centralize any relevant information in
this thread
.
If you encounter any issues, please report them in
this other thread
.
6/ Will you release the in-game level editor for the DRM-free version?
We will allow you to create levels locally for sure. But we still need to find a good alternative to the Steam Workshop to store the user generated content!
The Beta will only occurs on Steam, because it the fastest way for us to update the game depending on your feedbacks.
If you purchased the DRM-free version on our website (or the Humble Store), you should have a Steam key that can be used to participate to this Beta!
7/ Anything to add before I jump into this beta?
Only one thing: Psychobot is waiting you to unleash the love, the love of blocks!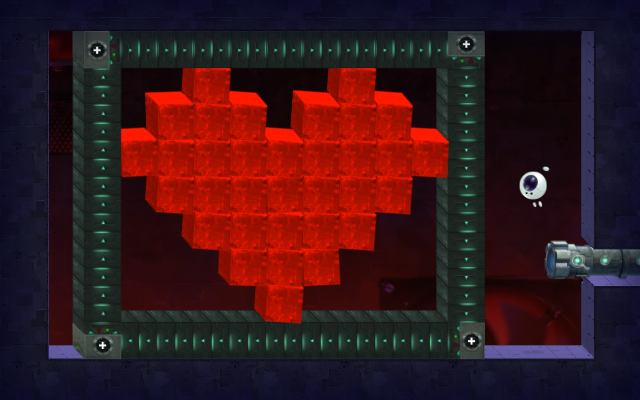 3 kommentarer
Läs mer
Recensioner
"If you like innovative 2D games that challenge you to actually use your noodle ever once in awhile like Braid and Limbo, then you have no excuse."
5/5 – Armless Octopus
"(...) sometimes you find some gems that are truly worthwhile. Blocks That Matter is one of those."
18/20 – http://www.jeuxvideo.com/articles/0001/00014999-blocks-that-matter-test.htm
"The game's secret reason for being, though, is its deference to what came before. This is a block game in love with block games."
– Killscreen
Om spelet
När indie-spelutvecklarna Alexey och Markus hamnar i trubbel är deras enda hopp sin egen skapelse.
Du är Tetrobot: en mycket liten robot som kan borra block av olika materia en för en, samla ihop dem och återvinna dem till nya bitar av 4 block. Du har också möjligheten att förstöra rader av 8+ block i en spelstil som liknar «rysk retro». Sand, trä, sten, obsidian, järn, diamant: varje material har sitt egna specifika beteende du måste använda på rätt sätt och så att du drar nytta av dem. Förbered dig på att använda hjärnan och kombinera dina färdigheter i plattformsspel och problemlösning i denna fantastiska mix!
Nyckelegenskaper:
En unik spelerfarenhet som blandar pussel- och plattformsspel som kommer utmana din hjärna

40 nivåer att spela i äventyrsläge, 20 bonusnivåer att låsa upp och ännu mer gratisinnehåll inom en snar framtid

Samla de 40 "block som spelar roll" och återupplev spel gjorda av block som gjorde eller kommer göra historia

Skapa och dela med dig av dina egna pussel med hjälp av en enkelanvänd nivåredigerare (snart tillgänglig)

Steam-framsteg: Över 30 framsteg att låsa upp genom att spela spelet extra kreativt

Steam Cloud: Oavsett om du spelar på PC eller Mac, i hemmet eller utanför, sparas dina framgångar
Systemkrav (PC)
Minimum:


Operativsystem:WindowsXP

Processor:Pentium4

Minne:1 GB RAM

Grafik:OpenGL-kompatibelt 128MB VRAM

DirectX®:Dx90c

Hårddisk:250 MB hårddiskutrymme

Ljud:Integrerat chipset OpenAL-kompatibelt
Rekommenderat:


Operativsystem:Windows7

Processor:Core2

Minne:2 GB RAM

Grafik:OpenGL-kompatibelt 256MB VRAM

DirectX®:Dx90c

Hårddisk:400 MB hårddiskutrymme

Ljud:Integrerat chipset OpenAL-kompatibelt

Andra krav:Bredbandsanslutning
Systemkrav (MAC)
Minimum:


Operativsystem:Leopard

Processor:Core2

Minne:1 GB RAM

Grafik:Intel HD-grafik

Hårddisk:250 MB hårddiskutrymme

Ljud:Integrerat OpenAL-kompatibelt chipset
Rekommenderat:


Operativsystem:SnowLeopard

Processor:Core2

Minne:2 GB RAM

Grafik:AMD Radeon HD

Hårddisk:400 MB hårddiskutrymme

Ljud:Integrerat OpenAL-kompatibelt chipset

Hårddiskutrymme:Bredbandsanslutning
Systemkrav för Linux
Minimum:


OS:Ubuntu 12.10

Processor:Core2

Memory:1 GB RAM

Graphics:Any Graphics Card with a working driver!

Hard Drive:250 MB HD space

Sound:Integrated chipset OpenAL compatible
Recommended:


OS:Ubuntu 12.10

Processor:Core2

Memory:2 GB RAM

Graphics:Any Graphics Card with a working driver!

Hard Drive:400 MB HD space

Sound:Integrated chipset OpenAL compatible

Other Requirements:Broadband Internet connection
Hjälpsamma kundrecensioner