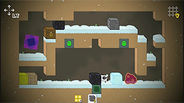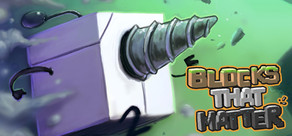 When indie game developers Alexey and Markus are in trouble, their only hope comes from their creation.
Utgivningsdatum: 19 aug, 2011
Titta på alla 2 trailers
6 april
Hi submariners,

To thank you for supporting us and playing our first game Blocks That Matter, we created a permanent discount for all of you.
You can now purchase Tetrobot and Co. with an automatic 25% discount.

With your support, we hope we''ll be able to fund our next game, Seasons after Fall.

Thank you for your attention :)


28 kommentarer
Läs mer
Recensioner
"If you like innovative 2D games that challenge you to actually use your noodle ever once in awhile like Braid and Limbo, then you have no excuse."
5/5 – Armless Octopus
"(...) sometimes you find some gems that are truly worthwhile. Blocks That Matter is one of those."
18/20 – http://www.jeuxvideo.com/articles/0001/00014999-blocks-that-matter-test.htm
"The game's secret reason for being, though, is its deference to what came before. This is a block game in love with block games."
– Killscreen
Steam Workshop

Spread the love of Blocks!

Create and share your own levels, language files and custom BTM's so that Tetrobot keeps it's brain in working order.
Om spelet
När indie-spelutvecklarna Alexey och Markus hamnar i trubbel är deras enda hopp sin egen skapelse.
Du är Tetrobot: en mycket liten robot som kan borra block av olika materia en för en, samla ihop dem och återvinna dem till nya bitar av 4 block. Du har också möjligheten att förstöra rader av 8+ block i en spelstil som liknar «rysk retro». Sand, trä, sten, obsidian, järn, diamant: varje material har sitt egna specifika beteende du måste använda på rätt sätt och så att du drar nytta av dem. Förbered dig på att använda hjärnan och kombinera dina färdigheter i plattformsspel och problemlösning i denna fantastiska mix!
Nyckelegenskaper:
En unik spelerfarenhet som blandar pussel- och plattformsspel som kommer utmana din hjärna

40 nivåer att spela i äventyrsläge, 20 bonusnivåer att låsa upp och ännu mer gratisinnehåll inom en snar framtid

Samla de 40 "block som spelar roll" och återupplev spel gjorda av block som gjorde eller kommer göra historia

Skapa och dela med dig av dina egna pussel med hjälp av en enkelanvänd nivåredigerare (snart tillgänglig)

Steam-framsteg: Över 30 framsteg att låsa upp genom att spela spelet extra kreativt

Steam Cloud: Oavsett om du spelar på PC eller Mac, i hemmet eller utanför, sparas dina framgångar
Systemkrav (PC)
Minimum:


Operativsystem:WindowsXP

Processor:Pentium4

Minne:1 GB RAM

Grafik:OpenGL-kompatibelt 128MB VRAM

DirectX®:Dx90c

Hårddisk:250 MB hårddiskutrymme

Ljud:Integrerat chipset OpenAL-kompatibelt
Rekommenderat:


Operativsystem:Windows7

Processor:Core2

Minne:2 GB RAM

Grafik:OpenGL-kompatibelt 256MB VRAM

DirectX®:Dx90c

Hårddisk:400 MB hårddiskutrymme

Ljud:Integrerat chipset OpenAL-kompatibelt

Andra krav:Bredbandsanslutning
Systemkrav (MAC)
Minimum:


Operativsystem:Leopard

Processor:Core2

Minne:1 GB RAM

Grafik:Intel HD-grafik

Hårddisk:250 MB hårddiskutrymme

Ljud:Integrerat OpenAL-kompatibelt chipset
Rekommenderat:


Operativsystem:SnowLeopard

Processor:Core2

Minne:2 GB RAM

Grafik:AMD Radeon HD

Hårddisk:400 MB hårddiskutrymme

Ljud:Integrerat OpenAL-kompatibelt chipset

Hårddiskutrymme:Bredbandsanslutning
Systemkrav för Linux
Minimum:


OS:Ubuntu 12.10

Processor:Core2

Memory:1 GB RAM

Graphics:Any Graphics Card with a working driver!

Hard Drive:250 MB HD space

Sound:Integrated chipset OpenAL compatible
Recommended:


OS:Ubuntu 12.10

Processor:Core2

Memory:2 GB RAM

Graphics:Any Graphics Card with a working driver!

Hard Drive:400 MB HD space

Sound:Integrated chipset OpenAL compatible

Other Requirements:Broadband Internet connection
Hjälpsamma kundrecensioner