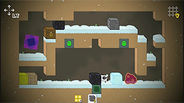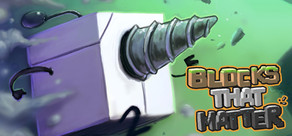 When indie game developers Alexey and Markus are in trouble, their only hope comes from their creation.
Data lansării: 19 aug., 2011
Urmăreşte toate cele 2 videoclipuri
6 aprilie
Hi submariners,

To thank you for supporting us and playing our first game Blocks That Matter, we created a permanent discount for all of you.
You can now purchase Tetrobot and Co. with an automatic 25% discount.

With your support, we hope we''ll be able to fund our next game, Seasons after Fall.

Thank you for your attention :)


28 comentarii
Află mai multe
Ce spun criticii
"If you like innovative 2D games that challenge you to actually use your noodle ever once in awhile like Braid and Limbo, then you have no excuse."
5/5 – Armless Octopus
"(...) sometimes you find some gems that are truly worthwhile. Blocks That Matter is one of those."
18/20 – http://www.jeuxvideo.com/articles/0001/00014999-blocks-that-matter-test.htm
"The game's secret reason for being, though, is its deference to what came before. This is a block game in love with block games."
– Killscreen
Steam Workshop

Spread the love of Blocks!

Create and share your own levels, language files and custom BTM's so that Tetrobot keeps it's brain in working order.
Despre joc
Când dezvoltatorii de jocuri indie, Alexey şi Markus, au probleme, singura lor speranţă vine din creaţia proprie.
Eşti un Tetrobot: un mic robot care poate găuri blocuri de piatră unul câte unul, poate să le colecteze, şi să le recicleze în piese noi de 4 blocuri.
De asemenea, ai posibilitatea de a distruge liniile de 8+ blocuri într-un stil de joc foarte «retro russian». Nisip, lemn, piatră, obsidian, fier, diamant:
fiecare material cu o conduită specifică, tu va trebui să le foloseşti înţelept şi să profiţi de ele. Aşadar, pregăteşte-te să-ţi foloseşti inteligenţa şi să îmbini modalităţile de aşezare cu talentul de a desluşi un puzzle în acest incredibil joc!
Caracteristici:
O experienţă de gameplay unică în care amestecarea puzzlelor şi modalităţile de a le aşeza îţi vor antrena mintea

40 nivele de jucat in modul Aventură, 20 nivele bonus care pot fi deblocate şi mai mult conţinut gratuit în continuare

Colectează fiecare 40 "Blocks That Matter" şi redescoperă jocurile video create din blocuri care au făcut şi vor face Istorie

Creează şi împărtăşeşte propriile tale puzzle-uri folosind un editor simplu de nivele (valabil în curând)

Realizări Steam: 30+ realizări care pot fi deblocate jucând jocul şi fiind creativ

Steam Cloud: Nu contează dacă joci de pe PC sau Mac, acasă sau de altundeva, progresul tău în acest joc va fi salvat.
Cerinţe de sistem (PC)
Minimum:


OS:WindowsXP

Processor:Pentium4

Memory:1 GB RAM

Graphics:OpenGL compatible 128Mo VRAM

DirectX®:dx90c

Hard Drive:250 MB HD space

Sound:Integrated chipset OpenAL compatible

Recommended:


OS:Windows7

Processor:Core2

Memory:2 GB RAM

Graphics:OpenGL compatible 256Mo VRAM

DirectX®:dx90c

Hard Drive:400 MB HD space

Sound:Integrated chipset OpenAL compatible

Other Requirements:Broadband Internet connection

Cerinţe de sistem (MAC)
Minimum:


OS:Leopard

Processor:Core2

Memory:1 GB RAM

Graphics:Intel HD Graphics

Hard Drive:250 MB HD space

Sound:Integrated chipset OpenAL compatible
Recommended:


OS:SnowLeopard

Processor:Core2

Memory:2 GB RAM

Graphics:AMD Radeon HD

Hard Drive:400 MB HD space

Sound:Integrated chipset OpenAL compatible

Other Requirements:Broadband Internet connection
Cerințe de sistem Linux
Minimum:


OS:Ubuntu 12.10

Processor:Core2

Memory:1 GB RAM

Graphics:Any Graphics Card with a working driver!

Hard Drive:250 MB HD space

Sound:Integrated chipset OpenAL compatible
Recommended:


OS:Ubuntu 12.10

Processor:Core2

Memory:2 GB RAM

Graphics:Any Graphics Card with a working driver!

Hard Drive:400 MB HD space

Sound:Integrated chipset OpenAL compatible

Other Requirements:Broadband Internet connection
Recenzii utile ale clienților