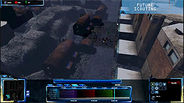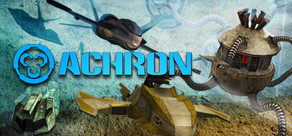 As one of the survivors and humankind's first "Achronal" being, you must piece together what happened and unravel the mysteries surrounding the alien invasion.
Çıkış Tarihi: 29 Ağu 2011
Fragmanları seyret (2 fragman)
Achron Satın Alın
Includes two copies of Achron - Send the extra copy to a friend.
Bu oyunu içeren paketler
Achron + Soundtrack Satın Alın
Includes one copy of the Soundtrack and two copies of Achron - Send the extra copy of the game to a friend.
İncelemeler
"Starcraft, move over. You finally have some competition in the RTS genre...This is sure to become a LAN favorite across the globe."
8/10 – Gamers Daily News
"This was seriously one of the best games that we have ever played. If you do not pick this up, you are missing out."
9/10 – RTS Guru
"Hazardous is taking a big risk with Achron... to add something so compelling to an established genre that players would be willing to take a chance on it... they have succeeded."
4/5 – AVault
Oyun Açıklaması
Zamandan bağımsız olsaydın birliklerini nasıl yönetirdin? Birimlerini zamanda ileri ve geri en çok ihtiyaç duyuldukları ana göndererek? Geçmişteki kendileriyle birlikte omuz omuza savaşarak güclerinin ikiye katlamak için geçmişe göndererek? Kaynaklarına sahte bir saldırıyla şaşırtıp, üretim tesislerine mi saldırırdın? Yoksa daha ileri mi giderdin...
Achron, geçmiş ve gelecekteki manevralarını anlık olarak değiştirmene, birimlerini zamanda geleceğe veya geçmişe göndermene, hatta kendi faydana kullanabileceğin zaman paradoksları tasarlamana izin veren ilk zaman üzeri strateji oyunu. Dört adet tek kişilik senaryoyu oyna, veya çevrimiçi arkadaşlarınla tamamen değişken zaman şartlarında yüzleş!
ANA ÖZELLİKLER:
Zamanda seyahat içeren ilk çoklu oyunculu oyun
Zamanda yolculuk stratejisi koruma, zarar verme, kaçma veya tuzaklar kurma için neredeyse sonsuz çeşitlilikte birleştirilebilen yaratıcı ve yıkıcı taktiklere izin verir
Zamanda rakiplerinin stratejilerini önceden öğrenmek için özgürce dolaş, farklı zaman aralıklarından istihbarat topla, ve taktiksel hatalarını geri al
Güçlerini zamanda geriye veya ileriye gönder
Tek oyunda 15 kişiye kadar oyuncu desteği
Emir sistemi büyük birlik gruplarını farklı zaman dilimlerinde kolayca yönetilmesini sağlar
Sanat eseri matematiksel oyun teori teknikleriyle dengelenmiş eşsiz GZS oyun mekanikleri
İlgi ve merak uyandıran hikaye
Dört tek kişilik bölümler ile 30+ tek kişilik, 35 eşsiz ve çok oyunculu bölüm
Oyunculara kolayca kendi haritalarını ve oyun modlarını kolayca yaratmalarını sağlayan bölüm editörü ve SDK içerir.
Achron's motoru sıradan zaman yolculuğu senaryolarının ele alarak, paradokslar dahil, oyunculara kendi kusursuz zaman yolculuğu hikayelerini yaratmalarına izin verir.
Sistem Gereksinimleri
Minimum:

OS:Windows
Processor:Dual
Memory:1 GB RAM
Graphics:ATI or Nvidia card still supported by manufacturer. Intel GMA chipsets that support OpenGL 2.1 work if drivers are recent.
DirectX®:dx50
Hard Drive:1 GB HD space
Recommended:

Graphics:ATI or Nvidia card still supported by manufacturer.
DirectX®:dx50
Hard Drive:2 GB HD space
Other Requirements:Broadband Internet connection
Yararlı müşteri incelemeleri