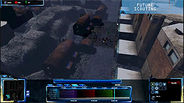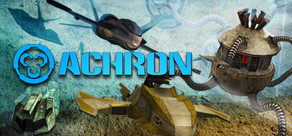 As one of the survivors and humankind's first "Achronal" being, you must piece together what happened and unravel the mysteries surrounding the alien invasion.
Data lansării: 29 Aug 2011
Urmăreşte toate cele 2 videoclipuri
Cumpără Achron
Includes two copies of Achron - Send the extra copy to a friend.
Pachete care includ acest joc
Cumpără Achron + Soundtrack
Includes one copy of the Soundtrack and two copies of Achron - Send the extra copy of the game to a friend.
Ce spun criticii
"Starcraft, move over. You finally have some competition in the RTS genre...This is sure to become a LAN favorite across the globe."
8/10 – Gamers Daily News
"This was seriously one of the best games that we have ever played. If you do not pick this up, you are missing out."
9/10 – RTS Guru
"Hazardous is taking a big risk with Achron... to add something so compelling to an established genre that players would be willing to take a chance on it... they have succeeded."
4/5 – AVault
Despre joc
Cum ţi-ai comanda forţele dacă nu ai fi dependent de timp? Îţi trimiţi trupele în atac sau apărare în acele momente când sunt necesare? Dublează-ţi forţele trimiţându-le înapoi să lupte cot la cot ca în trecut? O să te prefaci că execuţi un atac asupra resurselor lor, apoi să îţi schimbi oridinele originale să atace echipamentele lor de producţie? Sau vei vrea sa mergi mai departe...
Achron este primul joc de strategie meta-time, care îţi oferă posibilitatea să îţi schimbi dinamic acţiunile din trecut şi viitor, trimite-ţi trupele înapoi şi mai departe în timp, pune la cale paradoxurile temporale să lucreze în favoarea ta. Joacă de-a lungul celor patru campanii single player, sau du-te online pentru a face faţă împotriva prietenilor tăi într-o ambianţă lumească cu totul dinamică!
Caracteristici:
Primul joc care cuprinde mai competitiv călătoria în timp multiplayer
Strategie de călătorie în timp permiţând tactici creative şi distrugătoare care pot fi planificate împreună să protejeze, să subminze, să evadeze, şi să pună capcane în aproape o infinitate de combinaţii
Miscă-te liber în timpul planurilor tale pentru a prevenii strategiile adversarului tău, preia informaţii din diferite locuri, si repară-ţi greşelile tactice
Trimite-ţi trupele în atac sau apărare în timp
Până la 15 jucători simultan într-un singur joc
Formează ierarhii care îţi vor permite administrarea mai uşoară a unor grupuri largi de unităţi din diferite locaţii
Gameplay unic in domeniul jocurilor RTS echilibrat de ultimele tehnici matematice în teoria jocurilor
Captivant si o poveste provocatoare
30+ de ore pentru a experimenta cele 4 campanii single player, ce se întind pe 35 de nivele unice şi captivante
Include editor de nivele şi SDK care permit jucătorilor să creeze uşor propriile hărţi şi moduri de joc
Desfăşurarea jocului Achron abordează scenarii clasice de călătorie în timp, cuprinzând paradoxuri, care permit jucătorilor să creeze de fapt propriile poveşti de călătorie în timp a bătăliilor.
Cerinţe de sistem
Minimum:

OS:Windows
Processor:Dual
Memory:1 GB RAM
Graphics:ATI or Nvidia card still supported by manufacturer. Intel GMA chipsets that support OpenGL 2.1 work if drivers are recent.
DirectX®:dx50
Hard Drive:1 GB HD space
Recommended:

Graphics:ATI or Nvidia card still supported by manufacturer.
DirectX®:dx50
Hard Drive:2 GB HD space
Other Requirements:Broadband Internet connection
Recenzii utile ale clienților