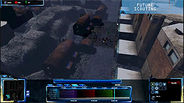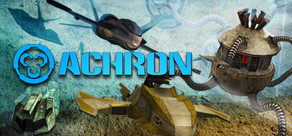 As one of the survivors and humankind's first "Achronal" being, you must piece together what happened and unravel the mysteries surrounding the alien invasion.
출시 날짜: 2011년 8월 29일
모든 2 예고편 보기
Achron 구매
Includes two copies of Achron - Send the extra copy to a friend.
이 게임이 포함된 패키지
평가
"Starcraft, move over. You finally have some competition in the RTS genre...This is sure to become a LAN favorite across the globe."
8/10 – Gamers Daily News
"This was seriously one of the best games that we have ever played. If you do not pick this up, you are missing out."
9/10 – RTS Guru
"Hazardous is taking a big risk with Achron... to add something so compelling to an established genre that players would be willing to take a chance on it... they have succeeded."
4/5 – AVault
게임 정보
당신은 시간의 바깥에 있다면 어떻게 당신의 군대를 지휘할 건가요? 시간 내내 가장 필요한 매 순간마다 군대를 전후로 불러들일건가요? 아니면 지나간 그들 자신들을 다시 나란히 싸우게 돌려보내서 군대를 두 배로 밀어붙일건가요? 아니면 적들의 자원을 공격하는 척 하다가 본래의 생산 시설을 공격하는 명령을 내려 페인트 작전을 펼칠 건가요? 아니면 더 깊게...
Achron은 세계 첫 초시간 전략 게임입니다, 역동적으로 과거와 미래의 행동을 바꿀 수 있게 해 주고, 당신의 전력을 때에 따라서 앞뒤로 보낼 수 있습니다, 심지어 일부러 타임 패러독스를 만들어내서 당신에게 유리한 상황을 만들어내는 것도 가능합니다. 4개의 싱글 플레이어 캠페인을 플레이 하세요, 또는 온라인으로 접속하여 완전히 역동적이고 시간적인 환경에서 당신의 친구들과 대결하세요.
주요 특징:
처음으로 선보이는 경쟁적 멀티플레이어 시간 여행 전력 게임
시간 여행 전략은 보호, 약화, 탈출, 그리고 거의 무한한 조합의 함정들을 설치하는 데 같이 연계될 수 있는 창조적이고 뒤집을 만한 전술을 가능하게 해줍니다
타임라인을 자유롭게 이동함으로써 당신의 적의 전략을 선점하거나, 각기 다른 시간대에서 기밀 정보를 모으거나, 전술적 실수를 취소하세요
당신의 군대를 때에 따라서 앞뒤로 보내세요
한 게임에 최대 15명까지 같이 플레이 가능
명령 체계 메뉴는 여러 시간대를 통틀어 대규모의 전력을 관리하기 쉽게 해줍니다
최첨단 수학적 게임 이론 기술로 균형을 맞춘 독특한 RTS 게임플레이 역학
아주 흥미롭고 생각하게 만드는 줄거리
4개의 싱글 플레이어 캠페인은 35개의 독특하고 매력적인 맵들을 걸쳐 30시간 이상의 싱글 플레이 경험을 제공합니다
쉽게 직접 맵 또는 게임 모드를 만들 수 있도록 레벨 에디터와 SDK가 같이 포함되어있습니다
Achron의 엔진은 플레이어들이 효율적으로 전투에서 그들만의 완전한 시간 여행 스토리를 만들어낼 수 있게 함으로써 시간적 모순들을 포함한 기존의 시간 여행 시나리오에 도전합니다
시스템 요구 사항
Minimum:

OS:Windows
Processor:Dual
Memory:1 GB RAM
Graphics:ATI or Nvidia card still supported by manufacturer. Intel GMA chipsets that support OpenGL 2.1 work if drivers are recent.
DirectX®:dx50
Hard Drive:1 GB HD space
Recommended:

Graphics:ATI or Nvidia card still supported by manufacturer.
DirectX®:dx50
Hard Drive:2 GB HD space
Other Requirements:Broadband Internet connection
유용한 고객 평가