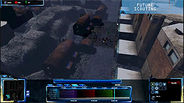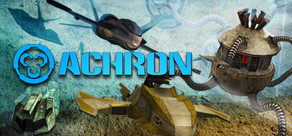 Als een van de overlevenden en het eerste menselijke "Achronische" wezen moet je uitvogelen wat er gebeurd is en de mysteries van de invasie van de aliens ontrafelen.
Releasedatum: 29 aug 2011
Alle 2 trailers bekijken
Achron kopen
Includes two copies of Achron - Send the extra copy to a friend.
Pakketten die deze game bevatten
Achron + Soundtrack kopen
Includes one copy of the Soundtrack and two copies of Achron - Send the extra copy of the game to a friend.
Recensies
"Starcraft, move over. You finally have some competition in the RTS genre...This is sure to become a LAN favorite across the globe."
8/10 – Gamers Daily News
"This was seriously one of the best games that we have ever played. If you do not pick this up, you are missing out."
9/10 – RTS Guru
"Hazardous is taking a big risk with Achron... to add something so compelling to an established genre that players would be willing to take a chance on it... they have succeeded."
4/5 – AVault
Info over het spel
Hoe zou je je troepen besturen als je buiten de tijd stond? Stuur je je eenheden vooruit en terug door de tijd naar het precieze moment waar ze het meest nodig zijn? Verdubbel je je krachten door ze terug te sturen om naast hun vroegere zelf te laten vechten? Zou je een schijnbeweging doen door hun grondstoffen aan te vallen, en dan je originele orders veranderen door de aanval op de productiefaciliteiten te richten? Of zou je dieper gaan...
Achron is 's werelds eerste meta-tijd strategiespel, waardoor je dynamisch je verleden en toekomstige acties kan veranderen, je je eenheden vooruit en terug in de tijd kan sturen, en je zelfs temporele paradoxen die in jouw voordeel werken op kan zetten. Speel vier singleplayer campagnes, en ga dan online om je vrienden in een volledig dynamische temporele omgeving uit te dagen!
De belangrijkste features:
Het eerste spel met competitieve multiplayer tijdsreizen
Tijdsreisstrategie maakt creatieve en subversieve tactieken mogelijk die samengebracht kunnen worden om te verdedigen, ondermijnen, ontsnappen en vallen te zetten in bijna oneindige combinaties.
Beweeg vrij rond de tijdslijn om vooruit te lopen op de strategieën van je tegenstander, om informatie van verschillende tijdslijnen te verzamelen, en om tactische fouten ongedaan te maken
Stuur je krachten vooruit en achteruit in tijd
Tot en met 15 spelers in een enkel spel
Hiërarchieën maken simpel beheer van grote groepen eenheden op verschillende tijdslijnen simpel.
Unieke RTS gameplay mechanismen gebalanceerd met de nieuwste wiskunde speltheorie technieken.
Overtuigend en stimulerend verhaal
Meer dan 30 uur aan single player van vier single player campagnes, verspreid over 35 unieke en innemende levels
Inclusief level editor en SDK die spelers toestaat om simpel hun eigen kaarten en spelmodificaties te maken
Achron's engine pakt klassieke tijdreisscenario's aan, inclusief paradoxen, waardoor spelers effectief hun eigen volwaardige tijdreisverhalen creëren in de strijd
Systeemeisen
Minimum:

OS:Windows
Processor:Dual
Memory:1 GB RAM
Graphics:ATI or Nvidia card still supported by manufacturer. Intel GMA chipsets that support OpenGL 2.1 work if drivers are recent.
DirectX®:dx50
Hard Drive:1 GB HD space
Aanbevolen:

Videokaart: ATI of NVIDIA-kaart die nog steeds ondersteund wordt door de ontwikkelaar.
DirectX®: Versie 5.0
Harde schijf: 2 GB vrije ruimte
Andere vereisten: Breedbandinternetverbinding
Nuttige klantrecensies