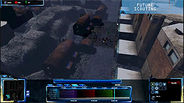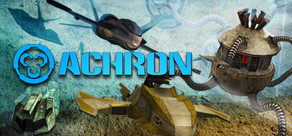 As one of the survivors and humankind's first "Achronal" being, you must piece together what happened and unravel the mysteries surrounding the alien invasion.
Julkaisupäivä: 29. elo, 2011
Katso kaikki 2 traileria
Osta Achron
Includes two copies of Achron - Send the extra copy to a friend.
Paketit, jotka sisältävät tämän pelin
Osta Achron + Soundtrack
Includes one copy of the Soundtrack and two copies of Achron - Send the extra copy of the game to a friend.
Arvostelut
"Starcraft, siirry syrjään. Sinulla on viimeinkin haastaja RTS-genressä... Tästä tulee varmasi LAN-hitti ympäri maailmaa."
8/10 – Gamers Daily News
"Tämä on oikeasti yksi parhaimmista pelaamistani peleistä koskaan. Jos et kokeile sitä, jäät paljosta paitsi."
9/10 – RTS Guru
"Hazardous otti ison riskin Achronin kanssa... he yrittivät lisätä jotain niin houkuttelevaan vakiintuneeseen genreen, että pelaajat ovat valmiita yrittämään sitä... ja he onnistuivat siinä."
4/5 – AVault
Tietoja pelistä
Kuinka komentaisit joukkojasi jos voisit hallita aikaa? Lähettämällä joukkojasi ajassa eteen- ja taaksepäin silloin kun heitä eniten tarvitaan? Tuplaamalla joukkosi lähettämällä heidät ajassa taaksepäin taistelemaan rinnakkain heidän menneisyyden versioidensa kanssa? Suorittaisitko valehyökkäyksen suorittamalla hyökkäyksen heidän resursseihinsa, ja sitten vaihtaisit alkuperäisiä käskyjäsi hyökätäksesi heidän tuotantolaitoksiinsa? Vai tekisitkö jotain vielä ovelampaa...
Achron on maailman ensimmäinen aikamatkustusta sisältävä reaaliaikainen strategiapeli, joka antaa sinun dynaamisesti muuttaa menneisyyden ja tulevaisuuden tekojasi, lähettää joukkojasi ajassa eteen- ja taaksepäin ja jopa järjestää väliaikaisia paradokseja jotka toimivat sinun hyödyksesi. Pelaa läpi neljä yksinpelikampanjaa, tai mene verkkoon pelaamaan kavereitasi vastaan täysin dynaamisessa, väliaikaisessa ympäristössä!
Avainominaisuudet:
Ensimmäinen peli joka sisältää aikamatkustusta kilpailuhenkisessä moninpelissä
Aikamatkustusstrategia mahdollistaa luovien ja kumouksellisten taktiikoiden käytön joita voidaan yhdistellä suojelemiseen, heikentämiseen, pakenemiseen sekä ansojen asettamiseen lähes äärettömän monella eri tavalla
Liiku vapaasti ajassa tehdäksesi vastustajan strategiat tyhjiksi, kerätäksesi tietoa eri aikaväleiltä ja kumotaksesi taktisia virheitä
Lähetä joukkojasi ajassa eteen- ja taaksepäin
Yhdessä pelissä jopa 15 pelaajaa samaan aikaan
Käskyhierarkiat mahdollistavat suurien yksikköryhmien helpon hallinnan eri aikaväleillä
Ainutlaatuinen RTS-pelimekaniikka jota tasapainottaa huippuunsa kehitetyt matemaattiset peliteoriatekniikat
Kunnioitusta ja ajatuksia herättävä tarina
30+ tuntia yksinpeliä neljästä yksinpelikampanjasta, joihin kuuluu 35 ainutlaatuista ja kiehtovaa kenttää
Sisältää kenttäeditorin ja SDK:n jotka antavat pelaajien helposti luoda omia kenttiään ja pelimoodejaan
Achronin pelimoottori on varustettu klassisilla aikamatkustusskenaarioilla, mukaan lukien paradokseilla, antaen pelaajien tehokkaasti luoda heidän omiaan, itsenäisiä aikamatkustustarinoitaan taistelussa
Järjestelmävaatimukset
Minimum:

OS:Windows
Processor:Dual
Memory:1 GB RAM
Graphics:ATI or Nvidia card still supported by manufacturer. Intel GMA chipsets that support OpenGL 2.1 work if drivers are recent.
DirectX®:dx50
Hard Drive:1 GB HD space
Recommended:

Graphics:ATI or Nvidia card still supported by manufacturer.
DirectX®:dx50
Hard Drive:2 GB HD space
Other Requirements:Broadband Internet connection
Hyödylliset arvostelut