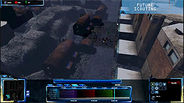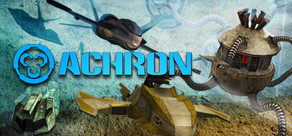 As one of the survivors and humankind's first "Achronal" being, you must piece together what happened and unravel the mysteries surrounding the alien invasion.
Datum vydání: 29 srp. 2011
Sledovat všechny 2 upoutávky
Koupit Achron
Obsahuje dvě kopie hry Achron – Pošlete kopii navíc svému příteli.
Balíčky obsahující tuto hru
Koupit Achron + Soundtrack
Obsahuje soundtrack a dvě kopie hry Achron – Pošlete kopii hry navíc svému příteli.
Recenze
"Starcraft, move over. You finally have some competition in the RTS genre...This is sure to become a LAN favorite across the globe."
8/10 – Gamers Daily News
"This was seriously one of the best games that we have ever played. If you do not pick this up, you are missing out."
9/10 – RTS Guru
"Hazardous is taking a big risk with Achron... to add something so compelling to an established genre that players would be willing to take a chance on it... they have succeeded."
4/5 – AVault
O hře
Jak byste ovládali svá vojska, pokud by pro Vás čas neznamenal nepřekonatelnou překážku? Přesouvali byste své jednotky časem do doby, kde je zrovna potřebujete nejvíce? Nebo byste snad poslali své vojsko do minulosti, aby bojovalo po boku sebe sama? Oklamali byste nepřítele útokem na jeho zdroje surovin, přičemž byste následně pozměnili své rozkazy a zaútočili na jeho výrobní střediska? Nebo byste šel ještě dál?…
Achron je první strategickou hrou, ve které můžete přímo ovlivňovat tok času a měnit tak svou minulost či budoucnost, můžete přesouvat svá vojska napříč časem, případně vytvářet různé časové paradoxy, díky kterým pak získáte nad svým protivníkem převahu. Zahrát si můžete 4 odlišné kampaně nebo se lze rovnou připojit ke hráčům na celém světě a změřit své síly s přáteli v tomto neustále se měnícím herním prostředí.
Hlavní znaky hry:
Vůbec první hra, která dovoluje všem hráčům aktivně měnit tok času.
Možnost ovlivnění času Vám dovoluje vytvářet nepřeberné množství taktik, které lze vzájemně propojovat. Díky tomu máte takřka neomezené možnosti jak se bránit, útočit, klást rozličné pasti nebo jak přímo škodit svému protivníkovi.
Volně se pohybujte po časové ose a odhalujte tak protivníkovi strategie, sbírejte různé informace o bojišti nebo napravujte své vlastní taktické chyby.
Pošlete svá vojska do libovolného časového období.
Jednu hru může hrát až 15 hráčů.
Hierarchie vojska Vám usnadňuje přehled nad Vaší armádou v případě, že máte více oddílů v různých časových obdobích.
Unikátní herní mechanika založená na nejmodernějších matematických teoriích.
Podmanivý a stimulující příběh.
Více než 30 hodin hraní v Single Player módu, který obsahuje 35 unikátních a zajímavých map.
Hra obsahuje editor map a dodatečné vývojové programy, díky kterým mohou hráči snadno vytvářet vlastní mapy a módy.
Engine hry si pohrává se zavedenou mechanikou problematiky cestování časem a případných časových paradoxů. Hráči si tak mohou vytvořit své vlastní a plně ovladatelné časové scénáře.
Systémové požadavky
Minimum:

OS:Windows
Processor:Dual
Memory:1 GB RAM
Graphics:ATI or Nvidia card still supported by manufacturer. Intel GMA chipsets that support OpenGL 2.1 work if drivers are recent.
DirectX®:dx50
Hard Drive:1 GB HD space
Recommended:

Graphics:ATI or Nvidia card still supported by manufacturer.
DirectX®:dx50
Hard Drive:2 GB HD space
Other Requirements:Broadband Internet connection
Užitečné recenze od zákazníků