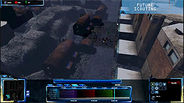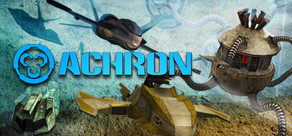 As one of the survivors and humankind's first "Achronal" being, you must piece together what happened and unravel the mysteries surrounding the alien invasion.
Data di rilascio: 29 Ago 2011
Guarda tutti e 2 i trailer
Acquista Achron
Includes two copies of Achron - Send the extra copy to a friend.
Pacchetti che includono questo gioco
Acquista Achron + Soundtrack
Includes one copy of the Soundtrack and two copies of Achron - Send the extra copy of the game to a friend.
Recensioni
"Starcraft, move over. You finally have some competition in the RTS genre...This is sure to become a LAN favorite across the globe."
8/10 – Gamers Daily News
"This was seriously one of the best games that we have ever played. If you do not pick this up, you are missing out."
9/10 – RTS Guru
"Hazardous is taking a big risk with Achron... to add something so compelling to an established genre that players would be willing to take a chance on it... they have succeeded."
4/5 – AVault
Informazioni sul gioco
Come comanderesti le tue forze se fossi al di fuori del tempo? Mandando le tue truppe avanti e indietro nel tempo nel momento più utile? Raddoppiando le tue forze mandandole indietro nel tempo per farle combattere fianco a fianco a loro stessi del passato? Simuleresti un attacco alle risorse nemiche per poi cambiare gli ordini e attaccare le loro industrie? O andresti più in profondità... .
Achron è il primo gioco strategico temporale, che ti consente di cambiare dinamicamente le tue azioni, passate e future, mandando le tue truppe avanti ed indietro nel tempo, creando anche dei paradossi temporali da usare a tuo vantaggio. Gioca la campagnia in Single Player, oppure gioca online ed affronta i tuoi amici in un ambiente temporale dinamico!
Caratteristiche principali:
Il primo gioco ad avere un sistema di viaggi nel tempo competitivo multigiocatore
Strategie di controllo del tempo per creare tattiche creative e sovversive che possono collegarsi le une alle altre per proteggere, indebolire, scappare e piazzare trappole con infinite combinazioni possibili
Muoviti liberamente nella linea del tempo per prevenire le strategie avversarie, ottenere informazioni da diversi punti temporali e annullare errori nelle tue tattiche
Invia le tue truppe avanti ed indietro nel tempo
Fino a 15 giocatori simultanei in single player
Gerarchie di ordini create per agevolare il controllo di grandi gruppi di unità attraverso il tempo
Meccaniche RTS uniche bilanciate da teorie matematiche all'avanguardia
Storia avvincente che stimola l'interesse
Esperienza di gioco lunga 30 ore in 4 campagne single player divise in 35 unici livelli
Include un editor di livelli e il SDK per creare facilmente mappe e modalità di gioco
Il motore di Achron intraprende scenari di viaggi nel tempo, compresi i paradossi, rendendo possibile la creazione di storie di viaggi nel tempo personali a tutti gli effetti durante le battaglie
Requisiti di sistema
Minimum:

OS:Windows
Processor:Dual
Memory:1 GB RAM
Graphics:ATI or Nvidia card still supported by manufacturer. Intel GMA chipsets that support OpenGL 2.1 work if drivers are recent.
DirectX®:dx50
Hard Drive:1 GB HD space
Recommended:

Graphics:ATI or Nvidia card still supported by manufacturer.
DirectX®:dx50
Hard Drive:2 GB HD space
Other Requirements:Broadband Internet connection
Recensioni utili dai clienti