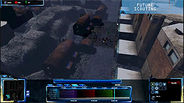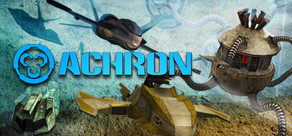 As one of the survivors and humankind's first "Achronal" being, you must piece together what happened and unravel the mysteries surrounding the alien invasion.
Utgivelsesdato: 29. aug, 2011
Se alle 2 trailere
Kjøp Achron
Includes two copies of Achron - Send the extra copy to a friend.
Pakker som inkluderer dette spillet
Kjøp Achron + Soundtrack
Includes one copy of the Soundtrack and two copies of Achron - Send the extra copy of the game to a friend.
Anmeldelser
"Starcraft, move over. You finally have some competition in the RTS genre...This is sure to become a LAN favorite across the globe."
8/10 – Gamers Daily News
"This was seriously one of the best games that we have ever played. If you do not pick this up, you are missing out."
9/10 – RTS Guru
"Hazardous is taking a big risk with Achron... to add something so compelling to an established genre that players would be willing to take a chance on it... they have succeeded."
4/5 – AVault
Om spillet
Hvordan ville du kommandere styrkene dine hvis du sto utenfor tiden? Send dine enheter fremover og bakover i tid til det øyeblikket når de behøves mest? Doble styrkene dine ved å sende dem tilbake for å kjempe side ved side med sine tidligere selv? Ville du utføre en finte ved å utføre et angrep på deres ressurser, og deretter endre den opprinnelige ordre om å målrette deres produksjonsanlegg? Eller ville du gått dypere...
Achron er verdens første meta-time strategi-spill, slik at du kan dynamisk endre dine tidligere og fremtidige handlinger, sende enhetene dine frem og tilbake i tid, selv konstruere tidsmessige paradokser som jobber til din fordel. Spill gjennom fire enspiller-kampanjer, for så å gå online for å konfrontere dine venner i et fullt dynamisk miljø!
Nøkkelfunksjoner:
Det første spillet som noensinne har tidsreiser i konkurransepreget flerspiller
Tidsreise-strategi åpner for kreative og subversive taktikker som kan være lenket sammen for å beskytte, undergrave, rømme, og sette feller i nesten uendelige kombinasjoner
Beveg deg fritt rundt på tidslinjen for å hindre motstanderens strategier, samle etterretning fra ulike tidsrammer, og angre taktiske feil
Send dine styrker fremover og bakover i tid
Opptil 15 spillere til samme tid i ett enkelt spill
Hierarkier gjør det enkelt å administrere store grupper av enheter på tvers av flere tidsrammer
Unike RTS-spillmekanismer balansert av de aller nyeste matematiske spillteori-teknikker
Overbevisende og tankevekkende historie
30+ timers enspiller-opplevelse av fire enspiller-kampanjer, som strekker seg over 35 unike og tiltrekkende nivå
Inkluderer level-editor og SDK som tillater spillere å enkelt lage sine egne kart og spillmodus
Achron-motoren takler klassisk tidsreise-scenarier, inkludert paradokser, slik at spillerne kan effektivt lage sine egne fullverdige tidsreisehistorier i kamp
Systemkrav
Minimum:

OS:Windows
Processor:Dual
Memory:1 GB RAM
Graphics:ATI or Nvidia card still supported by manufacturer. Intel GMA chipsets that support OpenGL 2.1 work if drivers are recent.
DirectX®:dx50
Hard Drive:1 GB HD space
Recommended:

Graphics:ATI or Nvidia card still supported by manufacturer.
DirectX®:dx50
Hard Drive:2 GB HD space
Other Requirements:Broadband Internet connection
Hjelpsomme kundeanmeldelser