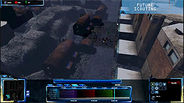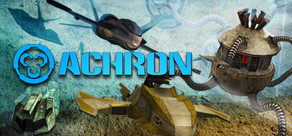 As one of the survivors and humankind's first "Achronal" being, you must piece together what happened and unravel the mysteries surrounding the alien invasion.
Дата выхода: 29 авг, 2011
Просмотреть все трейлеры (2)
Купить Achron
Включает две копии игры «Achron» — подарите дополнительную копию другу!
Комплекты, содержащие эту игру
Купить Achron + Soundtrack
Включает в себя копию саундтрека и две копии игры Achron — вы можете подарить вторую копию своему другу.
Рецензии
"Starcraft, move over. You finally have some competition in the RTS genre...This is sure to become a LAN favorite across the globe."
8/10 – Gamers Daily News
"This was seriously one of the best games that we have ever played. If you do not pick this up, you are missing out."
9/10 – RTS Guru
"Hazardous is taking a big risk with Achron... to add something so compelling to an established genre that players would be willing to take a chance on it... they have succeeded."
4/5 – AVault
Об игре
Как бы вы управляли своими войсками, не завися от времени? Отправляли бы их в бой и отступали тогда, когда это больше всего нужно? Удваивали войска, призывая сражаться солдат из прошлого бок о бок с самими собой? Отвлекали внимание противника атакой на ресурсы, а затем изменяли приказ на атаку производственных мощностей? Или вы зайдёте дальше…
Achron — это первая стратегия, в которой ваши действия не зависят от времени, она позволяет изменять прошлые и будущие действия, например, пересылать войска туда и обратно сквозь время. Любые временные парадоксы будут работать в ваших интересах. Играйте в одиночную игру, либо сразитесь со своими друзьями на поле боя, не зависящим от времени.
Основные особенности:
Первая игра, имеющая путешествия во времени в многопользовательском режиме
Путешествия во времени открывают дорогу к неожиданным и разрушительным стратегиям, которые могут быть объединены в почти бесконечное число комбинаций обороны, отступления и атаки
Свободное перемещение в другое время для предвидения ходов противника, получения разведывательных данных из разных моментов игры и исправления ошибочных ходов
Перемещение войск в любое время и обратно
До 15 игроков в одиночной игре
Иерархия приказов, позволяющая легко управлять большими группами войск в нескольких моментах времени
Уникальный геймплей, основанный на математических теориях
Убедительная, наводящая на размышления история
Более 30 часов одиночной игры, состоящей из четырёх кампаний, охватывающих 35 уникальных и увлекательных уровней
Редактор уровней и SDK, позволяющие создавать свои уровни и режимы игры
Движок Achron даёт игрокам возможность создавать свои собственные полноценные истории путешествия во времени в бою, имея классические сценарии перемещения во времени и парадоксы
Системные требования
Минимальные:

ОС: Windows
Процессор: двухъядерный
Оперативная память: 1 ГБ
Видеокарта: от ATI или Nvidia, которая еще поддерживается производителем. Решения на базе Intel GMA с поддержкой OpenGL 2.1 работают при свежих драйверах.
DirectX®: 5
Жесткий диск: 1 ГБ свободного места
Рекомендуемые:

Видеокарта: от ATI или Nvidia, которая еще поддерживается производителем.
DirectX®: 5
Жесткий диск: 2 ГБ свободного места
Другие требования: широкополосное интернет-соединение
Полезные обзоры покупателей