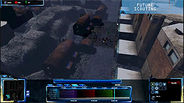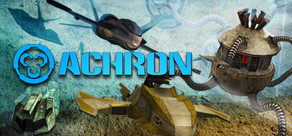 As one of the survivors and humankind's first "Achronal" being, you must piece together what happened and unravel the mysteries surrounding the alien invasion.
Data de lançamento: 29 Ago 2011
Assistir a todos os 2 trailers
Comprar Achron
Includes two copies of Achron - Send the extra copy to a friend.
Pacotes que incluem este jogo
Comprar Achron + Soundtrack
Includes one copy of the Soundtrack and two copies of Achron - Send the extra copy of the game to a friend.
Análises
"Starcraft, move over. You finally have some competition in the RTS genre...This is sure to become a LAN favorite across the globe."
8/10 – Gamers Daily News
"This was seriously one of the best games that we have ever played. If you do not pick this up, you are missing out."
9/10 – RTS Guru
"Hazardous is taking a big risk with Achron... to add something so compelling to an established genre that players would be willing to take a chance on it... they have succeeded."
4/5 – AVault
Sobre o jogo
Como você comandaria suas forças se você não estivesse sob influência do tempo? Faria suas unidades avançarem e voltarem no tempo até o momento em que são mais necessárias? Duplicaria suas forças mandando suas tropas para lutar ao lado dela mesma no passado? Simularia simular um ataque aos recursos de seus inimigos e então mudaria suas ordens originais para atacarem seus complexos de produção? Ou iria mais fundo...
Achron é o primeiro jogo de estratégia metatemporal do mundo, permitindo a você mudar dinamicamente suas ações passadas e futuras, fazer suas unidades avançarem e voltarem no tempo e até mesmo executar paradoxos temporais que trazem vantagens para você. Jogue através de quatro campanhas ou então jogue online para enfrentar seus amigos em um ambiente temporal completamente dinâmico!
Características principais:
O primeiro jogo a possuir viagens no tempo em multijogador competitivo
Estratégias com viagens no tempo permitem táticas criativas e subversivas que podem ser ligadas para proteger, emboscar, escapar e criar armadilhas em quase infinitas combinações
Mova-se livremente pela linha do tempo para prever as estratégias de seu oponente, obter inteligência de vários espaços de tempo diferentes e desfazer erros táticos
Faça suas forças avançarem e voltarem no tempo
Suporta até 15 jogadores simultâneos em uma única partida
Ordene hierarquias para fácil controle de grandes unidades através de vários momentos do tempo
Mecânicas de RTS únicas balanceadas por técnicas matemáticas de teorias de jogos
História criativa e perturbadora
Mais de 30 horas de experiência de um jogador composta de 4 campanhas, através de 35 únicos e desafiadores níveis
Inclui um editor de níveis e SDK que permitem a jogadores facilmente criar seus próprios mapas e modos de jogo
O motor Achron mexe com cenários clássicos sobre viagens no tempo, incluindo paradoxos, permitindo aos jogadores efetivamente criarem suas próprias histórias com viagens no tempo na batalha
Requisitos de sistema
Minimum:

OS:Windows
Processor:Dual
Memory:1 GB RAM
Graphics:ATI or Nvidia card still supported by manufacturer. Intel GMA chipsets that support OpenGL 2.1 work if drivers are recent.
DirectX®:dx50
Hard Drive:1 GB HD space
Recommended:

Graphics:ATI or Nvidia card still supported by manufacturer.
DirectX®:dx50
Hard Drive:2 GB HD space
Other Requirements:Broadband Internet connection
Análises úteis de usuários