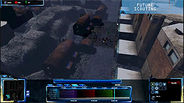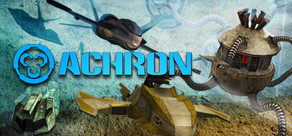 Como uno de los supervivientes y el primer ser humano "Achronal", debes reconstruir qué pasó y desentrañar los misterios que rodean a la invasión alienígena.
Fecha de lanzamiento: 29 Ago 2011
Ver los 2 trailers
This item does not have support for your local language. Please review the supported language list before purchasing
Comprar Achron
Incluye dos copias de Achron - Envía la copia extra a un amigo.
Paquetes que incluyen este juego
Comprar Achron + Soundtrack
Incluye una copia de la banda sonora y dos copias de Achron - Envía la copia extra del juego a un amigo.
Análisis
"Hazte a un lado, Starcraft; por fin tienes algo de competencia en el género de estrategia en tiempo real... Este juego va a convertirse con certeza en un favorito para las partidas en red local por todo el mundo."
8/10 – Gamers Daily News
"Este es sin duda uno de los mejores juegos a los que jamás he jugado. Si no te haces con él, no sabes lo que te estás perdiendo."
9/10 – RTS Guru
"Hazardous está corriendo grandes riesgos con Achron... añadir algo tan atractivo a un género tan establecido y conseguir que los jugadores estén dispuestos a darle una oportunidad... pero lo han conseguido."
4/5 – AVault
Acerca del juego
¿Cómo dirigirías a tus fuerzas si estuvieses fuera del tiempo? ¿Enviar a tus unidades hacia delante y hacia atrás en el tiempo hasta el momento en el que hagan más falta? ¿Duplicar tus fuerzas mandándolas de nuevo a pelear codo con codo con sus "yo" pasados? ¿Ejecutarías una estratagema realizando un ataque a sus recursos para luego cambiar tus órdenes originales a centrarse en sus instalaciones de producción? O irías más allá...
Achron es el primer juego de estrategia con meta-tiempo del mundo, permitiéndote alterar tus acciones pasadas y futuras de forma dinámica, enviar a tus unidades hacia delante y hacia atrás en el tiempo e incluso maquinar paradojas temporales que jueguen a tu favor. Juega a través de cuatro campañas para un jugador o, si no, ¡entra al modo online para enfrentarte a tus amigos en un entorno temporal totalmente dinámico!
Características principales:
Primer juego en ofrecer viajes temporales multijugador competitivos
La estrategia del viaje temporal permite tácticas creativas y revolucionarias que pueden ser encadenadas entre sí para proteger, debilitar, escapar y tender trampas con combinaciones casi infinitas
Desplázate libremente por la cronología para adelantarte a las estrategias de tu oponente, reunir información de diferentes periodos de tiempo y reparar fallos tácticos
Envía a tus unidades hacia delante y hacia atrás en el tiempo
Hasta 15 jugadores simultáneos por partida
El orden de jerarquías permite un manejo sencillo de grupos grandes de unidades a través de múltiples periodos de tiempo
Mecánicas de juego únicas de RTS (Estrategia en tiempo real) equilibradas por técnicas matemáticas modernas en teoría de juegos
Historia absorbente y que hace reflexionar
Más de 30 horas de experiencia para un jugador en cuatro campañas que abarcan 35 niveles únicos y atractivos
Incluye editor de niveles y SDK (Kit de desarrollo de Software) que permite a los jugadores crear sus propios mapas y mods fácilmente
El motor de Achron aborda perspectivas clásicas de viaje temporal, incluyendo paradojas que permiten a los jugadores crear de forma efectiva sus propias historias desarrolladas de viaje temporal en la batalla
Requisitos del sistema
Mínimo:

SO: Windows
Procesador: Dual
Memoria: 1 GB de RAM
Gráficos: Gráfica ATI o nVidia todavía con soporte del fabricante. Los chipsets Intel GMA que soportan OpenGL 2.1 funcionan si los drivers son recientes.
Versión de DirectX®: 5.0
Disco Duro: 1 GB de espacio libre
Recomendado:

Gráficos: Gráfica ATI o nVidia todavía con soporte del fabricante
Versión de DirectX®: 5.0
Disco Duro: 2 GB de espacio libre
Otros requisitos: Conexión a Internet de banda ancha
Análisis útiles de usuarios