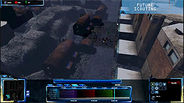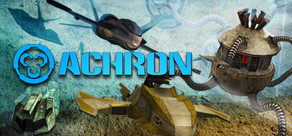 As one of the survivors and humankind's first "Achronal" being, you must piece together what happened and unravel the mysteries surrounding the alien invasion.
發售日: 2011年8月29日
觀看所有 2 預告片
This item does not have support for your local language. Please review the supported language list before purchasing
購買 Achron
Includes two copies of Achron - Send the extra copy to a friend.
包含此遊戲之套件
評論
"Starcraft, move over. You finally have some competition in the RTS genre...This is sure to become a LAN favorite across the globe."
8/10 – Gamers Daily News
"This was seriously one of the best games that we have ever played. If you do not pick this up, you are missing out."
9/10 – RTS Guru
"Hazardous is taking a big risk with Achron... to add something so compelling to an established genre that players would be willing to take a chance on it... they have succeeded."
4/5 – AVault
關於此遊戲
當你不受時間影響時,你會怎麼對部隊下令?在緊要關頭將部隊送進未來,或送回過去。將他們派回去幫助自己?你會假裝下令攻擊對方的資源,接著改變命令攻擊生產線?或是你想試些更瘋狂的東西…
Achron 是史上第一款多次元戰略遊戲,你能改變過去和未來的決定,將你的單位在不同時間點中移動,甚至運用時間悖論製造出對你有利的情況。有四個單人戰役等著你挑戰,或上線跟朋友來場時空對決!
遊戲特色:
史上第一款多人時空旅行遊戲。
穿梭時空的功能造就顛覆傳統的戰略,能運用在防衛、進攻、逃跑和欺敵,創造出接近無限的戰術組合。
在時間線上自由移動並先發制人,在不同的時間點蒐集情報,以及彌補失敗的戰術。
將你的部隊送進未來或送回過去。
最多可 15 人一同連線對戰。
多層次部屬讓你能更輕易的操控大批的單位,不管是在單時間點還是多時間點中。
獨特的即時戰略方式,加入最先進的理論來平衡。
有趣和令人深思的故事。
超過 30 小時的單人劇情,共有四個戰役,35 個不同的關卡。
包含關卡編輯器,讓玩家能自己創造獨一無二的地圖和模組。
Achron 的多次元設定和讓玩家能有效的創造出屬於自己的時間旅行故事。
系統需求
Minimum:

OS:Windows
Processor:Dual
Memory:1 GB RAM
Graphics:ATI or Nvidia card still supported by manufacturer. Intel GMA chipsets that support OpenGL 2.1 work if drivers are recent.
DirectX®:dx50
Hard Drive:1 GB HD space
Recommended:

Graphics:ATI or Nvidia card still supported by manufacturer.
DirectX®:dx50
Hard Drive:2 GB HD space
Other Requirements:Broadband Internet connection
具參考價值的客戶評論