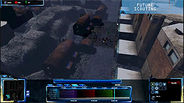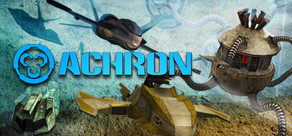 As one of the survivors and humankind's first "Achronal" being, you must piece together what happened and unravel the mysteries surrounding the alien invasion.
Data wydania: 29 Sie, 2011
Obejrzyj wszystkie zapowiedzi (2)
Kup Achron
Includes two copies of Achron - Send the extra copy to a friend.
Pakiety zawierające tę grę
Kup Achron + Soundtrack
Includes one copy of the Soundtrack and two copies of Achron - Send the extra copy of the game to a friend.
Recenzje
"Starcraft, move over. You finally have some competition in the RTS genre...This is sure to become a LAN favorite across the globe."
8/10 – Gamers Daily News
"This was seriously one of the best games that we have ever played. If you do not pick this up, you are missing out."
9/10 – RTS Guru
"Hazardous is taking a big risk with Achron... to add something so compelling to an established genre that players would be willing to take a chance on it... they have succeeded."
4/5 – AVault
Informacje o grze
W jaki sposób dowodziłbyś swoimi siłami, gdybyś działał poza barierą czasu? Posłałbyś jednostki w czasie w przód lub wstecz do chwili kiedy były one najbardziej potrzebne? Podwoiłbyś liczbę swych sił, wysyłając je w przeszłość, by walczyły ramię w ramię ze swoimi przeszłymi "ja"? Zmyliłbyś przeciwnika poprzez atak na jego zasoby, a zaraz potem cofnąć pierwotny rozkaz, by najechać jego zakłady produkcyjne? A może zaszedłbyś jeszcze dalej?
Achron to pierwsza na świecie gra stragiczna, która w sposób dynamiczny pozwala zmieniać twoje przeszłe bądź przyszłe działania, wysyłać twe jednostki w czasie w przód i wstecz, nawet doprowadzić do paradoksów czasu przeważających na twoją korzyść. Przebrnij przez cztery kampanie w trybie dla jednego gracza albo też graj online, by zmierzyć się ze swoimi znajomymi w pełni dynamicznym temporalnym środowisku!
Cechy:
Pierwsza gra, która umożliwia podróże w czasie w trybie wieloosobowym
Strategia podróży w czasie pozwala na kreatywne i przewrotne tworzenie taktyk, które można łączyć, by bronić, podminować, uciec oraz zastawić pułapki w niemalże niezliczonych kombinacjach
Poruszaj się dowolnie po osi czasu, by uprzedzić działania twojego przeciwnika, zbierać informacje z różnych momentów w czasie, a także by cofnąć swoje błędy
Wysyłaj swoje siły w czasie do przodu bądź wstecz
Do 15 graczy jednocześnie w trybie wieloosobowym
Hierarchia rozkazów pozwala na łatwe zarządzanie poczynaniami sporych grup jednostek w wielu momentach w czasie
Unikalny mechanizm rozgrywki strategii czasu rzeczywistego wyważony przez obecny stan wiedzy matematycznych technik teorii gier
Dająca do myślenia i powalająca fabuła
Ponad trzydziestogodzinna rozgrywka w czterech kampaniach dla jednego gracza obejmujące 35 wyjątkowych i ujmujących poziomów
Zawiera edytor poziomów oraz zestaw narzędzi, które ułatwiają graczom tworzenie własnych map i modyfikacji gry
Silnik gry Achron stawia czoło klasycznym scenariuszom podróży w czasie, w tym paradoksom, co pozwala graczom skutecznie tworzyć ich własne historie podróży w czasie podczas walki
Wymagania systemowe
Minimum:

OS:Windows
Processor:Dual
Memory:1 GB RAM
Graphics:ATI or Nvidia card still supported by manufacturer. Intel GMA chipsets that support OpenGL 2.1 work if drivers are recent.
DirectX®:dx50
Hard Drive:1 GB HD space
Recommended:

Graphics:ATI or Nvidia card still supported by manufacturer.
DirectX®:dx50
Hard Drive:2 GB HD space
Other Requirements:Broadband Internet connection
Pomocne recenzje klientów