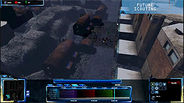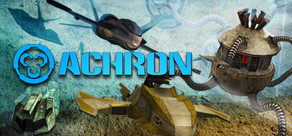 As one of the survivors and humankind's first "Achronal" being, you must piece together what happened and unravel the mysteries surrounding the alien invasion.
Udgivelsesdato: 29. aug 2011
Vis alle 2 trailere
Køb Achron
Includes two copies of Achron - Send the extra copy to a friend.
Pakker, der indeholder dette spil
Køb Achron + Soundtrack
Includes one copy of the Soundtrack and two copies of Achron - Send the extra copy of the game to a friend.
Anmeldelser
"Starcraft, move over. You finally have some competition in the RTS genre...This is sure to become a LAN favorite across the globe."
8/10 – Gamers Daily News
"This was seriously one of the best games that we have ever played. If you do not pick this up, you are missing out."
9/10 – RTS Guru
"Hazardous is taking a big risk with Achron... to add something so compelling to an established genre that players would be willing to take a chance on it... they have succeeded."
4/5 – AVault
Om spillet
Hvordan ville du kommandere dine styrker, hvis du ikke var underlagt tiden? Sende dine enheder frem og tilbage gennem tiden til netop det øjeblik, hvor der er brug for dem? Fordoble dine styrker ved at sende dem tilbage for at kæmpe side om side med deres tidligere jeg? Ville du udføre en finte ved at foretage et angreb på deres ressourcer og så udskifte dine oprindelige ordrer til at angribe deres produktionsfaciliteter? Eller ville du gå længere...
Achron er verdens første strategispil i meta-tid, der tillader dig dynamisk at ændre dine tidligere og fremtidige handlinger, sende dine enheder frem og tilbage gennem tiden, endda lave tidsparadokser, der er til din fordel. Spil gennem fire singleplayer-kampagner, eller gå derefter online for at konfrontere dine venner i et fuldt dynamisk, temporalt miljø!
Centrale elementer:
Det første spil, der nogensinde har budt på konkurrencedygtige multiplayer-tidsrejser
Tidsrejse-strategi giver mulighed for kreative og subversive taktikker, der kan være lænket sammen for at beskytte, underminere, flygte og sætte fælder i næsten uendelige kombinationer
Bevæg dig frit omkring tidslinjen for at foregribe dine modstanderes strategier, indsaml intelligens fra forskellige tidsrammer og fortryd taktiske fejl
Send dine styrker frem og tilbage gennem tiden
Op til 15 spillere i et enkelt spil
Ordre-hierarkier giver mulighed for nem håndtering af store grupper af enheder på tværs af flere tidsrammer
Unikke RTS-gameplay-mekanismer afbalanceret med de nyeste nye matematiske teknikker inden for spilteori
Overbevisende og tankevækkende historie
30+ timers singleplayer-oplevelse af fire singleplayer-kampagner, der strækker sig over 35 unikke og engagerende niveauer
Inkluderer level editor og SDK, der giver spillerne muligheden for nemt at lave deres egne maps og spil mods
Achrons spilmotor tager fat på klassiske tidsrejse-scenarier, herunder paradokser, der giver spillere mulighed for effektivt at lave deres egne fuldbefarne tidsrejse-historier i kamp
Systemkrav
Minimum:

OS:Windows
Processor:Dual
Memory:1 GB RAM
Graphics:ATI or Nvidia card still supported by manufacturer. Intel GMA chipsets that support OpenGL 2.1 work if drivers are recent.
DirectX®:dx50
Hard Drive:1 GB HD space
Recommended:

Graphics:ATI or Nvidia card still supported by manufacturer.
DirectX®:dx50
Hard Drive:2 GB HD space
Other Requirements:Broadband Internet connection
Helpful customer reviews