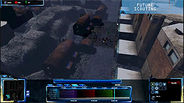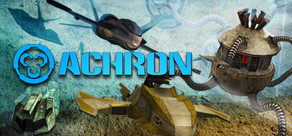 Como um dos sobreviventes e um dos primeiros seres da humanidade "Achronal", tem de reconstruir tudo o que aconteceu e resolver os mistérios em torno da invasão alienígena.
Data de lançamento: 29 Ago 2011
Ver todos os 2 trailers
Este produto não está disponível no teu idioma local. Verifica a lista de idiomas disponíveis antes de fazeres a compra.
Comprar Achron
Inclui duas cópias do Achron - Envia a cópia extra a um amigo.
Pacotes que incluem este jogo
Comprar Achron + Soundtrack
Includes one copy of the Soundtrack and two copies of Achron - Send the extra copy of the game to a friend.
Análises
"Starcraft, finalmente já tens alguma competição no género RTS... É certo que este jogo se vai tornar num favorito de LANs por todo o mundo."
8/10 – Gamers Daily News
"Este é certamente um dos melhores jogos que já jogámos. Se não o apanhares, ficas a perder."
9/10 – RTS Guru
"A Hazardous está a assumir um grande risco com o Achron... ao adicionar algo tão atraente a um estabelecido género de jogo em que os jogadores estariam dispostos a arriscar e jogar... eles foram bem sucedidos."
4/5 – AVault
Acerca do Jogo
Como comandaria as suas tropas, se estivesse fora do seu tempo? Enviaria as suas unidades para a frente e para trás no tempo para o momento exato no qual elas são necessárias? Reforçaria as suas tropas enviando-as para o passado para lutar ao lado de elas próprias? Iria executar uma simulação de ataque nos recursos inimigos, e depois alterar as ordens originais para que o seu alvo fosse as estruturas inimigas? Ou iria mais longe...
Achron é o primeiro jogo de estratégia em meta-tempo, que deixa o jogador mudar dinamicamente as suas ações passadas e futuras, enviar as suas unidades para trás e para a frente no tempo, e até criar paradoxos temporais que funcionarão para sua vantagem. Jogue através de 4 campanhas para um jogador (single-player), ou jogue online contra os seus amigos num ambiente completamente dinâmico e temporal!
Características Principais:
O primeiro jogo de sempre que contém modo multi-jogador competitivo de viagens no tempo
O jogo de estratégia de viagens no tempo permite táticas criativas e subversivas que podem ser combinadas para proteger, prejudicar, escapar, e organizar armadilhas em quase combinações infinitas
Mova livremente as suas tropas na linha do tempo adequando-se às estratégias inimigas, recolha informação de diferentes espaços de tempo, e corrija erros tácticos
Envie as suas tropas para a frente e para trás no tempo
Jogos até 15 jogadores em simultâneo
Ordena hierarquias que permitem uma fácil gestão de grandes grupos de unidades através dos diferentes espaços de tempo
Estratégia em tempo real original, com mecânicas equilibradas por teorias técnicas de matemática de jogos
História desafiante e interessante
Mais de 30 horas de experiência de jogo single-player com quatro campanhas para um jogador, que se estendem ao longo de 35 níveis únicos e envolventes
Inclui um editor de níveis e SDK que permite os jogadores criarem facilmente os seus próprios mapas e modificações do jogo
O motor de jogo de Achron enfrenta clássicos cenários de viagens no tempo, incluindo paradoxos, permitindo aos jogadores efectivamente criarem completamente as suas próprias histórias de viagens no tempo nas batalhas
Requisitos do Sistema
Mínimo:

SO: Windows
Processador: Dual
Memória: 1 GB de RAM
Gráfica: Placa ATI ou Nvidia ainda suportada pelo fabricante. Os chipsets Intel GMA que suportam OpenGL 2.1 funcionam se os controladores forem recentes.
DirectX®: dx50
Disco Rígido: 1 GB de espaço livre
Recomendado:

Gráfica: Placas ATI ou Nvidia ainda suportadas pelo fabricante.
DirectX®: dx50
Disco Rígido: 2 GB de espaço livre
Outros Requerimentos: Ligação Banda Larga à Internet
Análises úteis de clientes