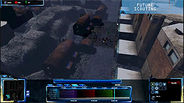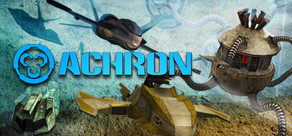 As one of the survivors and humankind's first "Achronal" being, you must piece together what happened and unravel the mysteries surrounding the alien invasion.
Utgivningsdatum: 29 aug, 2011
Titta på alla 2 trailers
Köp Achron
Innehåller två exemplar av Achron - Skicka det extra exemplaret till en vän.
Paket som innehåller detta spel
Köp Achron + Soundtrack
Includes one copy of the Soundtrack and two copies of Achron - Send the extra copy of the game to a friend.
Recensioner
"Starcraft, move over. You finally have some competition in the RTS genre...This is sure to become a LAN favorite across the globe."
8/10 – Gamers Daily News
"This was seriously one of the best games that we have ever played. If you do not pick this up, you are missing out."
9/10 – RTS Guru
"Hazardous is taking a big risk with Achron... to add something so compelling to an established genre that players would be willing to take a chance on it... they have succeeded."
4/5 – AVault
Om spelet
Hur skulle du styra dina trupper om du stod utanför tiden? Skulle du skicka dina enheter framåt eller bakåt i tiden till precis det ögonblick då de är som mest behövda? Skulle du dubbla dina styrkor genom att skicka dem tillbaka för att slåss sida vid sida med sina tidigare jag? Skulle du utföra en fint genom att uträtta en attack på deras resurser, och sedan gå tillbaka och ändra din första order till att attackera deras produktionsbyggnader? Eller skulle du gå djupare...
Achron är världens första meta-tids-strategispel, som dynamiskt låter dig ändra dina förflutna och framtida handlingar, skicka dina enheter tillbaka och framåt i tiden, och till och med iscensätta tidsmässiga paradoxer till din fördel. Spela igenom fyra kampanjer själv, eller kämpa mot dina vänner online i en fullt dynamisk tidsmässig omgivning.
Nyckelfunktioner:
Det första spelet någonsin med tävlingsinriktat tidsresande för flera spelare
Strategi med tidsresande tillåter kreativa och subversiva taktiker som kan länkas ihop för att skydda, underminera, fly, och sätta ut fällor i nästan oändliga kombinationer
Rör dig fritt runt i tidslinjen för att förutse dina motståndares strategier, samla information från olika tidsramar och upphäva taktiska misstag
Skicka dina trupper framåt och bakåt i tiden
Upp till 15 spelare kan spela samtidigt i en omgång
Hierarki bland ordrar tillåter för enkel hantering av stora grupper av enheter över flera tidsramar
Unika realtidsstrategi-system balanserade av de allra bästa matematiska spelteori-teknikerna
Lockande och tankeväckande handling
Över 30 timmar bestående av fyra olika kampanjer för enskilda spelare som sträcker sig över 35 unika och betagande nivåer
Mjukvara för att skapa och förändra egna banor eller för att modifiera spelet inkluderas
Achrons motor tacklar klassiska tidsrese-scenarion, inklusive paradoxer och låter effektivt spelare skapa egna fullfjädrade tidsresehistorier att kämpa i
Systemkrav
Minimum:

Operativsystem:Windows
Processor:Dual
Minne:1 GB RAM
Grafik:ATI- eller Nvidia-kort som fortfarande stöds av tillverkaren. Intel GMA-chipsets som stödjer OpenGL 2.1 fungerar om drivrutinerna är nya.
DirectX®:Dx50
Hårddisk:1 GB hårddiskutrymme
Rekommenderat:

Grafik:ATI- eller Nvidia-kort som fortfarande stöds av tillverkaren.
DirectX®:Dx50
Hårddisk:2 GB hårddiskutrymme
Andra krav:Bredbandsanslutning
Hjälpsamma kundrecensioner