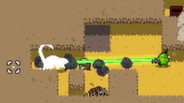 Nuclear Throne is Vlambeers latest action roguelike-like about mutants fighting their way through a post-apocalyptic world. The radioactive waste in the world allows mutants to get ahead by mutating new limbs on the fly, the abundant availability of powerful weaponry make the quest to become ruler of the Wasteland one frought with peril.
Releasedatum: 11 okt 2013
HD-video bekijken
Vroegtijdige toegang
Ontvang onmiddellijke toegang en begin met spelen; raak betrokken bij dit spel terwijl het zich ontwikkelt.
Opmerking: Deze game in vroegtijdige toegang kan mogelijk erg veranderen gedurende het ontwikkelingsproces. Als je niet staat te springen om deze game in de huidige staat te spelen, kun je misschien beter wachten tot de ontwikkeling van de game is gevorderd. Meer informatie
Wat de ontwikkelaars zeggen:
Waarom vroegtijdige toegang?
"Nuclear Throne was originally created during MOJAM 2013 as a tiny, two day prototype called 'Wasteland Kings'. We never stopped adding little things to the game, even as we moved on to other projects. We had livestreamed development during MOJAM, and decided to continue doing that while we worked on a full version of the game."
Hoe lang blijft deze game in vroegtijdige toegang?
"The game will be in Early Access until it is done, at which point it'll launch on PC, Mac, Linux, PlayStation 3, PlayStation 4 and PlayStation Vita. Until that point, we release weekly updates (each weekend) and livestream every Tuesday and Thursday frmo 1PM CET to 5PM CET on
http://twitch.tv/Vlambeer
."
Hoe gaat de volledige versie verschillen van de versie met vroegtijdige toegang?
"Nuclear Throne will feature seven full worlds of procedural action, four main bosses, tons of secrets, more than 75 weapons, 10 mutants, dozens of powerful mutations and local multiplayer."
Wat is de huidige staat van de versie met vroegtijdige toegang?
"The game is fully stable and playable, and has new additions made to it every weekend."
Zal de game anders geprijsd worden tijdens en na vroegtijdige toegang?
"If you want to wait until the game is done, it'll be available for $11,99 after development is complete. We're not doing any sales or bundles until the game is out of Early Access - we want people that really care about the game to buy and play it now. If you're curious as to how a game like this evolves or grows, now is the time to jump in."
Hoe ben je van plan de Community te betrekken in je ontwikkelproces?
"We livestream development every Tuesday and Thursday from 1PM CET to 5PM CET, are very active in our forums and upload a new build every single weekend."
Meer informatie
9 september


Nothing major this week because of PAX-induced jetlags, but still a bit of pretty good changes and fixes! Most notably, a lot of bugs surrounding the Loop Boss have been fixed, you'll now find ammo and a weapon in 7_3, Rebel's Allies now have smaller hitboxes, making them more survivable and a bit better at pathfinding, and Plant no longer destroys its snare by walking over it! Next week we'll get a few new weapons in before we fly off again, to Fantastic Arcade, after which work on the game should speed up again!

Balancing

You'll now find a weapon and ammo chest in 7_3.

Rebel's Allies now have a smaller hitmask, making them harder to hit and slightly better at pathfinding!

Plant can now walk over its own snare without it getting removed.

The Wave Gun spawns earlier.

The Pop Rifle spawns slightly later.

Eagle Eyes now gives you even better accuracy.

Proto Statues have more HP.

The Super Flak Cannon now uses less ammo.

Fixes

The game over screen now shows ??? instead of the area number when you die in a secret area.

Ally corpses can no longer be used to trigger portals during boss appear animations.

Blue squares and invisible frames should be gone, hopefully.

Killing the Loop Boss should no longer let you walk outside of the level.

Fixed some crashes/errors caused by IDPD draw code.

Misc

Patience icon no longer look like a potato.

Gator corpses are now darker.

The B music for Palace is exported differently now.

Removed the random offsets chests got at spawn.

Attacking with the Golden Sledgehammer now creates sparks!

Enjoy, hope to see y'all again next week!
16 opmerkingen
Meer informatie
4 september


While we thought work on Nuclear Throne would sit still during Gamescom, PAX and Fantastic Arcade - it seems the prospect of lots of travel made us do our best even more, resulting in this massive update. It did impact our paperwork a bit, so changelogs have been late and we apologize for that. Hopefully, as travel dies down, we can get back to posting proper update logs again.

Let's go over things real quick: Way better Proto Statues, a new B-skin, some interesting changes to Rebel, lots of important (and ancient) bug fixes, a super cool intro for the loop exclusive boss fight, SPARKLING PROJECTILES for golden weapons, and way more! We're introducing a new mutation too, and we should've fixed a lot of the visual glitches introduced by switching to a newer build of GameMaker.

Rami took a week off, roadtripping around the US with his family. We also had an amazing time at both gamescom and PAX. Nuclear Throne had amazing showings at both events (it was so successful at PAX that Enforces had to come and thin out the crowds almost hourly) and Vlambeer turned 4 years old. Thanks for your ongoing support, and keep letting us know what you think of the game.


Features
A new mutation: Patience. It allows you to delay picking mutations by one portal!

A new B-track.

Way more cover in the palace.

A beautiful new intro to the *REDACTED* fight.

New Proto Statues, both visually and functionally.

A brand new B-skin!

Balancing

A big tweak to Rebel: Allies after the first one now only cost 1HP to spawn, and Allies now always drop Ammo.

Minigun has been made more usable.

Hyper Launcher now costs 2 ammo to use, and is still overpowered.

Cursed Chests now drop even better weapons.

IDPD grenades no longer explode on contact.

Laser Rifle now has a lower rate of fire but is slightly more accurate.

Eyes can now attract rads with their active.

Snowbots have a short delay before they'll throw a car.

The way Fire Shotgun projectiles work has been changed a bit.

Fire Shotguns fire slightly less pellets.

Fire Shotguns now spawn slightly later.

Fixes

Enemies have their attack animations back!

You'll no longer find your own *REDACTED* in 0_1.

Some weird chicken bugs should have been fixed, but please let us know if anything pops up!

Steroids can now repair things with both hands.

Disc Gun discs should no longer get stuck in walls.

Thrown cars are no longer invisible.

Recycle Gland can no longer give you more than max bullets.

Recoded the way bolts stick in enemies.

Lightning Hammer icon should look better.

Dog Guardians no longer take damage from wall debris.

Rhino Freaks should no longer glitch into walls.

Misc

Fire Shotgun art!

Gold projectiles, and *REDACTED* now sparkle.

Some new tips.

Guardian bullets now have nicer art.
We'll keep doing our best to make Nuclear Throne slightly better every week! We had some good talks about the future of the game, and can't wait to be done with travelling so we can get started on all that!
HAVE A FUN!
14 opmerkingen
Meer informatie
Recensies
"It's a rapid-fire, deliciously crunchy randomized romp starring a cavalcade of characters from Vlambeer's past."
Rock, Paper, Shotgun

"A brutal game that rewards patience, situational awareness and mastery of trial and error."
Polygon

"The shootiest of shooters."
Eurogamer

Join us on weekly development livestreams and updates!
Nuclear Throne development is livestreamed every Tuesday and Thursday from 1PM CET to 5PM CET on http://twitch.tv/Vlambeer. Updates happen every weekend between Friday and Sunday.
Info over het spel
Nuclear Throne is Vlambeers latest action roguelike-like about mutants fighting their way through a post-apocalyptic world. The radioactive waste in the world allows mutants to get ahead by mutating new limbs on the fly, the abundant availability of powerful weaponry make the quest to become ruler of the Wasteland one frought with peril.
Systeemeisen (PC)
Minimum:


OS: Windows XP

Processor: 1.2Ghz+

Memory: 1024 MB RAM

Graphics: 256MB

Hard Drive: 200 MB available space
Recommended:


OS: Windows XP

Processor: 2Ghz

Memory: 2048 MB RAM

Graphics: 1GB

Hard Drive: 500 MB available space
Nuttige klantrecensies
Titel:
Nuclear Throne
Genre:
Actie
,
Indie
,
RPG
,
Vroegtijdige toegang
Ontwikkelaar:
Vlambeer
Uitgever:
Vlambeer
Releasedatum:
11 okt 2013
Talen:
| | Interface | Spraak | Ondertiteling |
| --- | --- | --- | --- |
| Engels | | | |
Prijzen
PAX East 2013, PAX Prime 2013, Eurogamer Expo 2013, PAX East 2014, E3 2014
INDIGO Showcase Gamescom 2013
Fantastic Arcade Nominee 2013