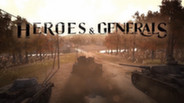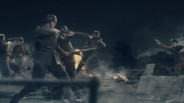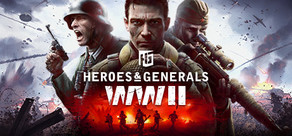 Heroes & Generals is a Free2Play Massive Online FPS with a Strategic Multiplayer Campaign, set in the midst of World War II Europe, where Axis and Allies fight for control.
Data di rilascio: 11 lug 2014
Guarda tutti e 2 i trailer
Gioco con accesso anticipato
Ottieni l'accesso anticipato ed inizia a giocare ora; prendi parte a questo gioco mentre viene sviluppato.
Nota: questo gioco potrebbe cambiare significativamente durante lo sviluppo. Se non vuoi giocare al titolo nel suo stato attuale, puoi aspettare che venga sviluppato ulteriormente. Ulteriori informazioni
Cosa dicono gli sviluppatori:
Perché l'accesso è anticipato?
"When we started developing Heroes & Generals it was with the intention of creating a game for the gamers as much as for ourselves. The games we have been creating in the past (back in the IO Interactive days) have all been shrouded in secrecy until they were released and therefore always carried a number of things that players did not like but we were unable to change. Because it is the players that in the end
plays
the game we think they should have greater influence on the development.
Since the very early days of the project in 2011 (pre-alpha stage), we invited players in to play the game and have involved our community in the making of Heroes & Generals and listened to the feedback from them. So it's a natural extension of the way we develop Heroes & Generals, to also include the Steam Community, by going Early Access."
Per quanto tempo questo gioco rimarrà in accesso anticipato?
"We're approaching the end of our Open Beta/Early Access phase, but it's still too soon for us to put a date on
when
we'll launch."
Quali saranno le differenze fra la versione completa e quella ad accesso anticipato?
"We're still tweaking, fixing bugs and adding new features to Heroes & Generals, and even though we feel that the game is now fun and quite stable, we still wish to get all things 'just right' before we call it 'launched'.
We do
not
plan to do a full server reset when the game launches."
Qual è lo stato attuale della versione in accesso anticipato?
"We're in the end of our Open Beta phase, preparing for launch."
Il prezzo del gioco varierà durante e dopo l'accesso anticipato?
"Heroes & Generals is Free2Play. We wish to create a healthy, solid and well-balanced game and community, where you can get a great experience playing the game, no matter how much money you spend! There is already an in-game economy in place, where you earn in-game credits and warfunds for being active in the game, by playing FPS-missions and/or handling Assault Teams.
You can also buy gold, which you can use to buy practically everything, usually it give you the option of buying stuff 'early', so you don't need to grind that much. We also offer a Veteran Membership to accommodate wishes of having an all-inclusive package, where you earn xp, ribbon-xp, in-game credits and warfunds at an increased rate etc.
Prices are regularly being tweaked now in Open Beta/Early Access and we will most likely still tweak prices at and after launch."
Come pensate di coinvolgere la Comunità durante il processo di sviluppo?
"We encourage the players to participate in discussions in our forum:
http://forum.heroesandgenerals.com/
When you write feedback about the game, remember to try and explain your reasons. Constructive criticism will help us build a better game for you."
Ulteriori informazioni
Gioca a Heroes & Generals
5 settembre
With temperatures getting to Indian Summer territory, it is time yet again to herd Reto.Gargamel and Reto.RedBjarne into the studio for a Friday devstream live on Twitch.

We will talk about what is happening in the game, news and take Qs from the audience - so join us in ~30 minutes at: http://twitch.tv/heroesandgenerals


22 commenti
Ulteriori informazioni
28 agosto
We have just released a new update for Heroes & Generals called 'Rommel' and this time we have primarily focused on giving the 'Generals' part of the game an overhaul. The most significant change in this update is the introduction of officer ranks and Generals characters, but there are also new conditions for how you win a war, a much larger campaign map, a repair wrench for vehicles, better vehicle handling for tanks, and much more.

http://youtu.be/pPLFq3yIhfs



Generals and officers
We have added more ranks and Officers and Generals are now actual characters, with direct command of their own Assault Teams. Characters at rank 12 and up will gain the ability to "equip" Assault Teams using "Command Points" through the new Assault Teams menu in the same way as you equip weapons and vehicles.
Field Officers (ranks 12-14) and Company Officers (ranks 15-17) can only deploy Assault Teams belonging to the same branch of the army as them: Tankers command Armor, Pilots command Fighter Squadrons, and so on. But when characters reaches rank 17 (Colonel/Oberst), they will unlock the option to become Generals.
A General character can no longer participate directly in combat. Instead, he gains the ability to command Assault Teams in all branches and can obtain more Command Points than officers. The weapons and vehicles a converted General owns are moved to an "Equipment Depot", from where you may choose to transfer to other characters.
New weapons: FG 42 and M1 Carbine for Paratroopers
The Quesada update re-introduced the paratroopers, but quite a few players have asked for specific paratrooper weapons, so here they are. The German paras unlock the Fallschirmjägergewehr 42 at Parachute 9th Grade ribbon, and the US paras unlock the M1 Carbine at Parachute 6th Grade ribbon.
New war victory condition and expanded warmap
We have changed the condition for winning a war. Before we only had one capital per faction, and you could win by capturing the enemy capital. But now we have expanded the campaign map to a much larger part of Europe and there are now 15 capitals in total. In order to win a war, your faction has to either capture and control 12 capitals OR ensure that the enemy faction doesn't own ANY capitals.
Vehicle wrench tool
We have introduced a wrench, which you can use to repair vehicles with at a slow pace. To use it, you simply step up to a damaged friendly vehicle and left-click your mouse to start repairing. The wrench also doubles as a close combat weapon, but takes two equipment points compared to other close combat weapons that only takes one. The wrench unlocks for tank crew, recon and Infantry with the 9th grade Driver ribbon or the 5th grade Tanker ribbon - but you may buy it directly for a modest amount of gold if you can't wait to unlock it.
Official Heroes & Generals Twitch channel
Last Friday we did our first live Twitch Devstream broadcast from Reto-Moto Headquarters where we talked about new features in the Rommel build and answered questions from the community.
We will do a new Devstream broadcast session every Friday at 1500 CEST / 3 AM EDT, and if you miss an episode you can find them in the Past Broadcasts section on our Twitch profile page for 60 days after the show or you can watch it on our YouTube channel a couple of hours after the show has ended.
Tons of other fixes and tweaks
The tank-tracks physics code has been improved, so tanks are now much more capable of crossing difficult obstacles and handling rough terrain.

We have added a nosecam to fighter planes - cockpit view will come at some point in a future update.

The prices for bazooka and panzerschreck has been reduced, but they now have to be restocked like mines and grenades.

Pistols give more damage and have less cone fire

Assault Teams now earns XP based on what they actually kill in a battle
...and much more...
The full changelog can be found in our forum here: http://forum.heroesandgenerals.com/viewtopic.php?f=63&t=21878
127 commenti
Ulteriori informazioni
Steam Greenlight

Informazioni sul gioco
Heroes & Generals is a Free2Play Massive Online FPS with a Strategic Multiplayer Campaign, set in the midst of World War II Europe, where Axis and Allies fight for control.

The game uniquely merges epic first-person shooter action with a rich strategic layer, where your decisions have the power to turn the tide in an ongoing war among thousands of online players.

Players can choose to play as 'Heroes', fighting in the trenches, flying planes, commanding tanks and other vehicles on the battlefield, or take control of the war as 'Generals', determining the strategic direction and supporting fellow players by managing battlefield assets, army units and reinforcements.

The 'Generals' part of the game is also playable via the companion app 'Heroes & Generals: Mobile Command' which is available for iOS and Android.

As Infantry, Tank Gunner, Fighter Pilot, Recon, Paratrooper or General, your actions can turn the tide of a persistent online war, fought by players across the world!

Wars Aren't Won By Tanks Alone!
Requisiti di sistema
Minimum:


OS: Windows XP, Vista, 7 or 8

Processor: 2GHz CPU w. SSE3 instruction set- dual-core

Memory: 2 GB RAM

Graphics: ATI HD 2000/NVIDIA 7900 or above (with >512mb RAM)

DirectX: Version 9.0c

Network: Broadband Internet connection

Hard Drive: 2 GB available space

Sound Card: DirectX compatible
Recommended:


OS: Windows 7 or 8

Processor: Intel i5 processor or higher / AMD Phenom II X6 or higher

Memory: 4 GB RAM

Graphics: NVIDIA GeForce GTX 560 series or higher / AMD HD 6870 or higher

DirectX: Version 11

Network: Broadband Internet connection

Hard Drive: 3 GB available space

Sound Card: DirectX compatible
© Reto-Moto Aps. Reto-Moto and Heroes & Generals are trademarks and/or registered trademarks of Reto-Moto Aps. All rights reserved. All other copyrights and trademarks are the property of their respective owners.
Recensioni utili dai clienti
Titolo:
Heroes & Generals
Genere:
Azione
,
Free-to-Play
,
Indie
,
Multigiocatore di massa
,
Accesso anticipato
Sviluppatore:
Reto-Moto
Editore:
Reto-Moto
Data di rilascio:
11 lug 2014
Lingue:
| | Interfaccia | Audio completo | Sottotitoli |
| --- | --- | --- | --- |
| Inglese | | | |
| Francese | | | |
| Tedesco | | | |
| Spagnolo | | | |
| Ceco | | | |
| Polacco | | | |
| Russo | | | |
Mostra tutte e 7 le lingue supportate