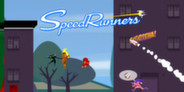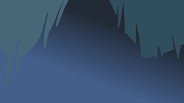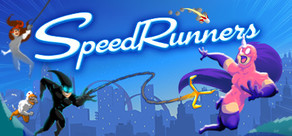 Run, jump, swing around, fire rockets, grapple onto people to knock them off screen in SpeedRunners -- a 4 player competitive platformer. Now with a level editor!
发行日期: 2013年8月26日
抢先体验游戏
立刻获取体验权限然后开始游戏,并随着游戏的发展参与其中。
注意:该抢先体验的游戏内容在开发进程中也许会发生大幅度的变化。如果您目前不是特别想玩这款游戏,那么您可以等待一段时间,直到游戏得到进一步开发。了解更多
开发者的话:
抢先体验有何好处?
"Early Access allows us to involve the community during development and try out completely new things with a large community of players"
这款游戏的抢先体验时期将持续多久?
"Until Q4 2014"
计划中的完整版本和抢先体验版本到底有多少不同?
"The full version will have more content, less bugs, and will be free to play locally. Everyone who buys the game during Early Access will keep all functionality they have in the game."
抢先体验版本的现状如何?
"We are currently experimenting with user created levels, improving network code, working on redesigning the UI, and more. There is a lot of work being done."
在抢先体验期间和结束之后,游戏价格会有所不同吗?
"Yes and no. The local version of the game will be free, while online functionality will cost more or less similar. We intend to sell character skin packs which enable you to play online."
在开发过程中,你们是如何计划让玩家社区参与进来的?
"We are losing sleep over every comment posted on the forum. Shall we make boxes lethal?" 了解更多
2014年7月30日
Hi everyone!

Seeing how the community is growing rapidly, we thought it'd be fun to do a livestream this Friday. We will play some SpeedRunners, show prototype of possible upcoming features/maps, and give our opinion on user levels.

We also have the burning question of Gamescom, we're deciding what exactly to do there -- we will have a booth in the Indie MEGABOOTH and want to do something special during the show.

We'd like to do it with more interactivity and questions from you guys, so posting this announcement 2 days in advance.


When & where?
SpeedRunners dev livestream

Friday August 1st, 4pm CET (GMT+2)
Expect me to try and persuade everyone to drink beers :)
Please post questions you'd like us to discuss/answer in the comments!
7 条评论
了解更多
2014年7月11日
SpeedBallers weekend
The latest update introduces a SpeedBallers weekend event. We are testing a new item in the game which is temporarily skinned as a football (the soccer kind).
Do let us know what you think about the item!
Ranked-based matchmaking
Meanwhile we are introducing ranked-based matchmaking. When you play a match, for the first 20 seconds the system will try to match you against people in your own league, and then widen the search.
Please help us by providing feedback on how well this feature works!
13 条评论
了解更多
SpeedRunners, the official comic book!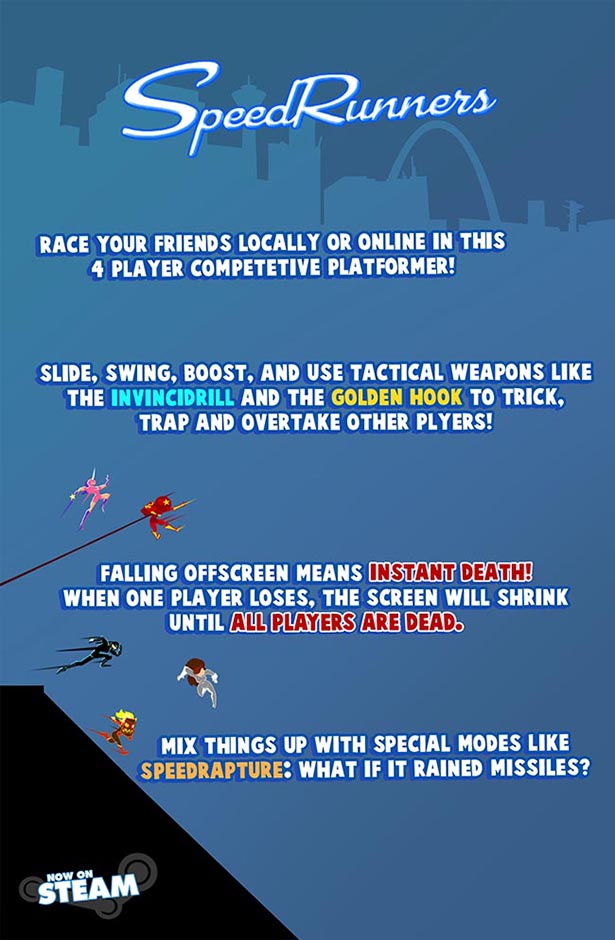 Use devious weapons and tactical pickups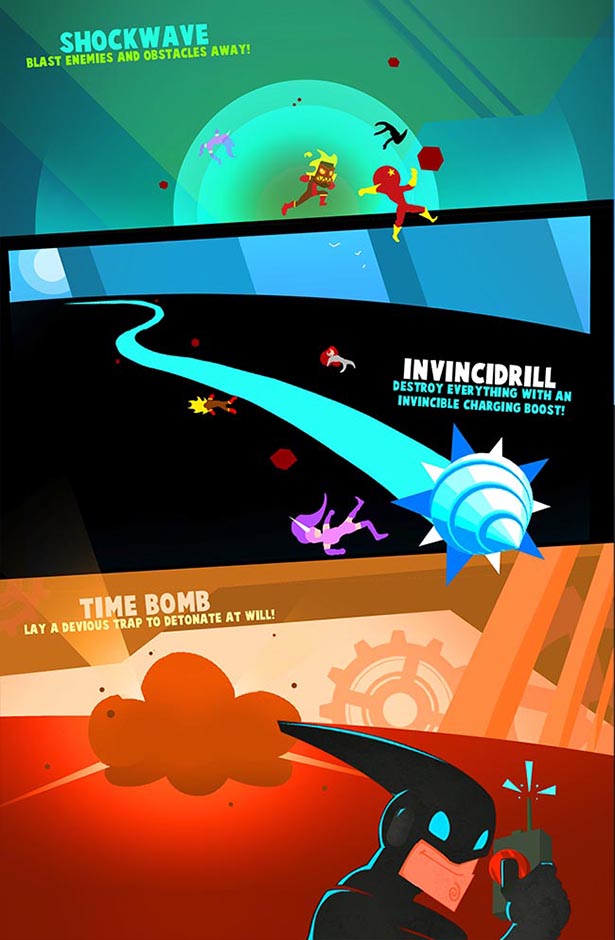 Play thousands of user-levels, or create your own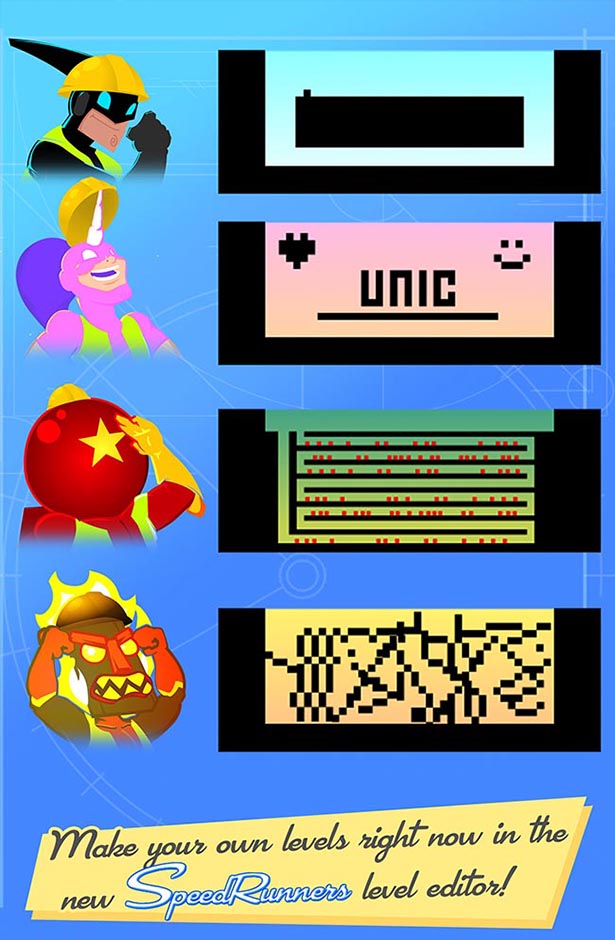 Learn interesting things about horses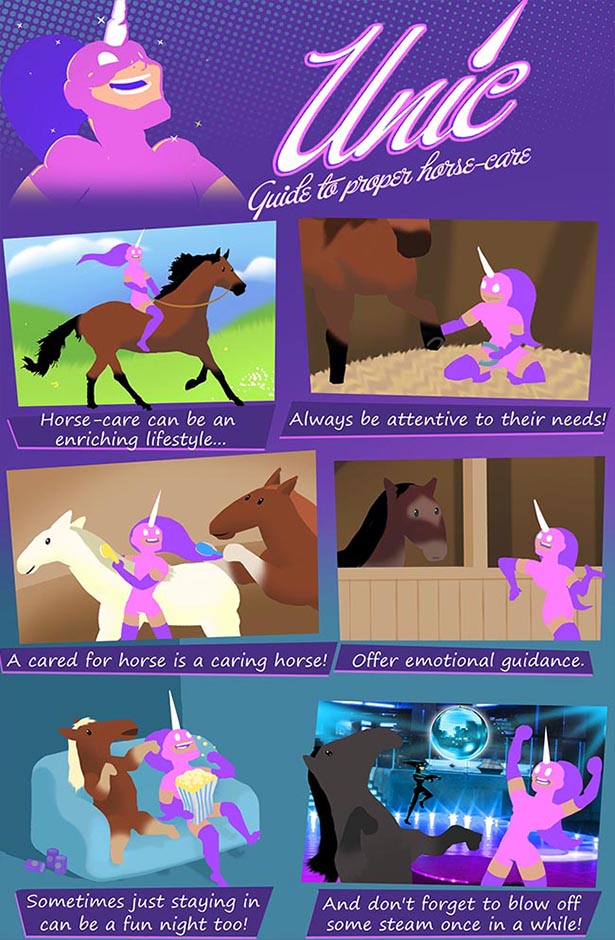 Catch-up with SpeedRunner
Let's Plays and Impressions
关于游戏
In a city filled with superheroes, getting to crimes becomes a competition on its own. Fortunately there are enough rockets, bombs, grappling hooks, spikes, and other goodies lying around -- to make the competition fun and fast. Welcome to SpeedRunners.
SpeedRunners is a 4 player competitive platformer with grappling hooks, power-ups, and interactive environments. Run, jump, swing around, fire rockets, grapple onto people to knock them off screen.
Key Features
4 Player Competitive Platforming!

Keep up with the fastest player in-game, or fall offscreen and get eliminated!

Use weapons like missiles, mines and grappling hooks to screw over your friends, and make new enemies!

Local and online multiplayer! Can you have 2 players on a couch against 2 other players on the internet? Yes of course!

Bots enabled - play on your own with several AI opponents. Or put them into matches with other people!

A tutorial teaches you how to play

Controller compatible (and recommended!)

9 unique maps!

Unique game modifiers

A character named Unic!

Full blown level editor!
What to expect in the final game
Head onto
the forum
and help us decide what will be the final game! Expect more maps, characters, items and game modes.
Follow the development on twitter!
系统需求
Minimum:


OS: Windows XP and up

Processor: 1Ghz and up

Memory: 1 GB RAM

Graphics: Dedicated video card recommended

Network: Broadband Internet connection

Hard Drive: 850 MB available space

Additional Notes: Best played with Xbox controller. It runs great on Macs in Virtual Windows machines. Just give it over 1GB Ram!
有价值的用户评测