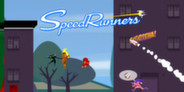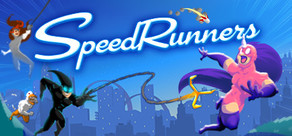 Run, jump, swing around, fire rockets, grapple onto people to knock them off screen in SpeedRunners -- a 4 player competitive platformer. Now with a level editor!
Data de lançamento: 26 Ago 2013
Jogo com acesso antecipado
Comece a jogar agora e participe do desenvolvimento do jogo!
Observação: Este jogo com acesso antecipado pode ou não sofrer alterações significativas durante o desenvolvimento. Caso não esteja com vontade de jogá-lo no estado atual, talvez queira esperar até que o desenvolvimento esteja mais adiantado. Saiba mais
O que os desenvolvedores têm a dizer:
Por que acesso antecipado?
"Early Access allows us to involve the community during development and try out completely new things with a large community of players"
Por quanto tempo este jogo estará em acesso antecipado?
"Until Q4 2014"
Como a versão completa será diferente da versão de acesso antecipado?
"The full version will have more content, less bugs, and will be free to play locally. Everyone who buys the game during Early Access will keep all functionality they have in the game."
Qual é o estado atual da versão de acesso antecipado?
"We are currently experimenting with user created levels, improving network code, working on redesigning the UI, and more. There is a lot of work being done."
O preço do jogo será alterado após o fim do acesso antecipado?
"Yes and no. The local version of the game will be free, while online functionality will cost more or less similar. We intend to sell character skin packs which enable you to play online."
Como vocês planejam envolver a comunidade durante o processo de desenvolvimento?
"We are losing sleep over every comment posted on the forum. Shall we make boxes lethal?" Leia mais
Este produto não está disponível no seu idioma. Confira a lista de idiomas oferecidos antes de comprar.
Comprar SpeedRunners 4-Pack
Pacotes que incluem este jogo
Comprar tinyBundle
Inclui 4 itens: SpeedRunners, No Time to Explain, Not The Robots, Fearless Fantasy
7 agosto 2014
Tomorrow at 4pm CET we will be doing another Livestream and Q&A session with the SpeedRunners dev team.

Tune in at http://www.twitch.tv/tinybuild and watch us drink beer, play SpeedRunners, and talk about things we don't usually discuss in public!

Maybe I'll wear a chicken suit.
0 comentários
Leia mais
6 agosto 2014
SpeedRunners will be showcased at Gamescom in the Indie MEGABOOTH, woo! And we'll have plenty of swag and things to do!


Swag & SpeedRunners Collector's Edition
We will have a special Collector's Edition swag bag for SpeedRunners at the show. We expect it to cost around 25 euros, and contain:
- 1x SpeedRunners shirt of your choice (subject to availability)
- 1x classy nylon bag to put it all in
- 1x Falcon stress ball
- 1x Steam code
- plus possibly a tinyBuildGAMES hat, if they clear customs
We will have only 50 of these. Note that the price will be self-cost of production of the items.
Shirts
We will have 50 extra shirts for sale, price per shirt will be around 15 eur
tinyQuest - win a free game
Between the SpeedRunners and Fearless Fantasy booths there will be a tinyQuest -- a card collection game that allows you to win free games.
Unic photo-ops
The booth will have a cardboard cutout of Unic!
Plus, there might just be someone cosplaying as Unic. Just maybe.
Are you coming to Gamescom in Cologne???
(we will also be present at PAX Prime in Seattle, more details will follow soon)
11 comentários
Leia mais
Análises
"SpeedRunners is a fully realized idea, a great platformer, and a terrific party game that's fun online as well."
PCGamer

SpeedRunners, the official comic book!
Use devious weapons and tactical pickups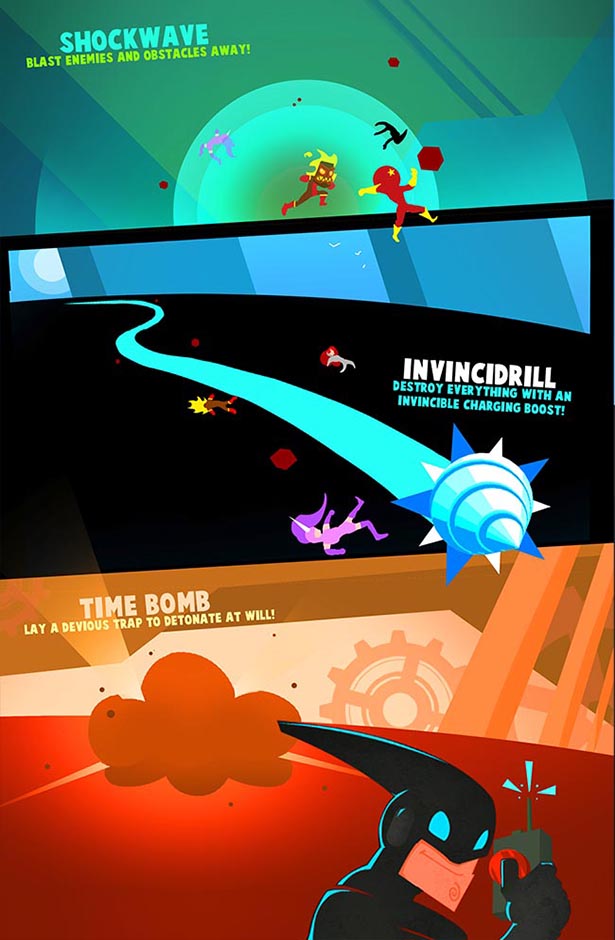 Play thousands of user-levels, or create your own
Learn interesting things about horses
Catch-up with SpeedRunner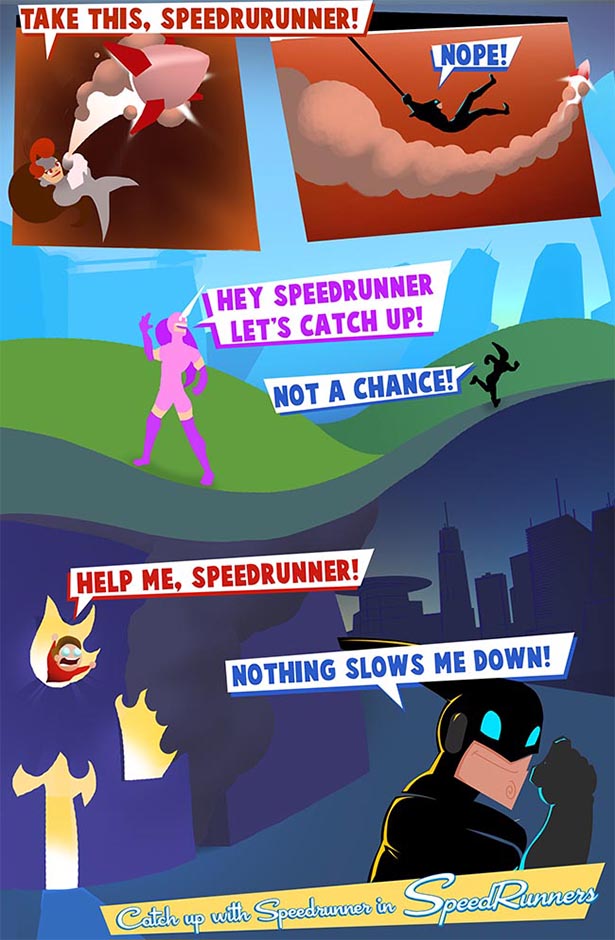 Let's Plays and Impressions
Sobre o jogo
In a city filled with superheroes, getting to crimes becomes a competition on its own. Fortunately there are enough rockets, bombs, grappling hooks, spikes, and other goodies lying around -- to make the competition fun and fast. Welcome to SpeedRunners.
SpeedRunners is a 4 player competitive platformer with grappling hooks, power-ups, and interactive environments. Run, jump, swing around, fire rockets, grapple onto people to knock them off screen.
Key Features
4 Player Competitive Platforming!

Keep up with the fastest player in-game, or fall offscreen and get eliminated!

Use weapons like missiles, mines and grappling hooks to screw over your friends, and make new enemies!

Local and online multiplayer! Can you have 2 players on a couch against 2 other players on the internet? Yes of course!

Bots enabled - play on your own with several AI opponents. Or put them into matches with other people!

A tutorial teaches you how to play

Controller compatible (and recommended!)

9 unique maps!

Unique game modifiers

A character named Unic!

Full blown level editor!
What to expect in the final game
Head onto
the forum
and help us decide what will be the final game! Expect more maps, characters, items and game modes.
Follow the development on twitter!
Requisitos de sistema
Minimum:


OS: Windows XP and up

Processor: 1Ghz and up

Memory: 1 GB RAM

Graphics: Dedicated video card recommended

Network: Broadband Internet connection

Hard Drive: 850 MB available space

Additional Notes: Best played with Xbox controller. It runs great on Macs in Virtual Windows machines. Just give it over 1GB Ram!
Análises úteis de usuários
Título:
SpeedRunners
Gênero:
Ação
,
Casual
,
Indie
,
Corrida
,
Esportes
,
Acesso Antecipado
Desenvolvedor:
DoubleDutch Games
Distribuidora:
tinyBuild
Data de lançamento:
26 Ago 2013
Idiomas:
| | Interface | Dublagem | Legendas |
| --- | --- | --- | --- |
| Inglês | | | |
Prêmios