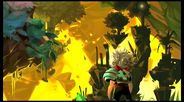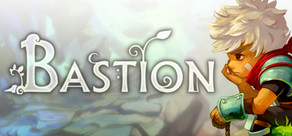 Discover the secrets of the Calamity, a surreal catastrophe that shattered the world to pieces.
Utgivelsesdato: 16. aug, 2011
Se HD-video
Kjøp Bastion
HELGETILBUD! Tilbudet er over 22. september
Kjøp Bastion: Original Soundtrack
HELGETILBUD! Tilbudet er over 22. september
6. mai
Hey! If you enjoyed Bastion you might be interested in our next game, Transistor, which now has its very own Steam page.

Every member of the team that created Bastion stuck together to make this next game. We hope you enjoy it at least as much!
17 kommentarer
Les mer
Anmeldelser
"This game is amazing and you owe it to yourself to download it."
9.0/10 – http://pc.ign.com/articles/118/1189676p1.html

"The soundtrack is phenomenal, the world is breathtaking, and the narration is a brilliant new idea for gaming."
92/100 – PC Gamer

"The entire game drips with passionate artistry from the gorgeous watercolor aesthetics to the stirring soundtrack."
9/10 – Wired
Dota 2 Announcer


Buy it on the Dota 2 Store!
Om spillet
Bastion
er et action-rollespillopplevelse som revelusjonerer historiefortelling i dataspill, med en aktiv forteller som følger deg for hvert skritt du tar. Mens du oppdager hemmelighetene om ulykken, en surrealistisk katastrofe som knuste verden i stykker, utforsker du mer enn 40 frodige håndmalte omgivelser. Anvend et enormt våpenlager som kan oppgraderes, for å kjempe mot villdyr som har tilpasset seg sitt nye hjemsted. Fullfør hovedfortellingen for å låse opp Nytt spill pluss modusen, og fortsett på din reise!
Nøkkelegenskaper:
Forbløffende håndmalte illustrasjoner i full 1080p oppløsning

Kritikerrost musikkspor

Timer med aktiv fortelling med en dyp historie

Handlingsmettet kampsystem som belønner de med ferdigheter

Skreddersydde kontroller til PC med full støtte for spillkontroller

Flere enn 10 unike og oppdraderbare våpen som bare venter på å bli brukt

6 mektige festningsbygninger å oppdage

'Nytt spill pluss' modus låses opp etter fullføring av historien
Gratis oppdatering: Den Fremmedes Drøm
Stup enda dypere inn i spillopplevelsen med den gratise oppdateringen som inneholder en utfordrende fortelling med nye måter å spille på. Innholdet omfatter:
Den fremmedes drøm: en helt ny "hvem hvet hvor"-sekvens, større og vanskeligere enn noen andre.

Poeng-modus: en ny måte å spille gjennom historien på! Du begynner på nivå en med alle ånder og gudebilder låst opp. Kampferdigheter er målt etter prestasjonsevne, og alle områder er gjentagbare.

Null stress-modus: for alle de som bare vil nyte Bastion-historien. I denne modusen kan du begynne på nytt så mange ganger du vil etter at du har blitt beseiret.
Og, nye Steam-prestasjoner og ledertavler! For å få tilgang til Den fremmedes drøm-sekvensen og poeng-modus, må du ha fullført historien minst en gang. Den fremmedes drøm-sekvensen vil være tilgjengelig tidlig i nytt spill pluss eller poeng-modus-spillet ditt.
Systemkrav (PC)
Operativsystem: Windows XP, Vista, 7

Prosessor: 1.7 GHz Dual Core eller bedre

Minne: 2 GB

Harddiskplass: 1.6 GB

Skjermkort: 512 MB DirectX 9.0c-kompatibelt skjermkort (shader-model 2)

DirectX®: 9.0c

Lyd: DirectX 9.0c-kompatibel
Systemkrav (MAC)
OS: OS X version Leopard 10.5.8, Snow Leopard 10.6.3, or later.

Processor: 1.7 GHz Dual Core or Greater

Memory: 2 GB RAM

Hard Disk Space: 1.5 GB Free Space

Video Card: 256 MB OpenGL 2.0 compatible graphics card
Systemkrav (Linux)
Processor: 1.7 GHz Dual Core or Greater

Memory: 2 GB RAM

Video Card: 512 MB VRAM
Bastion is © Supergiant Games 2011. All code, art, music, narration, game design is copyright Supergiant Games. WB GAMES LOGO, WB SHIELD: ™ & © Warner Bros. Entertainment Inc.
Hjelpsomme kundeanmeldelser
Priser
Winner of more than 20 awards, including the Game Critics Award for "Best Downloadable Game of E3", Paste Magazine's "Best Videogame of the Year", Spike TV's "Best Downloadable Game" and "Best Original Score", and the Inside Gaming Awards for "Best Downloadable Game" and "Best Indie Game".