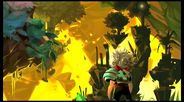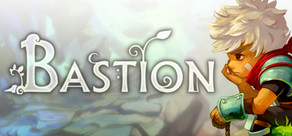 Discover the secrets of the Calamity, a surreal catastrophe that shattered the world to pieces.
Data lansării: 16 aug., 2011
Vizionează video HD
Cumpără Bastion: Original Soundtrack
6 mai
Hey! If you enjoyed Bastion you might be interested in our next game, Transistor, which now has its very own Steam page.

Every member of the team that created Bastion stuck together to make this next game. We hope you enjoy it at least as much!
17 comentarii
Află mai multe
Ce spun criticii
"This game is amazing and you owe it to yourself to download it."
9.0/10 – http://pc.ign.com/articles/118/1189676p1.html

"The soundtrack is phenomenal, the world is breathtaking, and the narration is a brilliant new idea for gaming."
92/100 – PC Gamer

"The entire game drips with passionate artistry from the gorgeous watercolor aesthetics to the stirring soundtrack."
9/10 – Wired
Dota 2 Announcer


Buy it on the Dota 2 Store!
Despre joc
Bastion
este o experienţă de actiune role-playing care redefineşte povestirea în jocuri, cu un narator activ ce îţi marchează fiecare mişcare. Explorează mai mult de 40 de mediuri detaliate şi pictate de mână în timp ce descoperi secretele Calamităţii, o catastrofă suprareală care a sfărmat lumea în bucăţi. Mânuieşte un arsenal uriaş de arme upgradabile şi bestii feroce de luptă adaptate noului lor habitat. Sfârşeşte povestea principală pentru a delobca modul New Game Plus să îţi continui aventura!
Caracteristici Cheie:
Opere de artă uimitoare pictate de mână în rezoluţie completă de 1080p

Muzică originală aclamată în mod critic

Ore de naraţiune reactivă oferă o poveste adâncă

Lupte îmbinate cu acţiune ce recompensează jocuri cu fineţe

Controale adaptate la alegerile pentru PC plus suport de consolă

10+ arme unice upgradabile pentru a fi folosite

6 structuri puternice de Bastion pentru a fi descoperite

Modul 'New Game Plus' deblocat după terminarea poveştii
Actualizare gratuită: The Stranger's Dream
Aventurează-te mai adânc în experiența Bastion cu această actualizare gratuită, prezentând un scenariu nou provocator și noi modalități de joc. Conținutul cuprinde:
The Stranger's Dream: o nouă secvență complet narată a Cine Știe Unde, mai mare și mai dificilă decât celălalte.

Mod de atac pe scor: un nou mod de a juca prin poveste! Începi de la nivelul unu cu toate Spiritele și Idolii deblocați. Performanța din lupte este contorizată în funcție de eficiență și toate zonele sunt repetabile.

Mod fără să transpiri: pentru cei care vor doar să trăiască experiența poveștii din Bastion, acest mod oferă șanse nelimitate de a continua de unde ai rămas dacă ai fost înfrânt.
În plus, Realizări Steam noi și Clasamente! Pentru a accesa secvența Stranger's Dream precum și Modul de atac pe scor, trebuie să fi terminat jocul măcar o dată. Secvența Stranger's Dream va fi disponibilă începutul jocului tău New Game Plus sau Mod de atac pe scor.
Cerinţe de sistem (PC)
OS: Windows XP, Vista, 7

Processor: 1.7 GHz Dual Core or Greater

Memory: 2 GB

Hard Disk Space: 1.0 GB

Video Card: 512 MB DirectX 9.0c compatible graphics card (shader model 2)

DirectX®: 9.0c

Sound: DirectX 9.0c compatible

Cerinţe de sistem (MAC)
OS: OS X version Leopard 10.5.8, Snow Leopard 10.6.3, or later.

Processor: 1.7 GHz Dual Core or Greater

Memory: 2 GB RAM

Hard Disk Space: 1.5 GB Free Space

Video Card: 256 MB OpenGL 2.0 compatible graphics card
Cerințe de sistem Linux
Processor: 1.7 GHz Dual Core or Greater

Memory: 2 GB RAM

Video Card: 512 MB VRAM
Bastion is © Supergiant Games 2011. All code, art, music, narration, game design is copyright Supergiant Games. WB GAMES LOGO, WB SHIELD: ™ & © Warner Bros. Entertainment Inc.
Recenzii utile ale clienților
Premii
Winner of more than 20 awards, including the Game Critics Award for "Best Downloadable Game of E3", Paste Magazine's "Best Videogame of the Year", Spike TV's "Best Downloadable Game" and "Best Original Score", and the Inside Gaming Awards for "Best Downloadable Game" and "Best Indie Game".