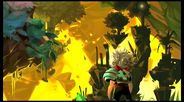 Discover the secrets of the Calamity, a surreal catastrophe that shattered the world to pieces.
Udgivelsesdato: 16 Aug 2011
Se HD-video
Køb Bastion: Original Soundtrack
6 Maj 2014
Hey! If you enjoyed Bastion you might be interested in our next game, Transistor, which now has its very own Steam page.

Every member of the team that created Bastion stuck together to make this next game. We hope you enjoy it at least as much!
17 kommentarer
Læs mere
Anmeldelser
"This game is amazing and you owe it to yourself to download it."
9.0/10 – http://pc.ign.com/articles/118/1189676p1.html

"The soundtrack is phenomenal, the world is breathtaking, and the narration is a brilliant new idea for gaming."
92/100 – PC Gamer

"The entire game drips with passionate artistry from the gorgeous watercolor aesthetics to the stirring soundtrack."
9/10 – Wired
Dota 2 Announcer


Buy it on the Dota 2 Store!
Om spillet
Bastion
er en action-rollespilsoplevelse, som omdefinerer måden, spil fortæller historier på med en fortæller, der holder øje med hvert enkelt skridt. Udforsk mere end 40 overdådige håndmalede omgivelser mens du opdager hemmelighederne om Katastrofen, en surrealistisk katastrofe som slog verden i tusinde stykker. Slås mod brutale bæster der har tilpasset sig deres nye miljø ved hjælp af et enormt arsenal af våben, der hver især kan opgraderes. Gennemfør hovedhistorien for at låse 'New Game Plus' op og fortsæt din historie!
Centrale elementer:
Fantastiske håndmalede illustrationer i fuld 1080p-opløsning

Kritikerrost originalt soundtrack

Timevis af reaktiv fortællermonolog giver en historie med dybde

Actionfyldt kamp der belønner snilde

Styring skræddersyet til PC og gamepad

Mere end 10 unikke opgraderbare våben til rådighed

6 magtfulde 'Bastion'-strukturer at opdage

'New Game Plus' låst op efter historien er gennemført
Gratis opdatering: The Stranger's Dream
Grav dybere i Bastion-oplevelsen med denne gratis opdatering som indeholder et nyt udfordrende scenarie og nye måder at spille på. Indholdet inkluderer:
The Stranger's Dream: en ny fuldt ud fortalt "Who Knows Where"-sekvens, større og svære end de andre.

Score Attack-tilstand: en ny måde at spille gennem historien på! Du starter i level et med alle Spirits og Idols låst op. Kamppræstation vurderes ud fra effektivitet og alle områder kan gentages.

No-Sweat-tilstande: for dem, der bare vil opleve Bastions historie, giver denne tilstand ubegrænsede chancer for at fortsætte der, hvor man slap, hvis man blev besejret.
Plus, nye Steam-præstationer og scoretavler! For at få adgang til The Stranger's Dream-sekvensen samt Score Attack-tilstanden, skal du have gennemført spillet mindst én gang. The Stranger's Dream-sekvensen er tilgængelig tidligt hen i din New Game Plus- eller Score Attack-gennemspilning.
Systemkrav til PC
OS: Windows XP, Vista, 7

Processor: 1.7 GHz Dual Core or Greater

Memory: 2 GB

Hard Disk Space: 1.0 GB

Video Card: 512 MB DirectX 9.0c compatible graphics card (shader model 2)

DirectX®: 9.0c

Sound: DirectX 9.0c compatible

Systemkrav til Mac
OS: OS X version Leopard 10.5.8, Snow Leopard 10.6.3, or later.

Processor: 1.7 GHz Dual Core or Greater

Memory: 2 GB RAM

Hard Disk Space: 1.5 GB Free Space

Video Card: 256 MB OpenGL 2.0 compatible graphics card
Systemkrav til Linux
Processor: 1.7 GHz Dual Core or Greater

Memory: 2 GB RAM

Video Card: 512 MB VRAM
Bastion is © Supergiant Games 2011. All code, art, music, narration, game design is copyright Supergiant Games. WB GAMES LOGO, WB SHIELD: ™ & © Warner Bros. Entertainment Inc.
Helpful customer reviews
Priser
Winner of more than 20 awards, including the Game Critics Award for "Best Downloadable Game of E3", Paste Magazine's "Best Videogame of the Year", Spike TV's "Best Downloadable Game" and "Best Original Score", and the Inside Gaming Awards for "Best Downloadable Game" and "Best Indie Game".