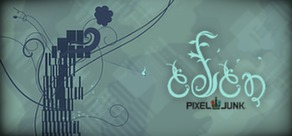 Swing, climb, and jump your way through massive "gardens" of vibrant other-worldly plant-life in this truly organic platformer.
Udgivelsesdato: 2. feb 2012
Se HD-video
Pakker, der indeholder dette spil
Køb PixelJunk Eden + Soundtrack
Indeholder 2 emner: PixelJunk Eden, Pixeljunk Eden Soundtrack
Indhold, der kan downloades til dette spil
Om spillet
Det anmelderroste PSN-hit PixelJunk™ Eden er nu på Steam!
Med et hav af nye funktioner og ny styring specielt designet til PC'en, føles PixelJunk™ Eden som et helt nyt spil, selv for de mest hærdede veteraner af PS3-versionen. Sving, klatr og hop dig igennem massive "haver" af livligt planteliv i en anden verden i denne helt igennem organiske platformer. Voks hver have mens du udforsker og guider din lille, men adrætte, "Grimp" mod de undvigende "Spectra", som er gemt i banerne. Rid på enorme planter, imens de vokser under dig, sving væk fra dem og ødelæg Pollen Prowlers i en evigt støjende blanding af pollen. Bliv affyret fra kanoner, svæv uden tyngdekraft, teleporter dig til omvendte verdener eller kling dig fast til et dinglende blad, imens du bliver blæst væk af vinden; hver have har et unikt sæt udfordringer, puzzles og fjender, der vil udfordre din tankegang!
PixelJunk™ Eden byder på et originalt, minimalt techno-soundtrack og en unik grafisk stil, begge skabt i harmoni med hinanden af Indie-multimediekunstneren "Baiyon." Eden vil give dig en oplevelse som intet andet spil på denne planet, eller en anden, kan give dig.
Key features:
En tryllebindende harmoni af grafik og lyd som er realiseret af den uafhængige musiker og grafiker, Baiyon.

Alle 15 haver fra både Eden og "Encore"-udvidelsespakken er tilgængelige.

Helt nytænkt styring til musen.

En helt ny "Quick Warp"-funktion som tillader spillere at komme tilbage til deres sidste hoppe-udgangspunkt, hvis man føler, at man falder for langt.

En ny og forbedret "fortsæt"-funktion: spillere kan nu starte fra den sidste Spectra, de tog, i en hvilken som helst bane.

Massere af nye præstationer er føjet til din Steam-præstationesliste!
Systemkrav
OS:Windows XP, Vista, 7

Processor:Performance equivalent to Core™2 Duo. SS3 required.

Memory:512 MB RAM

Graphics:5 years or younger. Integrated graphics and very low budget cards may not work. OpenGL 2.1.

DirectX®:dx90c

Hard Drive:446 MB HD space

Helpful customer reviews
Priser
Independent Games Festival 2009 Award Nominee - Excellence in Visual Art, Excellence in Audio and Technical Excellence.
IGN.com: BEST of 2008 Nominee - Excellence in Visual Art, Excellence in Audio, Technical Excellence