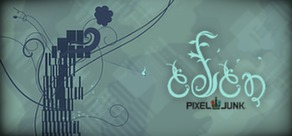 Swing, climb, and jump your way through massive "gardens" of vibrant other-worldly plant-life in this truly organic platformer.
Data de lançamento: 2 Fev 2012
Ver vídeo HD
Pacotes que incluem este jogo
Comprar PixelJunk Eden + Soundtrack
Inclui 2 itens: PixelJunk Eden, Pixeljunk Eden Soundtrack
Conteúdo transferível para este produto
Acerca do Jogo
O aclamado hit da PSN, PixelJunk™ Eden, está a caminho do Steam!
Com uma série de novas funcionalidades e controlos recriados especificamente para o PC, PixelJunk Eden ™ para o Steam será novo em folha, mesmo para os veteranos mais experientes da versão PS3.
Balança, escala, e salta pelo teu caminho através de enormes "jardins" repletos de vida vegetal vibrante de outro mundo neste jogo de plataformas verdadeiramente orgânico e expande o teu jardim à medida que exploras e guias o teu pequeno e ágil "Grimp" para o elusivo "Spectra", que estão escondidos em cada nível. Guia plantas gigantes à medida que crescem em baixo de ti, e usa-as para destruir Predadores de Pólen numa cacofonia cada vez mais crescente de pólen. Sê disparado de canhões, flutua em zero-G, entra em mundos espelhados ou sê simplesmente arremessado pelo vento, enquanto te agarras desesperadamente a uma folha; cada jardim tem um conjunto único de desafios, enigmas e inimigos que irão expandir a tua mente!
Caracterizado por uma banda sonora original e minimalista e um estilo gráfico único, ambos criados em harmonia entre si pelo artista multimédia Indie "Baiyon", Eden irá proporcionar-te uma experiência como nenhum outro jogo neste ou em outro planeta.
Principais características:
Uma harmonia mágica entre visão e som realizada pelo músico e artista gráfico independente Baiyon.

Todos os 15 jardins do Eden e do pacote de expansão "Encore" disponíveis para jogar.

Controlos do rato completamente reinventados.

Uma funcionalidade completamente nova, o "Quick Warp", que permite aos jogadores retornarem rapidamente à posição do último salto, caso caiam muito longe.

Uma nova e melhorada funcionalidade de "Continue": Os jogadores podem começar a partir do último Spectra que encontraram em qualquer nível possível.

Muitas novas e divertidas proezas para a tua lista de proezas do Steam!
Requisitos do Sistema
OS:Windows XP, Vista, 7

Processor:Performance equivalent to Core™2 Duo. SS3 required.

Memory:512 MB RAM

Graphics:5 years or younger. Integrated graphics and very low budget cards may not work. OpenGL 2.1.

DirectX®:dx90c

Hard Drive:446 MB HD space

Análises úteis de clientes
Prémios
Independent Games Festival 2009 Award Nominee - Excellence in Visual Art, Excellence in Audio and Technical Excellence.
IGN.com: BEST of 2008 Nominee - Excellence in Visual Art, Excellence in Audio, Technical Excellence