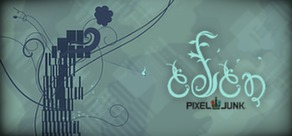 Swing, climb, and jump your way through massive "gardens" of vibrant other-worldly plant-life in this truly organic platformer.
Utgivningsdatum: 2 feb, 2012
Se HD-film
Paket som innehåller detta spel
Köp PixelJunk Eden + Soundtrack
Innehåller 2 saker: PixelJunk Eden, Pixeljunk Eden Soundtrack
Nedladdningsbart innehåll för detta spelet
Om spelet
Den kritikerrosade PSN hitten PixelJunk™ Eden har svingat sig till Steam!
Med ett spektrum av nya funktioner och kontroller omgjorda speciellt för PC, kommer PixelJunk™ Eden på Steam att kännas helt ny för även de mest erfarna veteraner från PS3-versionen. Svinga, klättra och hoppa din väg genom massiva "trädgårdar" av levande utomvärldsliga växtliv i detta verkligt organiska plattformsspel och väx varje trädgård medan du utforskar och styr din lilla men akrobatiska "Grimp" mot den svårfångade "Spectra", som är gömd och utspridd på varje nivå. Rid gigantiska växter då de växer under dig, svinga dig sedan från dem för att förstöra Pollensamlingar i en ständigt ökande kakofoni av pollen. Bli skjuten från kanoner, flyta i Noll-G, ta dig till spegelvärldar eller brottas med vinden, medan klängande desperat på ett dinglande löv, varje trädgård har en unik uppsättning utmaningar, pussel och fiender som kommer att utöka ditt sinne!
Med ett minimalt original techno soundtrack och en unik grafisk stil som båda skapades i harmoni med åt av Indie multimediaartisten "Baiyon", Eden kommer att ge dig upplevelse som inget annat spel på den här planeten, eller nästa.
Huvudfunktioner:
En trollbindande harmoni av bild och ljud förverkligas genom oberoende musikern och grafikern, Baiyon.

Alla 15 trädgårdar från både Eden och "Encore" expansionspaketet är tillgängliga att spela.

Helt nya omgjorda kontroller för musen.

En helt ny "Quick Warp"-funktion som tillåter spelare att snabbt återgå till sitt sista hoppposition om de upptäcker att de själva faller för långt ..

En ny och förbättrad "fortsätt"-funktion: Spelare kan nu starta från det sista Spektrat de tog på vilken nivå som helst.

Massor av nya roliga prestationer tilläggs till din framstegslista på Steam!
Systemkrav
Operativsystem:Windows XP, Vista, 7

Processor:Performance motsvarande to Core™2 Duo. SS3 krävs.

Minne:512 MB RAM

Grafik:5 år eller yngre. Integrerad grafik och och kort av väldigt låg budget fungerar kanske inte. OpenGL 2.1.

DirectX®:Dx90c

Hårddisk:446 MB hårddiskutrymme
Hjälpsamma kundrecensioner
Priser
Independent Games Festival 2009 Award Nominee - Excellence in Visual Art, Excellence in Audio and Technical Excellence.
IGN.com: BEST of 2008 Nominee - Excellence in Visual Art, Excellence in Audio, Technical Excellence