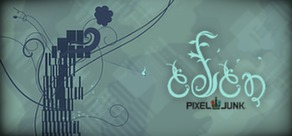 Swing, climb, and jump your way through massive "gardens" of vibrant other-worldly plant-life in this truly organic platformer.
Çıkış Tarihi: 2 Şub 2012
HD Videoyu İzle
PixelJunk Eden Satın Alın
Bu oyunu içeren paketler
PixelJunk Eden + Soundtrack Satın Alın
2 ürün içerir: PixelJunk Eden, Pixeljunk Eden Soundtrack
Bu Oyun İçin İndirilebilir İçerikler
Oyun Açıklaması
Başarılı eleştiriler alan, PSN'in çok sevilen oyunu PixelJunk™ Eden artık Steam'de!
Yeni özellikleri ve PC için tekrar düzenlenmiş kontrolleriyle PixelJunk™ Eden, PS3'de oynayanlara bile yepyeni bir tecrübe yaşatıcak. Her yeni bölüm de, başka dünyalardan gelmiş bitkisel hayatlardan oluşan devasa "bahçelerde" geçen bu organik platformda ilerlemek için sallanmanız, tırmanız ve zıplamanız gerekicek. Ufak fakat çevik "Grimp"e yön verirken, gezdikçe büyüyen bahçeleri ve akıllıca gizlenmiş "Spectra"ları görüceksiniz. Her daim büyümeye devam eden dev bitkileri sürerken, üzerlerinden atlayıp Polen hırsızlarını, yükselen polen sesleriyle beraber yok edin. Toplardan fırlatılın, yerçekimsiz alanda uçun, diğer dünyalara ulaşın veya rüzgarın sizi uçurmaması için bütün çabanızla bir yaprağa tutunun. Her bahçenin kendisine ait görevleri, bilmeceleri ve düşmanları zihninizi daha da genişleticek.
Birbiriyle uyum içinde bağımsız artist "Baiyon" tarafindan yaratılmış minimalist techno müzikleri ve kendisine özgü grafik stiliyle, Eden size bu veya başka bir gezegende yaşayamıyacağınız bir tecrübe yaşaticak.
Ana Özellikler:
Sizi etkisi altına alıcak, bağımsız müzisyen ve grafiker Baiyon tarafından yapılmış, uyum içindeki grafik ve müzikler.

Eden ve "Encore" eklenti paketinden oynayabileceğiniz 15 bahçe.

Fare için yeniden düşünülmüş kontroller.

Oyuncuların çok uzaklaştıklarında geri dönmeleri için, önceki zıpladıkları yere döndüren yeni özellik; "Hızlı Çarpıklık" .

Yeni ve geliştirilmiş "devam" özelliği : Oyuncular artık en son bıraktıkları Spectra'dan istedikleri anda başlayabilir

Steam başarımlarınıza eklenicek birçok yeni ve eğlenceli başarımlar.
Sistem Gereksinimleri
OS:Windows XP, Vista, 7

Processor:Performance equivalent to Core™2 Duo. SS3 required.

Memory:512 MB RAM

Graphics:5 years or younger. Integrated graphics and very low budget cards may not work. OpenGL 2.1.

DirectX®:dx90c

Hard Drive:446 MB HD space

Yararlı müşteri incelemeleri
Ödüller
Independent Games Festival 2009 Award Nominee - Excellence in Visual Art, Excellence in Audio and Technical Excellence.
IGN.com: BEST of 2008 Nominee - Excellence in Visual Art, Excellence in Audio, Technical Excellence