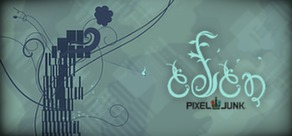 Swing, climb, and jump your way through massive "gardens" of vibrant other-worldly plant-life in this truly organic platformer.
Data lansării: 2 Feb 2012
Vizionează video HD
This item does not have support for your local language. Please review the supported language list before purchasing
Pachete care includ acest joc
Cumpără PixelJunk Eden + Soundtrack
Include 2 produse: PixelJunk Eden, Pixeljunk Eden Soundtrack
Conţinut suplimentar pentru acest joc
Despre joc
Mult așteptatul PSN hit PixelJunk™ Eden este acum pe Steam!
Cu o nouă gamă de trăsături și controale găndite special pentru PC, pe steam, PixelJunk™ Eden va fi ca nou chiar și pentru cei care au jucat intens versiunea pentru PS3. Creează-ți propriul drum escaladând "grădinile" masive de plante din alte lumi în acastă platformă complet ecologică și dezvoltă fiecare grădină în timp ce îți explorezi și ghidezi propriul "Grimp" spre evazivele "Spectra" care sunt ascunse în fiecare nivel. Călărește plante imense în timp ce cresc sub tine, apoi părăsește-le distrugând Pollen Prowlers într-o neîncetată algomerare de polen. Fii tras cu tunul, plutește în zero-G, pătrunde în alte lumi sau lasă-te bătut de vânt în timp ce atârni disperat de o frunză; fiecare grădină are o mulțime de provocări unice, puzzle-uri și inamici ce îți vor îmbogăți imaginația.
Oferind o coloană sonoră techo originală și o interfață grafică unică, amandouă create armonios împreună de către artistul multimedia independent "Baiyon", Eden îți va oferi o experiență unică în comparație cu orice alt joc de pe planetă.
Caracteristici principale:
O armonie vizuală și auditivă fermecătoare realizată de artistul independent Baiyon.

Toate cele 15 grădini din Eden și din expansion pack-ul Encore sunt disponibile.

Control al mouse-ului refăcut complet.

O trăsătură nouă "Quick Warp" care permite jucătorilor să revină în poziția ultimei sărituri dacă au căzut prea departe.

O trăsătură nouă și îmbunătățită "continue": Acum jucătorii pot începe, la orice nivel, de la ultima Spectra culeasă.

O mulțime de achievement-uri noi și interesante în Steam!
Cerinţe de sistem
OS:Windows XP, Vista, 7

Processor:Performance equivalent to Core™2 Duo. SS3 required.

Memory:512 MB RAM

Graphics:5 years or younger. Integrated graphics and very low budget cards may not work. OpenGL 2.1.

DirectX®:dx90c

Hard Drive:446 MB HD space

Recenzii utile ale clienților
Premii
Independent Games Festival 2009 Award Nominee - Excellence in Visual Art, Excellence in Audio and Technical Excellence.
IGN.com: BEST of 2008 Nominee - Excellence in Visual Art, Excellence in Audio, Technical Excellence