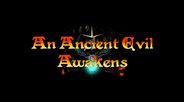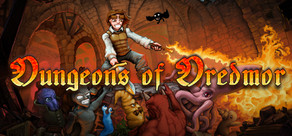 Stel je geluk en je verstand op de proef in dit spannende rollenspel. Smeed, hak en plunder je een pad door de kerkers van Lord Dredmor heen.
Releasedatum: 13 jul 2011
HD-video bekijken
Dungeons of Dredmor kopen
Pakketten die deze game bevatten
Dungeons of Dredmor Complete kopen
Bevat 3 items: Dungeons of Dredmor, Dungeons of Dredmor: Realm of the Diggle Gods, Dungeons of Dredmor: Conquest of the Wizardlands
Downloadbare inhoud voor dit spel
Steam Workshop


Create and share all new monsters, items, skills, spells and dungeon rooms! Ever wanted an acid fireball? How about a skill that summons Diggle mages? A staff that explodes when you throw it and turns everyone who it kills into zombies? Easy. A trap that can only be disarmed by feeding it 10 gallons of Slivovitz plum brandy? A magical pear that summons a magical orange that summons a magical apple that summons the original magical pear? That's more like it.

The Steam Workshop is a place designed to make it easy to find, play, and share quality custom content created by other fans. Simply head over to the Steam Workshop page, find a mod that you would like to play, and hit "Subscribe". The mod will be downloaded to just the right spot, and upon loading Dredmor you simply hit the "Mod" button on the launcher and pick which ones you want to load.

Or, if you want to try your hand at your own creations, head over to http://dredmod.com/wiki/Main_Page and take a look at some tutorials on how to craft your own! We've included information on how to make and upload a mod, as well as some of the code that you can use to create completely unique content.
Info over het spel
Lang geleden werd de duistere heerser Dredmor door grote, machtige helden opgesloten in de donkerste kerkers onder de aarde. Eeuwen later verzwakken de magische ketens die hem vasthouden en groeit zijn kracht alsmaar verder. Het land heeft een nieuwe held nodig, een sterke krijger of een magische tovenaar waarvan gesproken werd in de eeuwenoude voorspellingen.
Helaas ben jij het enigste wat ze hebben...
Stap de kerkers van Dredmor in! Omarm je lot! Bevecht kwaad dat de wereld nog nooit heeft gezien - de afschrikwekkende Swarmies, de kronkelende Thrusties, en de schattige nestbouwende Diggles. Aanbid Inconsequentia, de Godin van Nutteloze Zijmissies, of probeer je geluk als een volgeling van de naamloze lutefiskgod. Vecht met krachtige spreuken die je hebt geleerd van de duistere zakentovenaars van de Necronomiconomics-school, of roep de Vikingrunen van je voorvaders op om op je vijanden te schieten met donder en bliksem! Ontdek de kracht die je kan krijgen door het vasthouden van een bizarre voorraad aan verpletterende wapens, zoals de Interdimensionale Bijl, de Plastic Ring, en het Onzichtbare Schild (als je kan onthouden waar je 'm hebt achtergelaten). Draag schoenen versierd door de Dwergse Glittersmeden, die nu allemaal vanwege schaamte zelfmoord hebben gepleegd, en omarm de pret van het vernietigen van gigantische snorgebruikende baksteendemonen met een knuppel versierd met goedkope, heerlijke bacon.
Verwacht terwijl je daarmee bezig bent trouwens om te sterven. Heel vaak. In vreselijke, schreeuwende pijn waardoor je je toetsenbord uit het raam gooit.
De Dungeons of Dredmor wachten. Ben je er klaar voor?
Belangrijkste onderdelen:
Klassieke roguelike-gameplay met de heerlijke, verfrissende smaak van point-and-click interfaces. Je hoeft niet langer CTRL-ALT-SHIFT-x ingedrukt te houden om iets te drinken.

Willekeurig gegenereerde kerkers lokken je met mooie, mooie beloftes van schatten en … dingen.

Klassiek pixelwerk. Bevecht met liefde handgetekende monsters en geniet van de smaak van prachtige, individueel gerenderde voorwerpen bovenop een zee van beeldschoon, potent tegelwerk.

Gebruik de geweldige kracht van het Aambeeld van Krong, opdat het niet jou gebruikt!

Ongelooflijk ingewikkeld ontwerpsysteem! Gebruik de relieken van het Grote Elven/Dwergenconflict; vermaal staven om aluminiumpoeder te maken en duw het direct je neusgaten in!

Hordes van monsters die nog nooit in games zijn gezien!

Zet doortrapte vallen uit om je vijanden te verslaan!

Oneindige herspeelwaarde: kies uit een selectie van wonderlijke vaardigheden om je karakter te maken. Een nieuwe speelervaring wacht elke keer op je!

Hebben we al gezegd dat er lutefisk is?
Systeemeisen (PC)
Besturingssysteem: Windows XP, Vista, 7
Processor: Core 2 Duo/Athlon 64 of beter aangeraden
Geheugen: 1 GB RAM minimum; 2 GB aangeraden
Schijfruimte: 400+ megabytes
Videokaart: DirectX-compatibel videoapparaat met een minimumresolutie van 1024 x 600 of 1024 x 768
DirectX®: 9
Geluid: DirectX-compatibel audioapparaat
Systeemeisen (Mac)
OS: OS X version Snow Leopard 10.6.3, or later
Processor: Core 2 Duo/Athlon 64 or above recommended
Memory: 1 GB of RAM minimum; 2 GB recommended
Hard Disk Space: 400+ megabytes
Nuttige klantrecensies