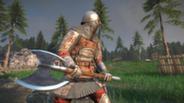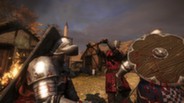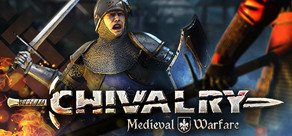 Asedia castillos y asalta aldeas en Chivalry: Medieval Warfare, un trepidante videojuego medieval en primera persona centrado en las batallas multijugador.
Fecha de lanzamiento: 16 Oct 2012
Ver los 2 trailers
Comprar Chivalry: Medieval Warfare
Comprar Chivalry: Medieval Warfare 4-pack
Paquetes que incluyen este juego
Comprar Chivalry: Complete Pack
Incluye 2 artículos: Chivalry: Medieval Warfare, Chivalry: Deadliest Warrior
Contenido descargable para este juego
14 agosto 2014
Greetings!

The New Vanguard skins are to be sold for $4.99 not $7.99 We are aware that some of you have already purchased it at the $7.99 price point. We will be Gifting these users additional skins! We apologize for the mix up!

- Torn Banner Studios
32 comentarios
Leer más
14 agosto 2014
Battle for Balance

This is a balance patch to increase enjoyment in both the Competitive level of play and the Casual level of play. We decided to make a patch that doesn't drastically change every aspect of combat and see what the effects are with a chance for iteration.

General Balances (Affects all Classes)

Flinch time increased from 0.8 to 0.9 for all 2-handed weapons

All minimum windup speed increased to 0.4

Archer Balances- The Archer class has been slightly reworked **

Archers no longer have an added backstab damage bonus when attacking from behind

Bolts, Arrows and Stones no longer flinch players. Instead they will remove the sprint state from players hit

New

Introducing the New Mason Marauder and Agatha Arbiter Vanguard Skins

Each skin come with a new helmet
Changes

Tournament mode added


Set bTournamentMode=true in _Game.ini under AOC.AOCGame

or, start the server with ?tournament on the URL

or, "admintournamentmode" console command to restart current map in or out of tournament mode

Follow the in-game instructions



Tournament mode does:


Enable ready-up

Disable team damage spawn penalty

Disable ping kick

Disable auto-balance



Auto balance now selects from a threshold of the 1/5th most recently joined players on death

Fixes

Removed first person fire particles

Fixed sprinting players being flinched in release stage

Fixed ripostes after a kicking only dealing kick damage

Returned Catapult projectile cam

Knights can now wield all shield types with the flail

Firepots no longer flinch targets hit

Loadout can no longer be changed on the fly in specified location in the Arena FFA map

Friendly fire penalty is now a server side option. (Default On)

Fixed "Fire Nemesis", "Fire Starter", "Sands of Time" achievement (Removed "Just a Flesh wound")

Fixed Javelin always appearing in archer's back

Fixed Score failing to update when players join matches in progress

Fixed floating weapons in Arena

Ammo box Icons now appear on Mason team

Becoming king no longer counts as a death

Selecting random in class select now randomizes your weapon loadout as well

Coldfront Optimizations (Visual blockers and reduced npc time in each area)

Only admins have access to Remote Events

Added Platform to Catapult to prevent sinking into the Landscape on exit on Coldfront.

Coldfront Balance (Increased Health on Drawbridge in Coldfront from 20000 to 30000)

Update to the uploader - Added the Curated Workshops for users to upload Weapon, Helmet skins and more...)
Deadliest Warrior
This is an SDK patch to bring Deadliest Warrior to a more user friendly sat in order to encourage User Generated Content such as custom maps and mods
New
SDK updated to be on par with C:MW (maps and mods are easier

Loading up the game no longer takes a long time due to Workshop subscription

Fixes
Correct player count now shows in server browser

Frigid Kill volumes added to water touch

Frigid tree meshes now using proper materials

Block volumes added to pieces of ice

Acropolis grass clipping and collision fixed on wall

Moor has an updated blocking volumes

Pirates and Ninja elite helms no longer float in the air

Precached scaling set on all helmet static meshes

Updated Korean translation
32 comentarios
Leer más
Análisis
"I saw my body slump to the floor, some distance away and then the hammer-bastard was standing over me, attempting to play croquet with what remained of my face."
– Rock Paper Shotgun

"I'm rather enamoured by the unique flavour of online combat presented by Chivalry. It's fresh and fun, and like the very best games is easy to get into yet incredibly hard to master."
– Ausgamers
Custom Maps and Modding Support!
Discover and download custom, player-made maps for your game. Or create your own to share with the community.
Acerca del juego
Asedia castillos y asalta aldeas en Chivalry: Medieval Warfare, un videojuego en primera persona centrado en el modo multijugador. En él se desarrollan competitivos combatesen línea que recrean la experiencia de los verdaderos campos de batalla medievales. El juego se inspira en la intensidad y las batallas épicas de películas históricas de acción como 300, Gladiator y Braveheart. Chivalry: Medieval Warfare tiene como objetivo trasladar dicha experiencia a las manos del jugador.
El juego se basa en la habilidad del jugador y se controla como un FPS. Sin embargo, en lugar de utilizar armas y granadas, los jugadores lucharán con espadas, escudos, mazas, hachas de guerra y arcos largos. La acción se desarrolla en un mundo ficticio, pero muy detallado y realista, en el que los jugadores lucharán en trepidantes batallas en línea, asediarán castillos, asaltarán aldeas medievales y lucharán por la gloria en la arena contra un máximo de hasta 32 jugadores.
Características Clave:
Un sistema de intensos combates cuerpo a cuerpo que otorga a los jugadores una gran gama de opciones de combate que reaccionarán a sus acciones.

Ajusta tus ataques y bloqueos con el ratón en tiempo real para disfrutar de un control de la acción preciso y completo.

Empuña un arsenal de hasta 60 armas mortíferas entre las que podrás encontrar desde mandobles y hachas de guerra hasta arcos largos y jabalinas.

Un sistema de objetivos dinámico que pone de relieve las tácticas de equipo y la estrategia cuando los jugadores intentan echar abajo las puertas de castillos, asaltar aldeas o asesinar a la realeza enemiga para alcanzar la victoria.

Utiliza una gran variedad de armas de asedio como catapultas, aceite hirviendo, balistas, arietes, etc.

Enormes y atractivos escenarios que transportarán al jugador a un mundo medieval detallado y envolvente.

Opciones de juego sin conexión que permiten a los jugadores familiarizarse con los controles y la mecánica de juego antes de introducirse de pleno en la acción.
Requisitos del sistema
Minimum:


OS: Windows XP

Processor: Intel Core 2 Duo 2.4 GHz or AMD Athlon X2 2.7 GHz (a dual-core CPU is required)

Memory: 2 GB RAM

Graphics: ATI Radeon 3870 or higher, Nvidia GeForce 8800 GT or higher. 512MB VRAM.

DirectX®: 9.0c

Hard Drive: 7 GB HD space

Other Requirements: Broadband Internet connection
Análisis útiles de usuarios