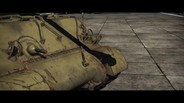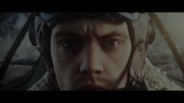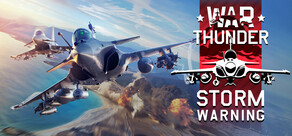 War Thunder is a next generation MMO combat game dedicated to World War II military aviation, armored vehicles, and fleets. You will take part in all of the major combat battles, fighting with real players all over the world.
Releasedatum: 15 aug 2013
Alle 3 trailers bekijken
War Thunder - Steam Pack kopen
War Thunder Steam Pack includes premium airplanes, two single-player campaigns, one month of Premium account upgrades, and 1700 Golden Eagles!
Downloadbare inhoud voor dit spel
22 augustus 2014
Aviation history is littered with examples of outstanding achievements occurring through the ability to adapt, improvise and overcome. However, it is a hard and fast rule that aviation cannot take place safely and efficiently without skilled ground crews and maintainers. Often the unsung heroes of any nation's aviation community, ground crews have worked tirelessly and resolutely in the face of a multitude of dangers: whether it be within earshot of tank battles on the Eastern Front, under constant fire and bombardment from enemy aircraft in the sands of North Africa or in the cramped confines of an escort carrier's hangar in an overnight storm in the seas of the Arctic. Whilst 'ground crew' is a very broad term and covers a multitude of vital tasks, the purpose of this article is to concentrate on mechanics and maintainers.

All aircraft need regular maintenance; the practices in place in the modern day military aviation environment have many striking similarities to the procedures already implemented by the time of the Second World War. Even if undamaged by the enemy, aircraft parts are 'life-exed': depending on the aircraft and the individual parts, certain components will be replaced after flying a certain number of hours. In addition to this, aircraft have a scheduled maintenance package. For example, a specific aircraft may be pulled from flying every 25 or 30 hours for a series of checks; a more detailed examination taking more time may occur every 100 flying hours. Only under the most extreme conditions would these maintenance procedures be neglected and even then, unless the airfield was under immediate attack, paperwork would be required to forego the normal routines.

Even more regular than this was Before and After Flight maintenance; every morning and every evening, every aircraft would be thoroughly checked in accordance with a detailed check list by ground crews. These procedures also had periodicities; if an aircraft was checked first thing in the morning but did not fly that day, the rules would specify how many days the Before Flight check was valid until another, fresh check needed to be carried out. One key difference between modern day aviation and that of the Second World War was the pilot's pre-flight walk around. Today, a pilot has his own set of checks which are detailed and need to be carried out prior to him even switching on the aircraft's power. For some nations during the Second World War, such a detailed walk around would have been considered insulting to the ground crews.

The most important piece of maintenance documentation for any individual British military aircraft was, and is still today, known as the Form 700. Whilst this may indeed have begun life as a single form, by the time of the Second World War each individual aircraft's Form 700 was a thick binder consisting of dozens of pages. It detailed the aircraft's servicing history, hours remaining on life-exed parts, records of oil consumption to pick up on trends, times and dates of scheduled and unscheduled servicing and many other vital facts. It was with this document that the pilot would sign the aircraft out under his charge before every flight, and then sign it back across to the paternal care of the maintenance organization, often with a stern rebuke from a Watch Chief or Senior NCO for damaging 'his' aircraft.

In terms of recruitment and training, ground crews varied as much nation by nation as any other branch of the armed forces. Beginning with the British Royal Navy's Fleet Air Arm as an example, the RN used a two-tier approach for mechanics across all specialisations of the navy, and the Fleet Air Arm was no exception. The bulk of personnel were made up by the Naval Air Mechanic branch, whilst a higher level of qualification was provided by the Artificer branch.

Naval Air Mechanics first completed five weeks' training which was generic to all rating (non commissioned) branches of the Royal Navy. After this, NAMs were divided into one of four further specialisations: engine, electrical, ordnance or airframes. The Fleet Air Arm copied the RAF example of referring to engine and airframe specialists as 'fitters' and 'riggers' respectively. The full training process of a NAM typically took approximately one year. No specialist training was given on specific aircraft types until later in the war; maintainers were expected to learn and adapt to whatever their squadron was equipped with.

Artificers, or 'tiffs' colloquially, had either served an apprenticeship, typically alongside their air force equivalents at RAF Halton, or were already part of the Royal Naval Reserve with similar trades brought across from civilian life. Exams in science and mathematics had to be passed as a pre-requisite, and promotion to Senior Rating was a much quicker process. Training was also much longer; nine months common training followed by two years trade training; this was still a year less than during peace time.

For the RAF, Lord Trenchard had initiated an apprenticeship scheme in 1920 which saw boys in between the ages of 15 and 17 ½ competing against each other in a series of exams to be accepted as air force apprentices. Training was three years in peacetime, but this was reduced to two years during the Second World War by increasing the length of the working day. Known as 'Trenchard Brats,' some 40% would go on to achieve commissioned rank.

On a front line unit, mechanics were normally split into watches but commanded at squadron level by an AEO – Air Engineering Officer (or simply 'EO' in some services and nations). Rank again varied by nation, but in the British RAF and Fleet Air Arm the AEO was typically a Lieutenant/Flight Lieutenant or Lieutenant Commander/Squadron Leader; so either held the same rank as a Flight Commander or the CO himself. Many AEOs were promoted through the ranks and had started life as a non-commissioned mechanic, and so knew exactly who they were leading and what was expected of them. Different engineering tasks required different levels of authorisation, and it could often fall on the AEO himself to make the decision, sign for, and accept the responsibilities of sending an aircraft on operations if still carrying an un-remedied fault or overdue a service.

Many post war books, movies and various multi-media products have concentrated heavily on military pilots; second to this, other aircrew branches are often featured but the vital role of the mechanic is sadly often overlooked. Without these highly trained, tireless and skilled individuals who often braved the same threats from the enemy as the aircrew they supported, aviation simply would not have been possible to sustain.
0 opmerkingen
Meer informatie
22 augustus 2014
Pilots and Tankers, the War Thunder team continues to answer your questions in the "Developers Answers" series of videos.

https://www.youtube.com/watch?v=sqX2Kq1XN5c

Previous video
Follow War Thunder!
1 opmerkingen
Meer informatie
Info over het spel
War Thunder
is a next generation MMO combat game dedicated to World War II military aviation, armored vehicles, and fleets. You will take part in all of the major combat battles, fighting with real players all over the world.
War Thunder
offers a highly detailed and personalized aviation experience, giving players access to hundreds models of planes with detailed cockpits, dozens of upgradeable weapons, and flying skills that can be honed and improved with each mission. Thanks to the game's painstaking attention to detail, you'll truly feel like a World War II fighter pilot as you plunge into battle.
The genuine World War II experience isn't limited to the skies. The massive historical battles featured in War Thunder cannot be fought by aviation alone, so the game will also expose players to combat on land and at sea. Currently the game is in open beta stage and full functionality is yet to come.
Features Include
Varied PvP-experiences set in full-scale combat missions

Multiple settings options allow advanced virtual pilots and beginners to enjoy playing the game together

Rich PvE content: dynamic campaigns, solo missions, mission editor, and much more for single-player and cooperative gameplay

Impressive diversity includes detailed models of planes and their cockpits, as well as tanks and ships

Astonishing graphics, authentic sound effects, and beautiful music
Systeemeisen (PC)
Minimum:


OS: Windows XP SP2, Windows Vista SP1, Windows 7, Windows 8

Processor: 2,2 GHz

Memory: 1 GB RAM

Graphics: Nvidia GeForce 7XXX series or higher; AMD Radeon 1XXX series or higher

DirectX: Version 9.0c

Network: Broadband Internet connection

Hard Drive: 8 GB available space
Recommended:


OS: Windows 7,

Processor: dual-core 2,4 GHz

Memory: 4 GB RAM

Graphics: Nvidia GeForce 460 or higher

DirectX: Version 9.0c

Network: Broadband Internet connection

Hard Drive: 8 GB available space
Systeemeisen (Mac)
Minimum:


OS: 10.9 Mavericks

Processor: Intel Core i7

Memory: 4 GB RAM

Graphics: AMD/Nvidia/Intel HD 4000

Network: Broadband Internet connection

Hard Drive: 8 GB available space
Recommended:


OS: 10.9.2 Mavericks

Processor: Intel Core i7

Memory: 8 GB RAM

Graphics: AMD/Nvidia

Network: Broadband Internet connection

Hard Drive: 8 GB available space
© 2009—2014 by Gaijin Entertainment. Gaijin and War Thunder are trademarks and/or registered trademarks of Gaijin Entertainment or its licensors, all other logos are trademarks of their respective owners.
XF5F-1 Skyrocket, XP-50, F4F-3 Wildcat, F4F-4 Wildcat, F4U-1A Corsair, F4U-1B Corsair, F4U-1C Corsair, F6F-3 Hellcat, F9F-2 Panther, F9F-5 Panther, OS2U-1 Kingfisher, OS2U-3 Kingfisher, P‑47D-25 Thunderbolt, and P-47D-28 Thunderbolt are trademarks of Northrop Grumman Systems Corporation and are used under license to Gaijin Entertainment Corporation.
Nuttige klantrecensies
Prijzen