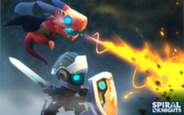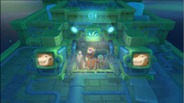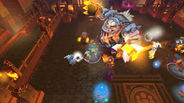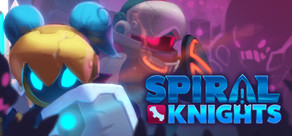 Bli med i rekkene til Spiral Knights! Strandet i en fremmed verden, må du utforske de stadig skiftende Clockworks under dens overflate.
Utgivelsesdato: 14 Jun 2011
Se alle 5 trailere
Kjøp Spiral Knights: Guardians Armor Pack
The
Guardian Armor Pack
contains two complete sets of unique costume armor as well several other valuable items suitable for any player.
Nedlastbart innhold for dette spillet
17 Juli 2014
A part of Almire can be yours...

Those of you who are brave enough to visit the Firestorm Citadel may have seen glimpses of the magnificence that once was the Kingdom of Almire. No, too busy being on fire? Before Vanaduke brought the curse of fire and ash, Almire was prosperous and beautiful. Haven Treasury has assembled the Almire Furniture Box to help recreate this lost kingdom.

Some items are charred beyond repair. Others are carefully restored to their former glory. Find chairs, rugs, tapestries, benches and tables from Almire for your Guild Hall. The box also includes Nature Sprites and Cursed Nature Sprites. Does your guild better commune with the Spirit Mother in her faraway realm?

Almire Furniture Boxes will be available for purchase through July 29th, 2014. Get the details here.
31 kommentarer
Les mer
16 Juli 2014
The Strangers report that the Tortodrones are again on their Long Migration and can be seen passing through the Clockworks. Recon Knights stationed near the Ancient Grove report an increase in Fiend activity. Coincidence? Spiral HQ doesn't believe in coincidence and is tasking you to investigate!

Explore the Clockworks for fiends and gather intel and fiendish glyphs. Investigate activities at the Ancient Grove and stop their fiendish plot! Collect Ancient Shell materials from the Ancient Grove to craft 3*, 4* and 5* Tortodrone handguns at the mysterious alchemy machine. Here's an image of those:


Tortodrone Handguns

Ancient Prize Boxes!

To mark the return of the lumbering giants, Haven Treasury is again offering the Ancient Prize Box. This box contains items from the Tortodrone homeland, including costumes and accessories.


Ancient Items

These boxes can be purchased through July 28th, 2014. A full list can be found here.
32 kommentarer
Les mer
Steam Trading
Dette spillet er med i Steam Trading
Gjenstander fra dette spillet kan byttes og vises i lageret ditt på din Steam-samfunnsprofil.
Om spillet
Stå sammen og kjemp til kjernen!
Spiral Knights er et samarbeidseventyr i en verden med fokus på øyeblikkelig, fartsfylt action. Utstyr deg selv og bli med i rekkene av Spiral Knights, strandet i en utenomjordisk verden, må de utforske de stadig skiftende urverkene under overflaten i håp om å nå dens mystiske kjerne.
NØKKELFUNKSJONER
Samarbeidsutforsking
Urverkene tilbyr utfordringer som håndteres best med venner.

Slåss mot monstre, løs gåter og oppdag skatter sammen!
Umiddelbar action
Gå fra pålogging til et flerspiller-eventyr på mindre enn ett minutt.
Evig-skiftende verden
Urverkenes syklus gir nivåer å utforske i sanntid. Hvert øyeblikk av hver dag forandrer verden.
Lag ett arsenal
Det er hundrevis av unike våpen og utstyr å oppdag og modifisere.
Form kraftige guilds
Guild-allianser tillater større innflytelse over hele verden. Samle opp kraftige mineraler til å transformere urverkene!
Gratis å spille!
Spiral Knights er gratis å spille, det kreves ingen abonnement for å nyte alt spillet har å tilby.
Spesialtilbud:
Team Fortress 2 "The Spiral Sallet"-hatt
Motta en gratis Team Fortress 2-hatt fra Spiral Knights ved å låse opp en prestasjon i Spiral Knights!
For å motta en gratis TF2-hatt, må spillere nå den første Clockwork Terminal fra en port i Haven Arcade og låse opp "Mission Accomplished"-prestasjonen. (Spillere som allerede har låst den opp vil også motta hatten.)
Systemkrav (PC)
Operativsystem: Windows XP, Vista eller 7

Prosessor: 1.3ghz prosessor

Minne: 512MB for Windows XP eller 1GB for Windows Vista/7

Grafikk: 64MB Videominne. GeForce 5 serien, ATI Radeon 8500. Nyeste skjermdrivere.

Oppløsning: 1024x600

DirectX®:

Harddisk: 300MB

Java: Versjon 1.5
Systemkrav (MAC)
Operativsystem: OS X versjon Leopard 10.5.8, Snow Leopard 10.6.3, eller nyere.

Prosessor: 1.3ghz prosessor

Minne: 1GB

Grafikk: 64MB Videominne. GeForce 5-serien, ATI 8500. Nyeste skjermdriver.

Oppløsning: 1024x600

Harddisk: 300MB

Java: Versjon 1.5
Copyright ©2011 Three Rings Design, Inc. All rights reserved.
SEGA and the SEGA logo are either registered trademarks or trademarks of SEGA Corporation.
Hjelpsomme kundeanmeldelser
Priser
Best Online Game Design, GDC Online Awards, 2011