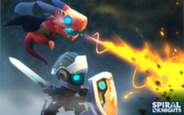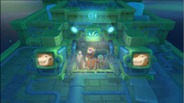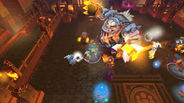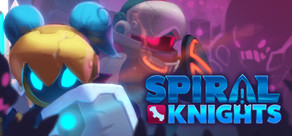 Bli med i rekkene til Spiral Knights! Strandet i en fremmed verden, må du utforske de stadig skiftende Clockworks under dens overflate.
Utgivelsesdato: 14 Jun 2011
Se alle 5 trailere
Kjøp Spiral Knights: Guardians Armor Pack
The
Guardian Armor Pack
contains two complete sets of unique costume armor as well several other valuable items suitable for any player.
Nedlastbart innhold for dette spillet
2 Juli 2014
U JELLY?

MEMORANDUM

To: All Knights

From: Spiral HQ

Subject: The Slime Family of Monsters

Spiral HQ Medical has recently tracked an uptick in knights visiting the infirmary with digestive issues. Please note that members of the slime monster family (jellies, lichens, polyps, glop drops, Royal Jelly, Ice Queen) are not edible and should not be ingested under any circumstance, despite the fact that some may resemble a confection.

On a related note, while studying slime-compromised knights, our scientists discovered new ways of incorporating slime material into camo. You may find an assortment of these in the Slime Prize Box, which may contain the following:

Node Slime Masks

Node Slime Guards

Node Slime Crusher (sword)

Node Slime Wall (shield)

Writhing Tendrils

Node Field Aura
For details, please go here: http://wiki.spiralknights.com/Slime_Prize_Box_Promotion_July_2014. These boxes will be available to you through July 15, 2014.
SUMMARY: Slimes are for wearing, not for eating. Thank you for your attention to this urgent matter.
P.S. You may now commence to make "U JELLY" jokes. That is all.
94 kommentarer
Les mer
19 Juni 2014
Steam Summer Sale!

Spiral Knights is participating in Steam's Summer Adventure! Craft badges to get prizes, including these gleaming Gold Wolf pieces.

Read all about it right here: http://store.steampowered.com/promotion/summer2014faq

In addition, during the Steam Summer Sale, the Operation Crimson Hammer expansion mission and the Guardians Armor Pack are on sale! The Guardians Armor Pack is 50% off, and Operation Crimson Hammer is 75% off the usual price. Enjoy!
59 kommentarer
Les mer
Steam Trading
Dette spillet er med i Steam Trading
Gjenstander fra dette spillet kan byttes og vises i lageret ditt på din Steam-samfunnsprofil.
Om spillet
Stå sammen og kjemp til kjernen!
Spiral Knights er et samarbeidseventyr i en verden med fokus på øyeblikkelig, fartsfylt action. Utstyr deg selv og bli med i rekkene av Spiral Knights, strandet i en utenomjordisk verden, må de utforske de stadig skiftende urverkene under overflaten i håp om å nå dens mystiske kjerne.
NØKKELFUNKSJONER
Samarbeidsutforsking
Urverkene tilbyr utfordringer som håndteres best med venner.

Slåss mot monstre, løs gåter og oppdag skatter sammen!
Umiddelbar action
Gå fra pålogging til et flerspiller-eventyr på mindre enn ett minutt.
Evig-skiftende verden
Urverkenes syklus gir nivåer å utforske i sanntid. Hvert øyeblikk av hver dag forandrer verden.
Lag ett arsenal
Det er hundrevis av unike våpen og utstyr å oppdag og modifisere.
Form kraftige guilds
Guild-allianser tillater større innflytelse over hele verden. Samle opp kraftige mineraler til å transformere urverkene!
Gratis å spille!
Spiral Knights er gratis å spille, det kreves ingen abonnement for å nyte alt spillet har å tilby.
Spesialtilbud:
Team Fortress 2 "The Spiral Sallet"-hatt
Motta en gratis Team Fortress 2-hatt fra Spiral Knights ved å låse opp en prestasjon i Spiral Knights!
For å motta en gratis TF2-hatt, må spillere nå den første Clockwork Terminal fra en port i Haven Arcade og låse opp "Mission Accomplished"-prestasjonen. (Spillere som allerede har låst den opp vil også motta hatten.)
Systemkrav (PC)
Operativsystem: Windows XP, Vista eller 7

Prosessor: 1.3ghz prosessor

Minne: 512MB for Windows XP eller 1GB for Windows Vista/7

Grafikk: 64MB Videominne. GeForce 5 serien, ATI Radeon 8500. Nyeste skjermdrivere.

Oppløsning: 1024x600

DirectX®:

Harddisk: 300MB

Java: Versjon 1.5
Systemkrav (MAC)
Operativsystem: OS X versjon Leopard 10.5.8, Snow Leopard 10.6.3, eller nyere.

Prosessor: 1.3ghz prosessor

Minne: 1GB

Grafikk: 64MB Videominne. GeForce 5-serien, ATI 8500. Nyeste skjermdriver.

Oppløsning: 1024x600

Harddisk: 300MB

Java: Versjon 1.5
Copyright ©2011 Three Rings Design, Inc. All rights reserved.
SEGA and the SEGA logo are either registered trademarks or trademarks of SEGA Corporation.
Hjelpsomme kundeanmeldelser
Priser
Best Online Game Design, GDC Online Awards, 2011