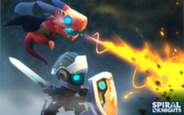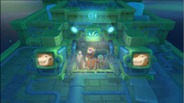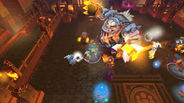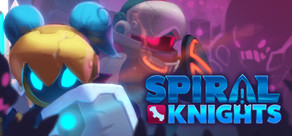 Join the ranks of the Spiral Knights. Stranded on an alien world, you must explore the ever-changing Clockworks beneath its surface.
Releasedatum: 14 jun 2011
Alle 5 trailers bekijken
Spiral Knights: Guardians Armor Pack kopen
The
Guardian Armor Pack
contains two complete sets of unique costume armor as well several other valuable items suitable for any player.
Downloadbare inhoud voor dit spel
17 juli 2014
A part of Almire can be yours...

Those of you who are brave enough to visit the Firestorm Citadel may have seen glimpses of the magnificence that once was the Kingdom of Almire. No, too busy being on fire? Before Vanaduke brought the curse of fire and ash, Almire was prosperous and beautiful. Haven Treasury has assembled the Almire Furniture Box to help recreate this lost kingdom.

Some items are charred beyond repair. Others are carefully restored to their former glory. Find chairs, rugs, tapestries, benches and tables from Almire for your Guild Hall. The box also includes Nature Sprites and Cursed Nature Sprites. Does your guild better commune with the Spirit Mother in her faraway realm?

Almire Furniture Boxes will be available for purchase through July 29th, 2014. Get the details here.
31 opmerkingen
Meer informatie
16 juli 2014
The Strangers report that the Tortodrones are again on their Long Migration and can be seen passing through the Clockworks. Recon Knights stationed near the Ancient Grove report an increase in Fiend activity. Coincidence? Spiral HQ doesn't believe in coincidence and is tasking you to investigate!

Explore the Clockworks for fiends and gather intel and fiendish glyphs. Investigate activities at the Ancient Grove and stop their fiendish plot! Collect Ancient Shell materials from the Ancient Grove to craft 3*, 4* and 5* Tortodrone handguns at the mysterious alchemy machine. Here's an image of those:


Tortodrone Handguns

Ancient Prize Boxes!

To mark the return of the lumbering giants, Haven Treasury is again offering the Ancient Prize Box. This box contains items from the Tortodrone homeland, including costumes and accessories.


Ancient Items

These boxes can be purchased through July 28th, 2014. A full list can be found here.
32 opmerkingen
Meer informatie
Steam Trading
Dit spel neemt deel aan Steam Trading
Voorwerpen uit dit spel kunnen geruild worden en zijn zichtbaar op de inventaris op je Steam Community-profiel.
Info over het spel
Band together and fight to the Core!
Spiral Knights is a cooperative adventure in a persistent world with a focus on instant, fast-paced action. Arm yourself and join the ranks of the Spiral Knights; stranded on an alien world, they must explore the ever-changing Clockworks beneath its surface in hopes of reaching its mysterious Core.
Key Features
Co-operative Exploration
The Clockworks offer challenges that are best tackled with friends.

Fight monsters, solve puzzles and discover treasures together!

Instant Action
Go from login to a multiplayer adventure in less than a minute.

Ever-changing World
The Clockworks cycle levels to explore in real time. Every moment of every day changes the world.

Create an Arsenal
There are hundreds of unique weapons and gear to discover and alchemize.

Form Powerful Guilds
Guild alliances allow greater influence over the world. Amass powerful minerals to transform the Clockworks!

Free to Play!
Spiral Knights is free to play, no subscription is required to enjoy everything the game has to offer.

Special Offer:
Team Fortress 2 "The Spiral Sallet" Hat
Receive a free Spiral Knights-themed Team Fortress 2 hat by unlocking an achievement in Spiral Knights!
To receive the free TF2 hat, players must reach the first Clockwork Terminal from any gate in the Haven Arcade and unlock the 'Mission Accomplished' achievement. (Players who've already unlocked it will also receive the hat.)

Systeemeisen (PC)
OS: Windows XP, Vista or 7

Processor: 1.3ghz processor

Memory: 512MB for Windows XP or 1GB for Windows Vista/7

Graphics: 64MB Video Memory. GeForce 5 series, ATI Radeon 8500. Latest video driver.

Display: 1024x600

DirectX®:

Hard Drive: 300MB

Java: Version 1.5

Systeemeisen (Mac)
OS: OS X version Leopard 10.5.8, Snow Leopard 10.6.3, or later.

Processor: 1.3ghz processor

Memory: 1GB

Graphics: 64MB Video Memory. GeForce 5 series, ATI 8500. Latest video driver.

Display: 1024x600

Hard Drive: 300MB

Java: Version 1.5

Copyright ©2011 Three Rings Design, Inc. All rights reserved.
SEGA and the SEGA logo are either registered trademarks or trademarks of SEGA Corporation.
Nuttige klantrecensies
Prijzen
Best Online Game Design, GDC Online Awards, 2011