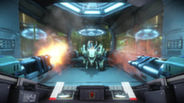 An immersive, multiplayer shooter that pits aliens against humans in a strategic and action-packed struggle for survival!
Ημερομηνία κυκλοφορίας: 30 Οκτ, 2012
Παρακολουθήστε όλα τα 4 trailer
Αγορά Natural Selection 2
Αγορά Natural Selection 2 - Deluxe Edition
Αγορά Natural Selection 2 - 4-pack
Includes four copies of Natural Selection 2 - a copy for yourself and three copies to send to your friends!
Αγορά Natural Selection 2 Deluxe Edition Upgrade
Upgrade your Standard Edition to the Deluxe Edition!
Περιεχόμενο προς λήψη για αυτό το παιχνίδι
3 Σεπτεμβρίου


The Natural Selection 2 Community Development Team has just released update 269! Here is what's inside:

FIXES
Fixed issues of the texture manager which caused the client to crash while loading textures which use rgba compression or include mipmaps
Fixed that using non precached cinematics crash the client
Fixed Quick Join
Fixed long load times with some HDDs caused by overloading the io queue with too many worker threads
Fixed Alien Lifeform Counters in the Alien Buy Menu
Fixed that Jetpacks did not show up correctly at the scoreboard
Fixed triggers and models having incorrect settings in the editor_setup causing things like e.g. ladders not to work at maps
Fixed that client mods which fail the consistency check were not disabled.
Fixed some other issues with cinematics (causing things like client crashes when someone used umbra)
Fixed that echoed structures were not attacked by arcs.
Added draw calls back to r_stats
Fade Blink sound volume was corrected
Fixed Overview.exe crash
Fixed some issues with the linux client

Improvements
"ForceEvenTeams" vote now uses the skill ratings from hive to balance teams. It avoids moving players that have already chosen a team and first tries to balance the teams using the players in the readyroom. If it must swap players that have already chosen a team, it uses the minimum number of them so most people will stay on the same team.
New commands for controlling loading behavior:
res_workers n (n = number of used loading worker threads, default 1 )
res_prelock on/off
res_preload on/off
res_verbose 1-3 ( turns on verbose logging at loading )
Commander Hints are now fully translatable
Polish translation is now 100% done (thanks to Carnage and Acedude)

SDK
Fixed Editor volumes missing the size parameter.

Leave comments here and on the NS2 blog for the CDT to read!
16 σχόλια
Περισσότερα
22 Αυγούστου


The hits just keep on coming - The Community Development Team has just released Build 268, and it is available in your Steam Library right now! Check out this intel update from ItsSuperEffective to find out what's inside:

https://www.youtube.com/watch?v=J9xOMHpOhFg

To see the whole list of changes that went into Build 268, head on over to the Natural Selection 2 blog!

Be sure to leave comments for the NS2CDT, so they can hear what you want to see in future updates.
22 σχόλια
Περισσότερα
Κριτικές
"NS2 is a genius mash of Counter Strike and Starcraft"
– Kotaku
"This is getting close to my idea of the ultimate game"
– Machinima
Νέο DLC διαθέσιμο



The Kodiak Pack is available now! Click here to go the DLC page!
Ψηφιακή έκδοση πολυτελείας
The Digital Deluxe Edition includes:

Official Soundtrack
Almost 1 hour of tribal, industrial music composed by David John and Simon Chylinski. This includes all the music from our trailers and videos.

Digital Art Book
40+ pages of concept art by Cory Strader, including environments, creatures, weapons and more. Cory discusses the process behind designing the unique technological/animal look in the game.

Exclusive Wallpapers and Avatars
Community artist Rantology created some of the best and most unique views of creatures in the NS universe. Custom Steam avatars complete the package.

Exclusive in-game marine model
A new marine model with custom visor and equipment makes you look distinctive in-game. Existing owners of the original "Black Armor" marine will be able to choose between any models they own.


Σχετικά με το παιχνίδι
Natural Selection 2 is an immersive, multiplayer shooter that pits aliens against humans in a strategic and action-packed struggle for survival. It seamlessly combines shooter and RTS/strategy gameplay.
Key Features:
Two Unique Sides:

Whether you play as one of the elite marine Frontiersmen or the vicious alien Kharaa, you must use unique strategies and your abilities to win. Marines form persistent squads to find and destroy alien hives. Aliens can choose a wall-running Skulk, pudgy Gorge, flying Lerk, murderous Fade or gigantic Onos that can smash through doors.

Real-time Strategy:

Commanders play from overhead to lead their team to victory. Build structures anywhere, collect resources and research upgrades. Marines buy weapons at an Armory or build sentry turrets and siege cannons to assault the enemy. Aliens build upgrade chambers, evolve special abilities and plant traps.

Dynamic Environments:

Use a flamethrower to clear the spreading alien infestation. Aliens destroy power nodes knock out the lights and power down marine structures. Random start locations mean you must scout your enemy and before committing to a build. Every game is different.

Unlimited Variations:

WYSIWYG graphical tools and powerful scripting allow you to create new weapons, scenarios or entirely new games. You'll get all our tools (level editor, cinematic tool and more) as well as the full Lua source code to Natural Selection 2. Version 1.0 is just the beginning – ongoing automatic updates keep the game fresh by adding new maps, weapons and abilities. Steam Workshop support and auto-downloading makes playing and distributing mods automatic - and gameplay always fresh.
Απαιτήσεις συστήματος PC
Minimum:


OS:Windows 7 32/64-bit / Vista 32/64 / XP

Processor:Core 2 Duo 2.6 ghz

Memory:2 GB RAM

Graphics:DirectX 9 compatible video card with 1GB VRAM and support for Shader Model 3 (e.g. ATI X800, NVidia 8600 or better)

DirectX®:9.0

Hard Drive:5 GB HD space
Recommended:


OS:Windows 7 32/64-bit / Vista 32/64 / XP

Processor:Core 2 Duo 3.0 ghz

Memory:4 GB RAM

Graphics:DirectX 9 compatible video card with 1GB, AMD 5770, NVidia GTX 450 or better

DirectX®:9.0

Hard Drive:5 GB HD space

Other Requirements:Broadband Internet connection
Χρήσιμες κριτικές χρηστών
Βραβεία