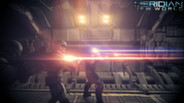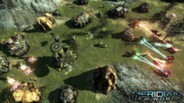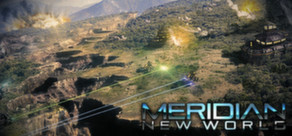 Slip into the role of Daniel Hanson, commander of the first mission to a remote planet called Meridian. Assured of the fact that the planet is uninhabited, the unexpected reception of a distress call from the surface could mean many things, none of which you are prepared for.
Julkaisupäivä: 4. huhti, 2014
Katso kaikki 2 traileria
Early Access -peli
Voit pelata näitä pelejä viipymättä - jo niiden kehitysvaiheissa.
Huomio: Tämä Early Access -peli saattaa muuttua merkittävästi sen kehityksen aikana. Jos et ole innostunut pelin pelaamisesta sen nykyisessä muodossa, haluat ehkä odottaa, kunnes peli on pidemmälle kehitetty. Lue lisää
Kehittäjien kertomaa:
"Joining in Early Access for Meridian: New World will enable you not only to experience the story and content pre-launch, but is meant also as a means to enable the community to help shape the final game in all ways you can think of. We appreciate every little piece of feedback and those that prove to be the most helpful will also be rewarded for their participation, something to look forward to =)

This Early Access features 2 editions, a standard and a contributors edition and will arrive in four phases, each of which will be marked by a big update that will contain new content and some goodies. Stay tuned for more info in the coming weeks. See you on the surface!" Lue lisää
Osta Meridian: New World Contributor Pack
Tämän pelin lisäsisältö
11. elokuu


NEW CONTENT:

- New unit: the "Vanguard" is available from the Heavy Factory
- New weapon: the "Charger Cannon" is available as an equipment option once it is researched at the Laboratory
- New skirmish map: "Conflict" is an 1v1 map with a related achievement if you can beat a hard AI on that map
- Raised commander level cap to 35, allowing you to unlock more abilities or further upgrade existing ones
- Added 10 new achievements

BUG FIXES:

- Fixed a bug which caused "you need to set one slot to 'player'" to be displayed in the skirmish window even if there was a player slot
- Boost Construction, Boost Production and Boost Fire Rate is now displayed below the unit health bars when activated
- The AI will now decide whether to construct a Heavy Factory or a Landing Pad based on the current situation
- Fixed a bug which caused the AI to place a Shardium Mine and a Landing Pad simultaneously, causing it to build neither and freeze
- Fixed a bug which caused Railguns to not cause splash damage when equipped to Light Tanks or Scouts
- Improved visual quality of the Fighter, Bomber and Heavy Fighter units to make it easier to identify which team they belong to
- Fixed a bug which caused newly produced Heavy Fighters to have 2 armor instead of 1
- Fixed a bug which caused infantry and airborne death animations to stay on the map even after loading a saved game or starting a new game
- Fixed a bug where ctrl + left clicking a unit would select units but wouldn't display the unit selection interface
- Hours will now be displayed properly when displaying mission time on the victory / defeat screens

MAP EDITING AND SCRIPTING CHANGES:

- Added the "Env_UpdateLaserGate" function which allows you to draw a set of laser beams between two tiles
- Attack-move orders given from script won't affect worker units anymore
0 kommenttia
Lue lisää
4. heinäkuu

Update now to get :

NEW CONTENT:

- New campaign mission: "Control" and the related ship-visit section is available after completing "Airbase"
- New campaign mission: "Sector 16-2B" is available after completing "Control"
- Raised commander level cap to 25, allowing you to unlock more abilities or further upgrade existing ones

BUG FIXES:

- Fixed a bug which caused a "System.OutOfMemoryException" crash when attempting to load a saved game
- Fixed a bug which caused saved games to go over 3MB size
- It is now possible to overwrite a saved game by double-clicking
- Fixed a bug where the Complex Interior tileset was lit with a different color without shadows
- Fixed a bug which caused the AI to initiate production of a Chimera with Mining Tools without paying its cost

MAP EDITING AND SCRIPTING CHANGES:

- To make it easier to work with locations, these will now always appear at elevation level 2, regardless of where they were placed
- Added Player_OrderUnitTypeToAttackMove function, allowing you to order units of the specified type to attack
3 kommenttia
Lue lisää
Arvostelut
"One Guy Shouldn't Be Able To Make Meridian: New World"
Rock, Paper, Shotgun

"Upon first look, Meridian seems to rival – at least, visually – the most high profile of triple-A RTS games on the market, and it was only crafted in two years. Take note, Blizzard."
Gamerant

"With units allowed to equip items, a leveling system for you the commander, and a new emphasis on storytelling, Meridian may just be the evolution of the RTS genre"
TwoDashStash

Tietoja pelistä

An accomplished, old-school, indie, futuristic Sci-fi RTS with RPG elements!!
Play as Daniel Hanson, commander of the first expedition to planet Meridian and uncover the dark secrets it holds! Shape the world around you with every decision you make and through every dialogue with your crew. Meridian: New World offers countless options to devise your own strategy, including various equipment options for your units and special abilities for you to rely upon. Use your abilities anywhere on the battlefield and turn the tide of battle by weakening the enemy troops. Alternatively take the covert approach and sabotage the enemy power supply to shut down their production. You can rely entirely on researching superior weapons or special abilities. Or you can risk building a large economy, constructing a massive army from your enormous resources. The strategy you use and how many troops you sacrifice to reach your goal will influence the attitude of your crew towards you. Are you ready to shape the history of galactic colonization?

Brought to you as the brainchild of Ede Tarsoly - the sole man behind Elder Games - Meridian: New World was mostly received with disbelief and awe at the fact that it's a one-man production. While it remains true that Ede is the source of every detail of the game, some assets were created by his friends Balázs Bodnár, Tamás Gyermán and Gábor Menyhárt, who are credited with their contribution.
Engaging and original story with varied missions
A single player game

Polished, dynamic and fluid unit control

Beautiful graphics; realistic environments

Amazing immersive music

Contributor Edition Extras
We really want to make sure that you get something out of being a contributor, therefore, in addition to receiving a list of exclusive content:
Full game

HD cut scenes

Soundtrack

A second Steam Key to give away
Contributors will also, as a treat, have access to selected goodies from various Early Access events and contests!

Steam Workshop

Share the maps you create in the editor with the Community.
Järjestelmävaatimukset
Minimum:


OS: Windows Vista / 7 / 8

Processor: 2.5Ghz single core

Memory: 2 GB RAM

Graphics: nVidia GeForce 8600 GT / ATI 2600 Pro

DirectX: Version 10

Hard Drive: 830 MB available space

Sound Card: Required

Additional Notes: Intel integrated graphics processors are unsupported
Recommended:


OS: Windows Vista / 7 / 8

Processor: 3Ghz dual core

Memory: 2 GB RAM

Graphics: nVidia GeForce GTX 275 / ATI Radeon 4770 (or higher)

DirectX: Version 10

Hard Drive: 830 MB available space

Sound Card: Required

Additional Notes: Intel integrated graphics processors are unsupported
Merge Games. All rights reserved - 2014
(c) 2014 Headup Games GmbH & Co. KG, all rights reserved
Hyödylliset arvostelut
Nimi:
Meridian: New World
Lajityyppi:
Indie
,
Strategia
,
Early Access
Kehittäjä:
Elder Games
Julkaisija:
Merge Games
,
Headup Games
Julkaisupäivä:
4. huhti, 2014
Kielet:
| | Käyttöliittymä | Puhe | Tekstitykset |
| --- | --- | --- | --- |
| englanti | | | |
| saksa | | | |
| venäjä | | | |