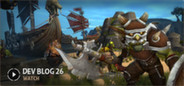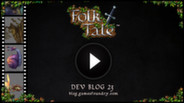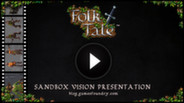 Folk Tale is a sandbox fantasy citybuilder RPG game in which you lead a ragtag band of peasants in growing a small settlement into a thriving market town, while dastardly minions plot your downfall. Sound the rallying call and head out into the wilds with parties of heroes to fight back the tide of evil in a game of endless possibilities.
Veröffentlichung: 30. Mai 2013
Alle 7 Trailer ansehen
Early Access-Spiel
Erhalten Sie sofortigen Zugang und bringen Sie sich in die Entwicklung des Spiels ein.
Hinweis: Dieses Early Access-Spiel könnte sich im Entwicklungsverlauf erheblich verändern. Wenn Ihnen das Spiel im aktuellen Zustand nicht gefällt, sollten Sie warten, bis das Spiel einen fortgeschritteneren Entwicklungsstand erreicht hat. Mehr erfahren
Was die Entwickler zu sagen haben:
"Folk Tale is in early alpha development. Currently the game provides a self-contained mini-campaign tutorial with its own story offering 1-3 hours of play time to introduce the world of Folk Tale and some of the gameplay features. Following launch we've been busy rebuilding the game to become a sandbox aimed at offering a huge amount of replayability, as well as implementing community feedback. Patches now include the Sandbox Editor that we'll be using to develop playable sandbox content.
As a development driven by community, we'd love you to join us in the forums - where we are active daily - to share your feedback and ideas for what you'd like to see included in the game beyond our own vision. Throughout development we'll keep you updated with regular dev blogs posted both in Steam Announcements and at
blog.gamesfoundry.com
.
The discounted Early Access price includes immediate access to the early alpha, regular updates throughout development, the digital retail version of the game, and all maintenance patches thereafter.
Thanks for considering supporting the team by grabbing a copy during Early Access. We have big plans for Folk Tale and thanks to players just like you we have a fully funded full-time team of 9 dedicated to developing an amazing game. If you choose to buy during Early Access, you'll be contributing towards expanding the team and helping us as we strive to win the crown of best fantasy city-builder."
Weiterlesen
23. August


Welcome to Folk Tale Dev Blog 26. Patch 0.2.8 is out and once again we've got a wealth of improvements to share starting with work-in-progress character and global inventory. Besides equipping villagers with armor and tools, weapons can be swapped out and shown on characters. For this patch only we've included one of every item into the global inventory, which can be accessed by clicking on the inventory bag on the top bar. To open a character's inventory, first select an individual which will cause the portrait circle to appear in the bottom left of the screen. Next, click the inventory bag on the portrait wheel. You can now drag and drop items onto your character.

For larger screenshots and more info, please visit http://blog.gamesfoundry.com/2014/08/folk-tale-dev-blog-26.html.

We've still got much work to do on inventory, including proper tooltips, right click to auto-equip, and shift+left click to split stacks, which we'll be working on for the next patch. Inventory is a stepping stone to looting both corpses and chests, so you can expect that soon too.




Two of the economy chains are now complete. The Butchery and Bakery both produce finished goods, and now hungry villagers will buy products ( parting with coin to fill your coffers ) to satiate their hunger. Different foods will fill empty stomachs by differing amounts, and the taste buds of your villagers will evolve as your settlement progresses from Tier 1 through to Tier 3. We've taken the first step by allowing the crop type to be set in the Farmer's Fields.




The worker cap for Tier 1 profession buildings has been increased from 2 to 4, which should make training a small company of City Watch a lot less painful. When enabled, Tier 2 will support 8 characters, and Tier 3 the maximum of 12.

On a final note about economy, we've moved away from the economy simulation first introduced in sandbox and gone back to an actual work performed basis similar to that of the Tutorial. What that means is that there is now a direct correlation between workers dropping off resources and quantities increasing in your inventory. That move opens up a number of options, including the ability to clear areas of land from the map, which we'll be adding in a future patch.

Combat has taken another step forward with the addition of the wave inspector in the Editor. Each wave can comprise of multiple groups, each group being a different monster class. For example, in wave 1 you can spawn a Beastman in Group 1 and a couple of War Pigs in Group 2. In wave 2, you can setup a completely different set of monsters to spawn. Each wave can have a different behaviour, including standing still, wandering within a radius, and seeking out player characters and buildings. You can also choose the wave starting formation, with Group 1 being the captain who's position is denoted by the colour dot in the formation options.




We've migrated the Goblins across into Sandbox and made some improvements, including the addition of the Goblin Warship prop. Goblins can now scale your City Walls, so Engineer's Turrets, Traps and Siege Machines will play an important role in defending your village in later patches. We've also made changes to the Trebuchet including the framework to support different ammo types, with each shot consuming items directly from your global inventory.




Several Editor Kits have received new content, including an expanded Kobold Camp Kit and new Grassland Kit pieces including flaming torches, sconce, braziers, mushrooms, and mine carts. The biggest addition is to the Cemetery Kit which now includes modular snap-together components to create an entire mausoleum complex for your necromancers, skeletons and spiders.




With the kind agreement of community member Matty101, we're including one of his Sandbox maps for you to play around with in Sandbox Player which we've called The Valley. It's completely different to the Human Village map and is well worth playing. It's also pretty stunning, and shows just have great a tile-based terrain system can be made to look.

And finally, if you weren't already aware, we've started the Sunday Dev Hangouts. The live streams on Twitch.tv have been running for several weeks now and provide a great opportunity for us to connect with our community. I always have the latest dev build of Folk Tale on show, and answer questions in chat about game features, what we've been working on, our plans for the future, and how to use the Editor. So if you'd like to hangout with a friendly bunch for a few hours every Sunday, head on over to our Twitch Channel and follow us.


7 Kommentare
Weiterlesen
16. August
Platforms
PC, Mac
Changes
Sandbox Editor: Wave Inspector added to new Systems Kit
Sandbox Editor: Props moved off Iron Mine and provided as independent kit pieces
Sandbox Editor: Goblins added via Wave/Spawn Point system ( archer, warrior, beserker )
Sandbox Editor: Goblin Siege Kit: new pieces added ( Warship )
Sandbox Editor: Cemetery Kit: new pieces added
Sandbox Editor: Grassland Kit: new pieces added
Sandbox Editor: Kobold Camp Kit: new pieces added
Sandbox Editor: Some tree and foliage textures updated
Sandbox Editor: New community map added: The Valley (by Matty101)
Sandbox Editor: Static chests added to Systems Kit
Sandbox Editor: Kobold character fixed
Sandbox Player: Goblins scale city walls ( assuming they can't just walk around )
Sandbox Player: Character inventory added ( use bag icon on character portrait )
Sandbox Player: Global inventory added ( use bag icon on top bar )
Sandbox Player: Profession cap per economy building increased from 2 to 4 for tier 1
Sandbox Player: Characters now purchase food from shops and eat ( Bakery, Butchery )
Sandbox Player: Downsampling implemented under settings
Sandbox Player: Characters weapons now change when inventory changed
Sandbox Player: Ability to set field to grow wheat or pumpkins
Sandbox Player: Trebuchet boulder ammo consumes 1 unit of Stone Block per shot
Sandbox Player: Street Lamps now have night lights
Sandbox Player: Cottage chimneys only smoke when firewood has been delivered
Sandbox Player: Sound fx now played when workers deliver resources
Sandbox Player: Resource collection now happens every time a worker returns resources to a building, not based on a timer as was the case before
Sandbox Player: Health of human buildings doubled
Sandbox Player: Colliders removed from corpses to make selection during battles easier
Sandbox Player: Corpses are now removed after 2 minutes to reduce clutter
Sandbox Player: Polyphony increased on mining/quarrying/chopping animation sfx
Sandbox Player: Experimental flying code on crows disabled
Sandbox Player: Ambience SFX added for rivers, torches, creaking ships
Sandbox Player: Character selection when in front of buildings improvement via depth sort
Launcher: Windowed Mode now supports resizable windows
Bug Fixes
#0091 Sandbox Editor: Cannot move water tiles with arrow keys
#0092 Tutorial: Characters Stuck Moonwalking After Loading Save Game
#0093 Tutorial: Characters Are Doing No Damage
#0094 Sandbox Player: Dead character colliders prevent walking over corpses
#0095 Sandbox Player: Hunting Lodge is constantly showing LOD2
#0097 Sandbox Player: VSync Setting Not Being Respected
#0101 Sandbox Player: At high population counts, training Hunter can leave the skeletal bones visible
Developer Comments
Goblin warships have landed, and goblins will be scaling your city walls with the help of the new Wave Spawn generator located in the new Systems Kit. Have your monsters wander in a region, or seek out the player for open conflict.
Over 100 new kit pieces have been added including flaming torches and sconces, mushrooms, and an expanded cemetery kit for creating spooky graveyards. Please note that to make cemetery wall sections walkable, a floor01 piece has to be placed on top of them.
For players who are limited by their graphics cards, we've implemented downsampling under the settings, enabling you to draw the game world at a lower resolution while keeping the UI at your native resolution, thereby helping performance.
Rivers, waterfalls, camp fires, and torches now have ambient sound effects as part of a new positional audio system which we'll be expanding in future patches.
There is a backwards compatibility breaking change which will invalidate most previously saved editor maps. To fix this, first backup your map file, then open and edit the worldobjects.json file.
Replace...
"prefabName": "Chest_prefab",
"kitName": "Human_Buildings_Prefabs",
And...
"prefabName": "SpawnPoint",
"kitName": "Human_Buildings_Prefabs",
With...
"prefabName": "same as above",
"kitName": "Systems_Systems_Prefabs",
We'd like to remind players that the default build for Windows is now 64-bit, which the vast majority of players are using. Players with older 32-bit versions of Windows will need to opt in to the 32-bit build. For more information, please visit http://steamcommunity.com/app/224440/discussions/0/540744474771635312/
14 Kommentare
Weiterlesen
Reviews
"Folk Tale looks like a marvelously ambitious fantasy city-builder – featuring fully explorable building/dungeon interiors and an adventure-focused RPG component – with some admirably silly humor to boot."
– Rock Paper Shotgun

"Folk Tale has some interesting ideas and a sense of humour."
– PC Gamer
Notice
Folk Tale contains edgy humor that may be considered inappropriate for children or sensitive audiences. Folk Tale isn't a childrens game. We'd like to encourage parents to undertake due diligence before purchasing and fully understand what Early Access is by reading Steam's Early Access FAQ.
Über das Spiel
Folk Tale is a sandbox fantasy city-builder RPG game in which you lead a ragtag band of peasants in growing a small settlement into a thriving market town, while dastardly minions plot your downfall. Sound the rallying call and head out into the wilds with parties of heroes to fight back the tide of evil in a game of endless possibilities.
Rule with tyranny and oppression, or liberalism and justice. Play as a merciless expansionist hell-bent on destruction, or as a gold-hoarding mercantilist who'll sell their own grandmother for a handful of coin. With random events and dynamic story, in Folk Tale you never know how the story will unfold.
Planned Features

Rich and varied gameplay including building your own impressive settlement and economy, defending your city from attack, exploring a rich and diverse world, raiding dungeons, and immersing yourself in the lives of your villagers as they become drawn into their own story lines;

Beautiful stylized graphics with voice-acted characters and fully animated quest/story cinematics;

Download community-designed custom worlds, or create your own using the editor to share with friends or the wider community;

Collect resources and loot corpses for ingredients to be used in crafting;

Tongue-in-cheek humor for a refreshing blend of fantasy;

Endless hours of sandbox fun with random events within a dynamic story framework;

Multiple camera modes for a variety of play styles with massive zoom-in to enjoy the detail;

Supports different styles of play, from fast-paced war-mongering to slower city management.

Systemvoraussetzungen (PC)
Minimum:


OS:Windows XP Service Pack 3, Windows Vista®, Windows 7, Windows 8

Processor:Intel® CoreTM2 Duo 2.4 Ghz or better, AMD AthlonTM X2 2.8 Ghz or better

Memory:4 GB RAM

Graphics:DirectX 9 compatible with 512 MB video RAM or better (NVIDIA GeForce GTX 460 / ATI Radeon HD 5850)*

Desktop Resolution:1280x720

DirectX®:9.0c

Hard Drive:1GB HD space

Sound:Windows compatible sound card


*Intel HD 4000 cards have a known problem and are not supported
Recommended:


OS:Windows 7 or 8 (64-bit)

Processor:Intel® CoreTM2 Quad 2.7 Ghz or better, AMD PhenomTM II X4 3 Ghz or better

Memory:4 GB RAM

Graphics:NVIDIA® GeForce® GTX 560 or better

DirectX®:9.0c

Hard Drive:1GB HD space

Sound:Windows compatible sound card
Systemvoraussetzungen (Mac)
Minimum:


OS:OS X 10.7.5 or higher. OS X 10.8.0 or higher

Processor:Intel Core 2 Duo

Memory:4 GB RAM

Graphics:GeForce GT 650M 512MB, Radeon HD 5770 1GB, Alpha may run slowly on Intel integrated graphics chipsets*

Desktop Resolution:1280x720

Hard Drive:1252 MB HD space


*Intel HD 4000 cards have a known problem and are not supported
Recommended:


OS:OS X 10.7.5 or higher. OS X 10.8.0 or higher

Processor:Quad Core Intel

Memory:4 GB RAM

Graphics:GeForce GTX 675MX 1GB, Radeon HD 6970M 1 GB or better

Hard Drive:1252 MB HD space
TO THE MAXIMUM EXTENT PERMITTED BY APPLICABLE LAW, FOLK TALE IS PROVIDED ON AN "AS IS" BASIS, WITH ALL FAULTS, AND WITHOUT WARRANTY OF ANY KIND, AND GAMES FOUNDRY LIMITED HEREBY DISCLAIMS ALL WARRANTIES AND CONDITIONS, EITHER EXPRESS OR IMPLIED, INCLUDING, BUT NOT LIMITED TO, THE IMPLIED WARRANTIES OF MERCHANTABILITY, SATISFACTORY QUALITY, FITNESS FOR PURPOSE, OF ACCURACY, OF QUIET ENJOYMENT, AND NON-INFRINGEMENT OF THIRD PARTY RIGHTS. YOUR USE IS AT YOUR SOLE RISK. BY USING THE SOFTWARE, YOU ARE AGREEING TO THE TERMS OF THE END USER LICENSE AGREEMENT AND AGREE TO BE BOUND BY IT. THE LATEST VERSION CAN BE FOUND AT WWW.GAMESFOUNDRY.COM/EULA. © 2012-2014 GAMES FOUNDRY LIMITED. ALL RIGHTS RESERVED.
Hilfreiche Kundenreviews
Titel:
Folk Tale
Genre:
Indie
,
RPG
,
Simulation
,
Strategie
,
Early Access
Entwickler:
Games Foundry
Publisher:
Games Foundry
Veröffentlichung:
30. Mai 2013
Sprachen:
| | Oberfläche | Ton | Untertitel |
| --- | --- | --- | --- |
| Englisch | | | |