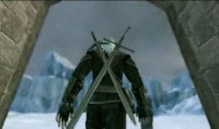 Now you can experience this fantastic RPG on Mac and PC!
Julkaisupäivä: 16 Syyskuu 2008
Katso HD-video
Osta The Witcher: Enhanced Edition Director's Cut
Paketit, jotka sisältävät tämän pelin
Ennakkotilaa The Witcher Trilogy Pack
Sisältää 3 kohdetta: The Witcher: Enhanced Edition Director's Cut, The Witcher 2: Assassins of Kings Enhanced Edition, The Witcher® 3: Wild Hunt
Tietoja pelistä
NO GOOD AND NO EVIL - ONLY CHOICES AND CONSEQUENCES
Become The Witcher, Geralt of Rivia, a legendary monster slayer caught in a web of intrigue woven by forces vying for control of the world. Make difficult decisions and live with the consequences in an game that will immerse you in an extraordinary tale like no other. Representing the pinnacle of storytelling in role-playing games, The Witcher shatters the line between good and evil in a world where moral ambiguity reigns. The Witcher emphasizes story and character development in a vibrant world while incorporating tactically-deep real-time combat like no game before it.
ABOUT THE WITCHER: ENHANCED EDITION
The RPG of the Year (PC Gamer, GameSpy, IGN) is back in a Premium Edition packed with powerful extras!
The Witcher: Enhanced Edition takes all of the acclaimed gameplay that garnered the original game more than 90 awards, and perfects it with a number of gameplay and technical improvements.
Superior dialogue and cutscenes - The developers have re-recorded and rewritten more than 5000 lines of dialogue in English and redone the entire German edition to create more a more consistent experience, while adding more than 200 gesture animations to make characters behave more believably in dialogue and cutscenes.

Enhanced inventory - The new inventory system makes item use and organization less complicated by introducing a separate sack for any alchemical ingredients, as well as a simple sort-and-stack function.

Technical improvements - The enhancements made to the technical side of the game are too numerous to list, but a few of the highlights include greatly reduced loading times, greater stability, improved combat responsiveness, faster inventory loading, the option to turn autosave on or off, and more.

Character differentiation system - To add more variety to NPC and monster appearances, we've added a new character differentiation system that randomizes the appearance and colors of dozens of in-game models.

In your download you'll also get: Interactive Comic Book, D'jinni Adventure Editor, Two new adventures offering 5+ hours of gameplay, Official Soundtrack, Music Inspired by The Witcher album, Making-of videos, Official Game Guide, Two Maps of The Witcher's world
Key features:
Geralt of Rivia: a one-of-a-kind protagonist


A charismatic and unique character, Geralt is a mutant swordmaster and professional monster slayer.

Choose from over 250 special abilities correlated to attributes, combat skills and magical powers to build the character in a way best suited to tactical needs and style of play.

Original fantasy world drawn from literature


Inspired by the writings of renowned Polish author Andrzej Sapkowski.

Featuring adult themes, less fairy-tale than typical fantasy, with mature social issues like racism, political intrigue and genocide.

It is a harsh world where nothing is black or white, right or wrong, often forcing players to choose between the lesser of two evils to advance.

Non-linear and captivating storyline


Full of turns, twists and ambiguous moral decisions which have real impact on the storyline.

All quests can be accomplished in several ways and the game has three different endings depending on the player's actions and choices throughout the adventure.

Stunning tactical action


Engage in complex yet intuitive real-time combat based on real medieval sword-fighting techniques.

Motion capture performed by medieval fighting experts at Frankfurt's renowned Metric Minds studio, resulting in 600 spectacular and authentic in-game combat animations.

Six combat styles, dozens of potions, complex alchemy system, modifiable weapons and powerful magic add tactical depth to the fluid real-time experience.
Järjestelmävaatimukset (PC)
Vähimmäisvaatimukset:


Käyttöjärjestelmä: Microsoft® Windows® /XP/Vista

DirectX versio: DirectX 9.0c (tulee mukana) tai uudempi

Prosessori: 2.4 Ghz:n Intel Pentium 4 tai Athlon 64 +2800 (3.0 Ghz:n Intel Pentium 4 tai AMD Athlon 64 +3000 suositellaan). Athlon XP -sarja, kuten Athlon XP +2400, ei ole tuettu

Grafiikka: NVIDIA GeForce 6600 tai ATI Radeon 9800 tai parempi (NVIDIA GeForce 7800 GTX tai ATI Radeon X1950 XT tai parempaa suositellaan)

Muisti: 1 Gt muistia (2 Gt muistia suositellaan)

Ääni: DirectX 9.0c -yhteensopiva äänikortti

Kiintolevy: 15 Gt vapaana
Järjestelmävaatimukset (MAC)
Minimum:


OS: OS X version 10.6.8 or later.

Processor: Intel Core 2 Duo (any)

Memory: 2GB RAM

Graphics: Graphics card nVidia GeForce 320M (or better), AMD Radeon HD 6750M (or better) or Intel HD Graphics 3000

Hard Drive: 10.5 GB free space on HDD
Recommended:


OS: OS X version 10.6.8 or later.

Processor: Intel Core i5 or Core i7 (any)

Memory: 4GB RAM

Graphics: Graphics card with at least 512 MB VRAM

Hard Drive: 10.5 GB free space on HDD
The Witcher © 2008 CD Projekt Sp. z o.o. All rights reserved. The Witcher and The Witcher logo are trademarks of CD Project sp. z o.o. All rights reserved. BioWare, the BioWare Aurora Engine and the BioWare logo are trademarks of BioWare Corp. All rights reserved. NVIDIA, the NVIDIA logo, GeForce and 'The Way It's Meant to be Played' logo are registered trademarks and/or trademarks of NVIDIA Corporation in the United States and other countries. All rights reserved. Based on the works of Andrzej Sapkowski. Manufactured and marketed by Atari, Inc., New York, NY. Atari and the Atari logo are trademarks owned by Atari Interactive, Inc. The ESRB rating icons are registered trademarks of the Entertainment Software Association. Software platform logo (™ and ©) IEMA 2006. Windows and the Windows Vista Start button are trademarks of the Microsoft group of companies, and 'Games for Windows' and the Windows Vista Start button logo are used under license from Microsoft.All other trademarks are the property of their respective owners.
Hyödylliset arvostelut