Wenn Indie-Spielentwickler Alexey und Markus in Schwierigkeiten sind, kommt ihre einzige Hoffnung von ihrer Kreation.
Veröffentlichung: 19 Aug. 2011
Alle 2 Trailer ansehen
24 Februar 2014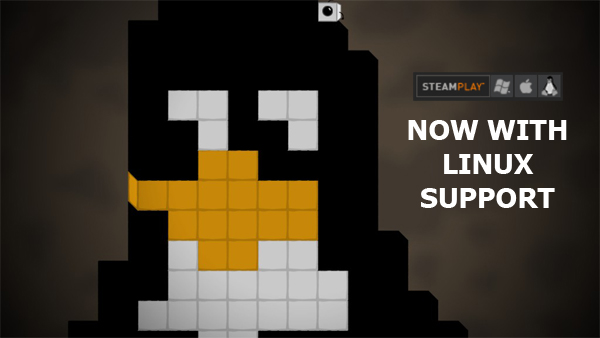 Hello everyone!

Today, we are updating Blocks That Matter to add Steam Linux support!

If you have any issue with the game, please reach us at support@swingswingsubmarine.com

One more thing...

To celebrate this new platform release, we are taking part of the Weeklong Deals this week (February 24), with a 60% OFF discount!



Have fun! And please spread the word!

~~
The Swing Swing Submarine team

PS:
Note that our lastest game "Tetrobot and Co." is also 60% OFF during that week!

16 Kommentare
Mehr erfahren
18 Dezember 2013
Hi there!

We've just launched the Steam Workshop Beta for Tetrobot and Co.!





Here is a little FAQ, to answer the questions you may (or may not) have:




1/ What should I do to enter this Beta?
You just need to launch your Steam client, wait for Tetrobot and Co. to update and launch it! That's it!
You can check that the version on the main menu is something like "1.1.x" and you're good to go!
2/ What can I do in this Beta?
Well, you can create your own levels, complete with all the blocks and features used in the main game! And of course, you can share your levels through the Steam Workshop. You can recreate all the levels that you encountered in the game and much more!
IMPORTANT NOTE: if you're running the game under Mac or Linux systems, we are currently facing an issue that will prevent you to download/upload items to the workshop. But you can still able to get your hand in the level editor, locally. Once the issue will be solved, you'll be able to upload your creation to the workshop!
3/ Will you allow us to create custom language files (i want my game in 1337!)?
We can't confirm it for sure, but it's definitely in our mind, yes!
4/ Is the editor more user friendly than the one in Blocks that Matter?
Well… YES!
We put a lot of efforts improving the editor. In Blocks that Matter, the editor was released with the exact same level of "polish" that it was during the production of the game (i.e. none!).
With Tetrobot and Co., we decided to delay the release of the editor to make it clean and shiny!
5/ Is there any tutorial to understand how the editor works?
Even though the editor is as intuitive as OSX, we've published some
official Steam guides
for you, and in the future we will centralize any relevant information in
this thread
.
If you encounter any issues, please report them in
this other thread
.
6/ Will you release the in-game level editor for the DRM-free version?
We will allow you to create levels locally for sure. But we still need to find a good alternative to the Steam Workshop to store the user generated content!
The Beta will only occurs on Steam, because it the fastest way for us to update the game depending on your feedbacks.
If you purchased the DRM-free version on our website (or the Humble Store), you should have a Steam key that can be used to participate to this Beta!
7/ Anything to add before I jump into this beta?
Only one thing: Psychobot is waiting you to unleash the love, the love of blocks!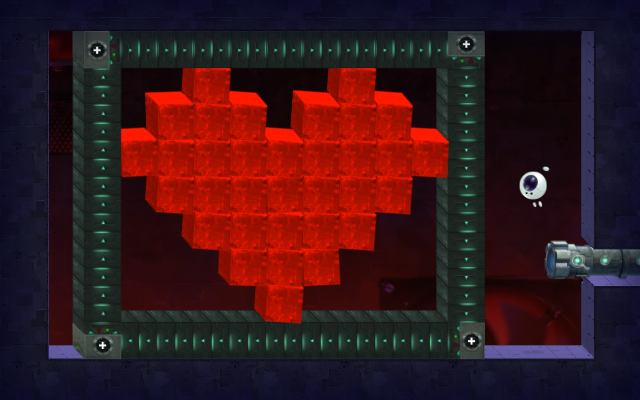 3 Kommentare
Mehr erfahren
Reviews
"Wenn Sie innovative 2D Spiele wie Braid und Limbo, die Sie öfters dazu herausfordern Ihre grauen Zellen anzustrengen, mögen, dann haben Sie keine Entschuldigung."
5/5 – Armless Octopus
"(...) manchmal findet man solche Edelsteine, die tatsächlich Qualität haben. Blocks That Matter is einer von solchen."
18/20 – Jeuxvideo.com
"Der geheime Grund für die Existenz des Spiels wiederum ist die Achtung dessen, was davor kam. Dies ist ein Block-Spiel, das Block-Spiele liebt."
– Killscreen
Steam Workshop

Verbreiten Sie Ihre Liebe zu Blöcken!

Erstellen Sie Ihre eigenen Level, Sprachfiles und BTM's und verteilen Sie sie, so das Tetrobot sein Gehirn lauffähig behält.
Über das Spiel
Wenn die beiden Indie-Spieleentwickler Alexey und Markus in Schwierigkeiten stecken sind ihre einzige Hoffnung ihre Schöpfungen.
Sie übernehmen die Rolle von Tetrobot: ein kleiner Roboter, der Blöcke nacheinander durchbohren, sie danach aufsammeln und daraufhin in neue Teile aus 4 Blöcken verarbeiten kann. Sie haben zusätzlich die Möglichkeit Serien aus 8+ Blöcken zu zerstören, wie in einem sehr retromäßigem russischen Spiel. Sand, Holz, Stein, Obsidian, Eisen, Diamant: jedes Material hat besondere Eigenschaften, die klug eingesetzt werden müssen, um aus ihnen profitieren zu können. Machen Sie sich bereit Ihr Gehirn einzusetzen und kombinieren Sie Ihre Jump'n'Run- und Rätsellösungs-Fähigkeiten um sie in diesem unglaublichen Mashup unter Beweis zu stellen!
Besondere Eigenschaften:
Eine einzigartige Spielerfahrung, die Rätsel und Jump'n'Run mischt, um Ihr Gehirn auf Hochtouren zu bringen

40 spielbare Levels im Abenteuer-Modus, 20 freischaltbare Bonuslevel und zukünftig weitere kostenlose Inhalte

Sammeln Sie alle 40 "Blocks That Matter" und entdecken Sie Videospiele wieder, die Geschichte geschrieben haben oder schreiben werden

Erstellen und Tauschen Sie Ihre eigenen Rätsel aus, mithilfe eines leicht zu bedienenden Leveleditors (bald erhältlich)

Steam-Errungenschaften: 30+ Errungenschaften, freischaltbar durch Spielen und kreativ sein.

Steam Cloud: Egal, ob Sie gerade auf PC oder Mac, drinnen oder draußen spielen, Ihr Spielfortschritt wird abgespeichert werden.
Systemvoraussetzungen (PC)
Minimum:


Betriebssystem:Windows XP

Prozessor:Pentium 4

Speicher:1 GB RAM

Grafik:OpenGL kompatibel 128 MB VRAM

DirectX®:dx90c

Festplatte:250 MB HD frei

Sound:integrierte OpenAL kompatible Chipset
Empfohlen:


Betriebssystem:Windows 7

Prozessor:Core 2

Speicher:2 GB RAM

Grafik:OpenGL kompatibel, 256 MB VRAM

DirectX®:9.0c

Festplatte:400 MB freier Speicherplatz

Sound:integrierter, OpenAl kompatibler Chipsatz

Andere Anforderungen:Breitband-Internetverbindung
Systemvoraussetzungen (Mac)
Minimum:


Betriebssystem:Leopard

Prozessor:Core2

Speicher:1 GB RAM

Grafik:Intel HD Graphics

Festplatte:250 MB HD frei

Sound:integrierte Chipsets OpenAL kompatibel
Empfohlen:


Betriebssystem:SnowLeopard

Prozessor:Core2

Speicher:2 GB RAM

Grafik:AMD Radeon HD

Festplatte:400 MB HD frei

Sound:integrierte Chipsets, die OpenAL kompatibel sind

Andere Anforderungen:Breitband Internetverbindung
Systemvoraussetzungen (Linux)
Minimum:


OS:Ubuntu 12.10

Processor:Core2

Memory:1 GB RAM

Graphics:Any Graphics Card with a working driver!

Hard Drive:250 MB HD space

Sound:Integrated chipset OpenAL compatible
Recommended:


OS:Ubuntu 12.10

Processor:Core2

Memory:2 GB RAM

Graphics:Any Graphics Card with a working driver!

Hard Drive:400 MB HD space

Sound:Integrated chipset OpenAL compatible

Other Requirements:Broadband Internet connection
Hilfreiche Kundenreviews